Boston Red Sox: Will the Team Be Rolling the Dice... K?
March 11, 2012

On the heels of watching Daniel Bard pitch against the Tampa Bay Rays in an exhibition game, one thing occurred to me:  Bard looks more like a fifth starter than a fourth.
While it is obvious that he is trying to work on his pitch development, and true, he did pitch three shutout innings last night, although he was having some pretty serious location issues.
From my perspective, he was getting his two-seam fastball over pretty well, while his four-seam was solid.  However, his slider, or what appeared to be his slider away, appeared to have little to no control.
Again, this is something I am just realizing and am holding judgement until the season actually begins.
This lends itself to a larger issue: if Bard truly is just fifth starter material this season, how big of a pitching hole could the Red Sox be in at the start of the season?
It would appear that the team could be banking on the speedy return of Daisuke Matsuzaka from his Tommy John surgery.
In a piece written by WEEI.com's Alex Speier we learn that according to the Red Sox pitching coach, Bob McClure, Matsuzaka appears to be progressing quite well. In his own words:
"As far as from what I'm seeing from a health standpoint, it was hard to tell he was ever even hurt from the way he's throwing the baseball right now," said McClure. "That doesn't mean he's ready, by no means. I'm just saying it's free and easy, it's coming out of his hand really good. It's clean, it looks sharp. Looks like he's on schedule."
While there is no timetable yet set for a return for Matsuzaka, this is a very positive and inspiring note for the team.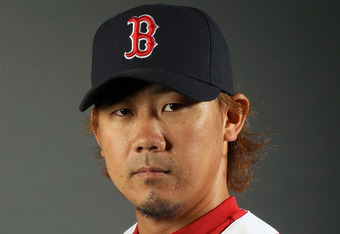 Elsa/Getty Images
According to Tim Britton of the Providence Journal, McClure and his assistant pitching coach, Randy Niemann are working closely with Matsuzaka to tweak his delivery in an effort for the pitcher to stay more compact when he comes to the plate.  
Again, from McClure:
"It takes a lot of reps to do it right, but he feels it," explained McClure. "He feels it when he does it right. And he feels it when he does it wrong. We want to get it to where it's muscle memory, and he doesn't have to think about it."
Naturally, this change in his delivery is something that should help to keep the Sox pitcher healthy upon his return to the rotation, allowing less stress to be placed upon his elbow and arm in general.
The accelerated return of Matsuzaka may be somewhat of a saving grace to this pitching staff. By all accounts the rotation is light in the four and five spots respectively.
With Bard likely filling the role as the fourth starter with still an unknown fifth starter to kick off the season, the Red Sox could find themselves struggling out of the gate.
If all things go according to plan, and Matsuzaka comes back healthy and strong, there could be some solace derived in thinking that a potential 2.90 ERA and 1.324 WHIP pitcher will be joining the staff in short order.