Ronaldo, Falcao, Malaga, and Bilbao: 10 Things Learned in La Liga This Week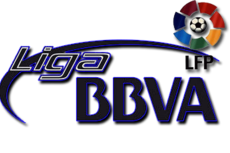 We are now 27 weeks in with just under two months to play.
The goal-scoring title will seemingly be decided in the final week of play.
The qualifiers for European competition may not be known until the last week either.
The best in the league now sits 72 points ahead of the worst.
Here are 10 things we learned in La Liga over the weekend.
Begin Slideshow

»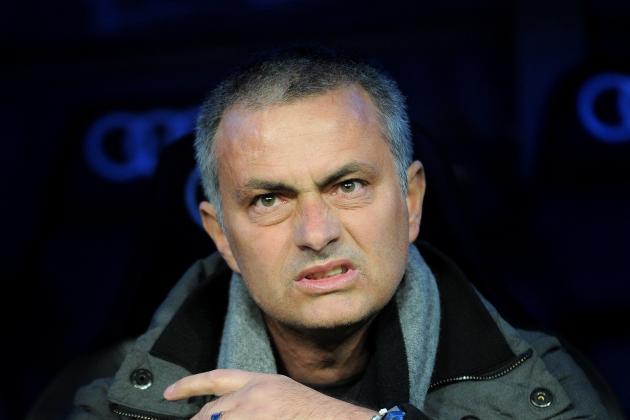 Jasper Juinen/Getty Images

Jose Mourinho's men went up against Real Betis this weekend.
The Sevilla-based Betis are no pushovers, but the fact that Real Madrid now have a 30-point lead over them says it all.
Madrid did not lead the match until Cristiano Ronaldo completed a brace in the 72nd minute. Before that, Betis looked the more dangerous side.
The league is already Real Madrid's, but this was the third match of the last four where Madrid looked weak.
If this form carries into the Champions League, they will not get anywhere near the final.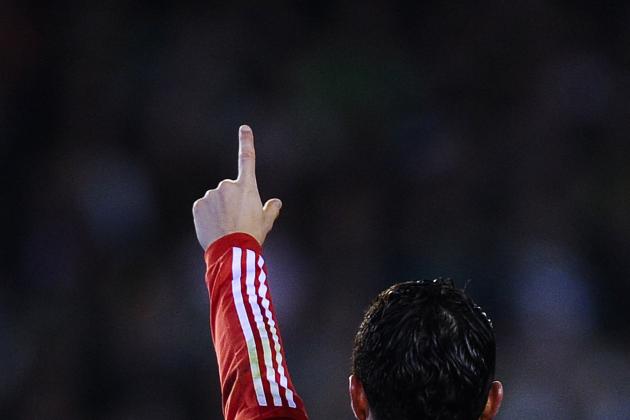 David Ramos/Getty Images

One of the few players not suffering from poor form is Ronaldo.
For the sixth straight match, CR7 was the main reason Madrid got on the score sheet.
Critics will attack him no matter what, but he has carried this offense all season and when he has a less than stellar match, the club loses—as most notable against Barcelona.
The rest of the squad will need to step up and take some pressure off Ronaldo if they have serious hopes of European glory.
His rival is matching him blow for blow and that man's team is starting to get hot at the right time.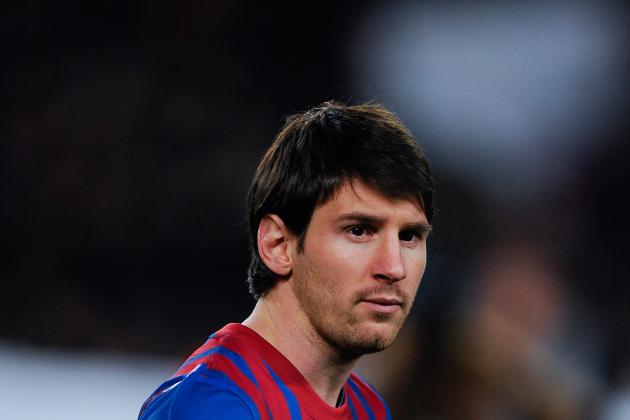 David Ramos/Getty Images

That other man is, of course, Lionel Messi.
What wonders a week off did for the Argentinian.
Before being forced to miss the match against Sporting Gijon, Messi looked a bit tired.
After a week of rest, he came back with a vengeance, scoring seven goals in his next two matches. That's right, seven!
In league play, he scored two against Racing to stay two behind Ronald for the Pichichi trophy.
Speaking of Pichichi...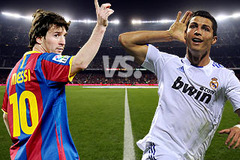 The fight for the goal-scoring title in Spain will come down to the last week of football.
As it stands, Ronaldo has 32 goals (10 PKs) to Messi's 30 (3 PKs).
Both are on pace to break Ronaldo's league record of 40 goals from last season.
In all competitions, Ronaldo already has reached 40 goals after his double in Sevilla.
Not to be outdone, Messi's pair gave him 50 in all competitions.
At this rate, these two players will score well over 100 goals between them.
Incredible!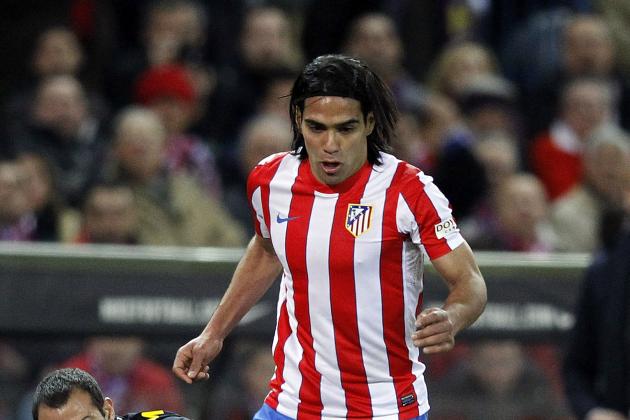 Angel Martinez/Getty Images

Atletico fans were disappointed when Sergio Agüero left for Man City last summer.
After missing out on Pablo Osvaldo and then losing Diego Forlan to Inter & De Gea to Man United, fans began to question the aspirations of the club.
Then they signed Falcao from Porto after he won the Primeira and Europa League.
Many wondered if he could match his performance with Porto on a team that finished seventh in La Liga before they sold their three best players.
Now, especially after Diego Simeone took over his former club, Falcao has proven to be well worth the money.
He has perhaps been the best No. 9 in all of Europe this season. Mario Gomez might have more goals, but he also has superior service.
He scored another goal against Granada this weekend, taking him to 16 on the season—-21 in all competitions.
That puts him four behind Agüero's greatest output for Los Rojiblancos with a month and a half to play.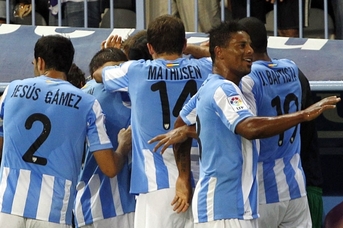 Photo: Malaga CF
Malaga won the biggest match of the weekend by beating Levante 1-0.
Rondon's lone goal—his seventh of the season—was enough to give his club the win and put them into fourth ahead of the Valencian side.
Malaga is now sitting pretty in the last Champions League spot and only four points behind Valencia in third.
Coming into this season, new owner Nasser Al Thani's most realistic expectations were for his club to fight for European League qualification.
Now Malaga have a realistic chance at finishing third in the league.
That would be an incredible finish for the club and would go a long way in attracting more and bigger stars to the club this summer.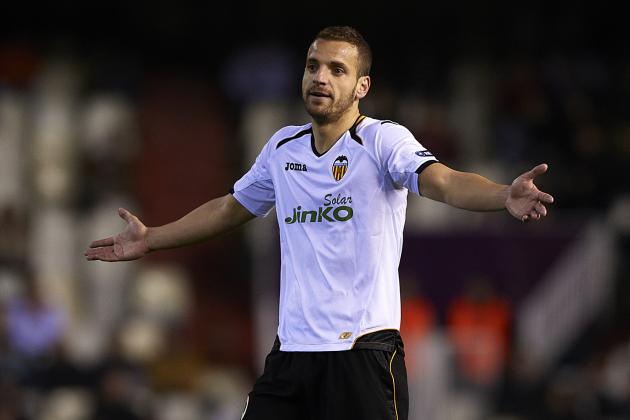 Manuel Queimadelos Alonso/Getty Images

Of course, Unai Emery and his squad will have something to say about that.
Valencia missed a great chance to cushion their lead over the pack by giving up a two-goal lead to Mallorca.
It marked the second time in four days that they gave up two cheap goals late in the game.
If they continue to be so careless in the second half, Emery has a chance of missing Champions League play for only the second time since taking over the club.
With Valencia going to Bilbao next week and Malaga facing Real Madrid, the door may yet be opened for a third contender.
I suppose it could be worse...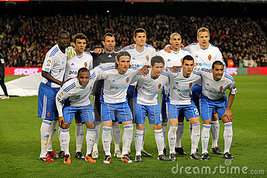 One club that definitely won't contend in Real Zaragoza.
They are done. When I say done, I mean perhaps permanently.
Zaragoza now has only 18 points to show for its season, scoring the fewest goals of any Spanish club in history.
They've given up 11 goals in their last four games and will be relegated to Segunda B for the third time in a decade.
Before their relegation in 2002, Zaragoza had spent 24 consecutive years in the first division.
With enormous wage issues, over €130m worth of debt, and after a season spent in administration, Zaragoza may never make it back to the first division.
A sad story for a club that once fielded the likes David Villa and Pablo Aimar.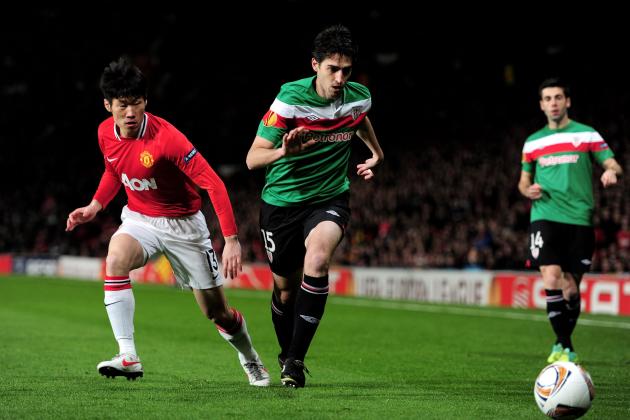 Jamie McDonald/Getty Images

Marcelo Bielsa seems to have put the Europa League ahead of La Liga.
With a Baque derby schedule between two Manchester United matches, Bielsa chose to play his best players in Europe and rest them against Osasuna.
The derby could have gone either way even if Bilbao was at full strength.
It cost his club the final Champions League spot.
As talented as this squad is, it just does not have the depth to handle two different competitions.
Now they have to travel to Old Trafford before hosting Valencia at San Mamés next week.
Athletic Club now risks losing two competitions within the span of two weeks.
A very difficult run of matches in the next two months could see Bilbao finish outside of the to psix if not even out of the top ten.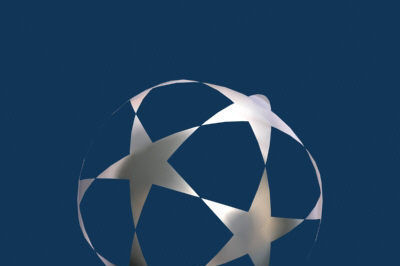 We know Real Madrid will win the league and Barcelona will take the second Champions League spot.
Beyond that, it is anyone's guess.
Malaga now sits in fourth place, quite a big jump for the club that avoided relegation in the final week of play last season.
Valencia may have loosened their grip on third place just enough to be replaced.
There are now 12 clubs fighting for six European qualifying spots.
Betis and Mallorca would like to think there are 14, but eight points is a lot to make up in March.
One thing is certain: the last month and a half of play will lead to a wild finish in Spain.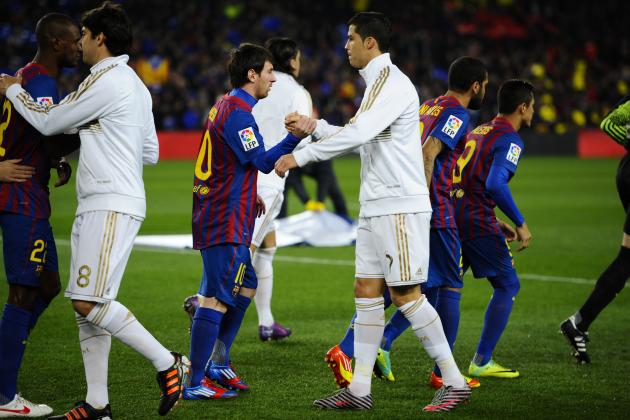 David Ramos/Getty Images