NCAA Field of 68: Iona Deserves to Be in the Tournament After Another Great Year
March 11, 2012

Grant Halverson/Getty Images
It is nice when one of the bigger names of college basketball in (analyst and announcer) Dick Vitale sticks up for two of the smaller schools in college basketball saying Thursday on Twitter @DickieV: 
"Drexel & Iona belong in NCAA tourney"
We will see in just a few hours if Iona—the regular season Metro Atlantic Athletic Champion with a record of 25-7—will get a shot at the "Big Dance" of the NCAA, or the somewhat smaller dance of the NIT.
Last year Iona did well in the post season College Insider Tournament, winning two games on the road against Valparaiso and East Tennessee State, as well as a home game against Buffalo, before losing the championship game to Santa Clara. 
The Gaels might be a favorite to win the NIT this year, and play again at Madison Square Garden if that is there fate.
What we know is that for college basketball players, the NCAA tournament appearance has become the Holy Grail of their careers, perhaps too much so. 
Players look to the NCAA as a defining moment of their basketball careers. How many times have we seen dreams crushed in mid-major conference tournament finals, realizing their NCAA dream is over, crying on the court.
It matters that much.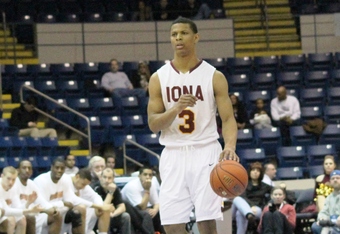 When Iona lost in the Metro Atlantic Athletic Conference semifinal to Fairfield, the NCAA dream appeared over for the team and its five seniors. But at the Post Game press conference, Head Coach Tim Cluess made the point that the MAAC should not be considered a "One-Bid League," that Iona should be considered a better team than people give them credit for, that has also easily beaten teams in the Big East, along with those in other power conferences.
The Gaels have a lot to be proud of this year, having finished the conference regular season as conference champions, with a 25-7 record after the MAAC Tournament. 
The Gaels regular season was highlighted by wins in the Puerto Rico tournament over Maryland, home wins over St. Joseph's and LIU and the huge "Bracketbuster" win over visiting Nevada. 
Then there was the odyssey of their month-long December road trip, when they won both halves of the Niagara-Canisius weekend and then games at Denver, Vermont and Richmond. The overtime shot by Randy Dezouvre against the Pioneers in their big arena was a highlight of the season. 
In December the Gaels won six of seven road games, including victories at Niagara, Canisius, Denver, Vermont, Richmond and William & Mary. The only loss in that stretch was to Marshall, currently an RPI 51 days after the Denver win and a complicated travel itinerary just to get there.
Most of their competition for an NCAA bid play in much bigger arenas, which allow them to schedule mostly home non-conference opponents.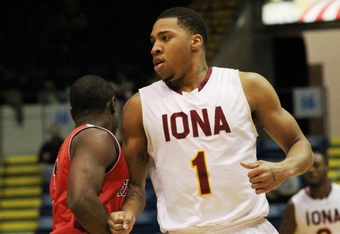 The Gaels have gone on the road, and mostly won at many hot beds of college basketball.
So far the automatic qualifiers include two teams Iona has beaten in Long Island and Vermont. 
Iona offers three very exciting players to the NCAA Tournament in power forward Mike Glover, point guard Scott Machado and off guard Lamont "Momo" Jones. 
Mike Glover playing out of position at center (instead of his natural power forward position), averages 18.5 points and 9.0 rebounds per game. He has great hands for the basketball, and is used to the defenses collapsing on him. Glover at 64.4 percent has one of the best shooting averages in the NCAA.
Then there is MAAC Player of the year—Scott Machado at the point guard position.
Machado learned a lot from the CIT tournament last year, and a summer trip playing in Brazil.  He leads the country with an average of 9.9 assists per game.
"Momo" Jones has increased his scoring as the season went along, now averaging 16.0 per game. He had a highlight game against Canisius, scoring 43 when he was hot with his three-point shooting. In other games he has gone straight or around defenders to the hoop, and has also been able to pull up and scored with short jumpers all season long. He is an exciting player to watch.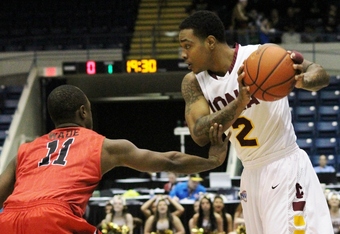 MAAC Commissioner stood up for the Gaels when I contacted him on Thursday saying:
I think the selection in reviewing Iona's body of work will find a compelling case for their selection as an at-large team for the NCAA's...The Gaels went on the road and beat good teams, and at home beat highly regarded St. Joe's and Nevada. When you match them up with any of the possible at-large teams under consideration I firmly believe that they would be the better selection.
So we will find out very soon if it will be the NCAA for Iona or the NIT.
Iona, in any case, will be an exciting team to watch in the post season. 
Ken Kraetzer covers Iona basketball and West Point football for WVOX 1460 AM and heard nationally on WVOX.com. 
His Twitter address is SAL50NYRadio