NHL Playoffs: Five Devils Players That Need to Step It Up in the Postseason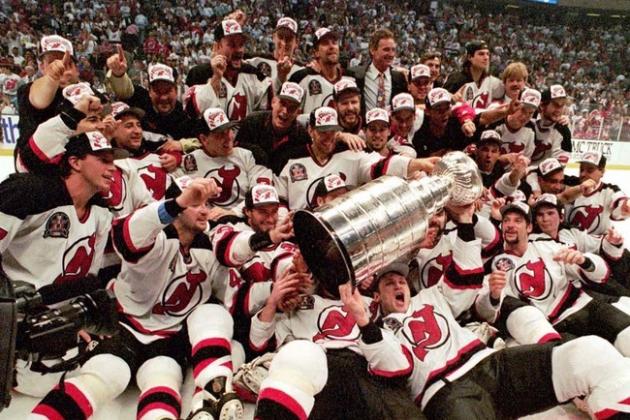 It has been four seasons since the Devils last advanced past the first round of the playoffs.
The summer of 2007 saw the Devils dismantle the Tampa Bay Lightning only to go on to lose against the eventual Eastern Conference Champion Ottawa Senators.
It has been even longer since the Devils have advanced past the second round. Rewind all the way to the 2003 season when the Devils beat the Ducks to win their third Stanley Cup.
As a whole, playoff performances have been a major issue with New Jersey the past few years.
Players who tend to fly under the radar as well as those big name performers must play to the best of their ability should the Devils advance and be a relevant threat to win the Cup once more.
Here are five that need to step their game up come this spring.
Begin Slideshow

»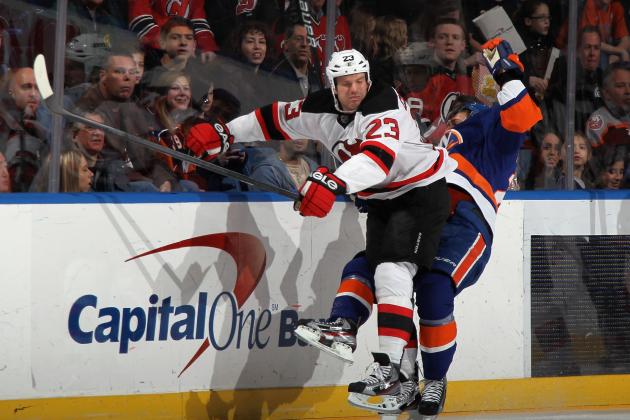 Bruce Bennett/Getty Images

Enjoying a career year that's sure to be his first 30-goal campaign, David Clarkson is crucial to the longevity of this year's postseason.
Out of all the non top-six forwards, it will be Clarkson to whom the Devils look to for timely goals, net-crashing, and if needed, a rare playoff fight.
The undrafted winger has found a niche as a do-it-all forward on a team where Clarkson exemplifies what it means to be a New Jersey Devil.
Along with Alexi Ponikarovsky and Dainius Zubrus, New Jersey possesses three bottom six forwards who can score and play good checking matches against opposing top lines.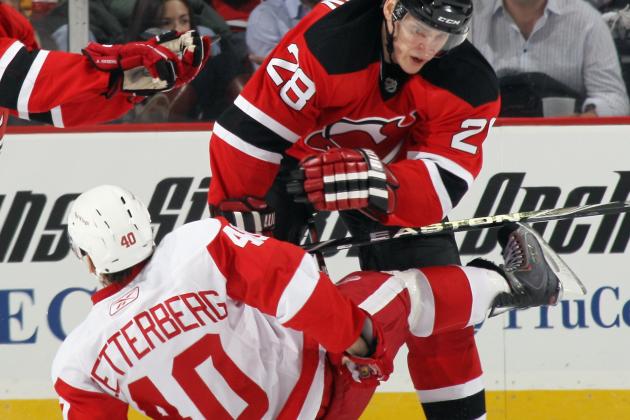 Bruce Bennett/Getty Images

If there's anyone in the league that wants to avenge Ottawa's 2007 Stanley Cup Finals loss to the Ducks, Volchenkov might be at the top of the list.
In that series, the Sens were completely dominated by an overpowering Ducks team that featured Chris Pronger and Scott Niedermayer.
Volchenkov is the Devs' top defensive defenseman and it is almost certain he'll be asked to play over 20 minutes a game come playoff time.
The playoffs are where Volchenkov can elevate his game to a new level in one of his best skills, blocking shots. It's in the postseason where every player is willing to give just a little bit more than they would a regular season game.
The big Russian is among the best in the league at throwing his body in front of shots, taking pressure off Martin Brodeur and possibly creating turnovers for the offense.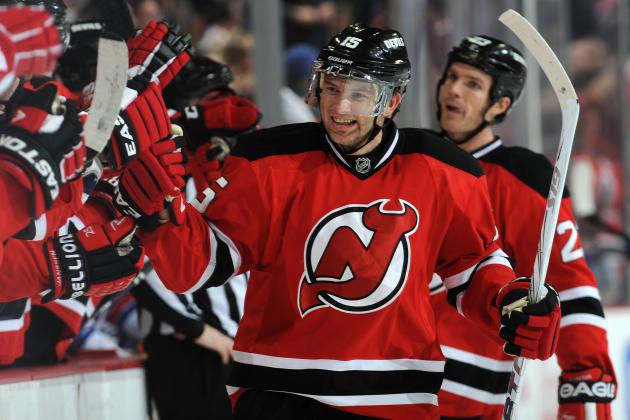 Christopher Pasatieri/Getty Images

Believe it or not, Sykora is the last Devil to win a championship.
Sykora won a Stanley Cup with the Penguins in 2009 and possesses a wealth of playoff experience.
A former first-round pick of the Devils back in 1995, Sykora's career was all but over until he was invited by close personal friend Patrik Elias to tryout at Devils camp before this season.
Sykora signed for the veteran minimum salary and has amazingly exceeded expectations.
Remarkably, Sykora has averaged over half a point per game in the playoffs. He will need to add secondary scoring and meld with Elias and Zidlicky to form a potent power play to win games.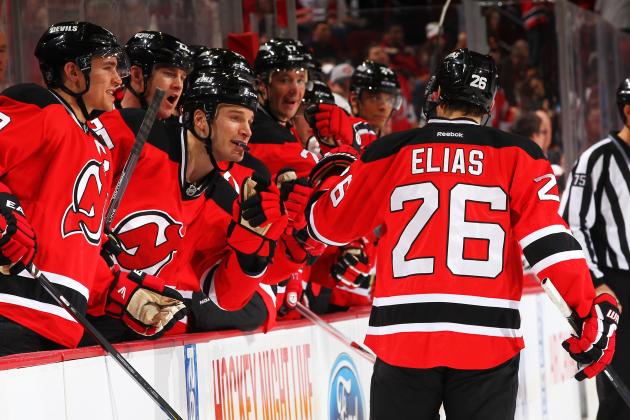 Al Bello/Getty Images

Incredibly, Elias has 117 points in 138 playoff games, all as a Devil.
In recent years, Elias hasn't had the chance to ramp up his scoring as the Devils have been ousted in the first round of the playoffs every year except for one since 2005.
Players will look to Elias for leadership and strength in their trying moments, and if history and recent play indicates, he will deliver.
Scoring at almost a point per game pace, Elias looks to carry his momentum into the playoffs and send the Devils back to the Cup Finals one last time.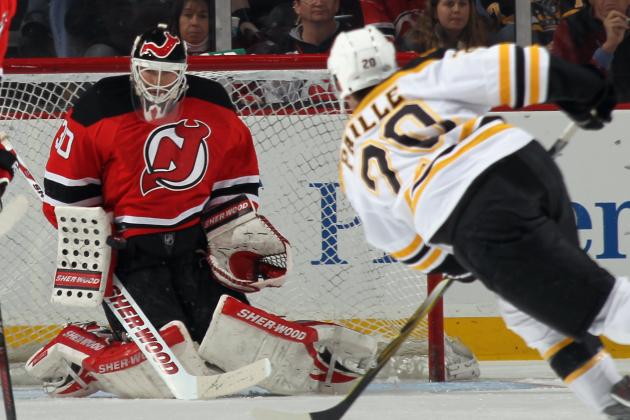 Bruce Bennett/Getty Images

The timeless Martin Brodeur recently won his 650th career game, extending a seemingly unbreakable record.
The great news for Devils fans is that Brodeur is getting those wins easier and more often than in the first half of the season or the dreadful 2010-11 campaign.
Brodeur's numbers since the All Star break have been fantastic.
Although he only has one shutout on the season, of which he is another record holder, it's a very realistic possibility Brodeur wins 30 games once again this season.
Goaltenders are asked to do two things in the playoffs.
Either do enough to keep your team in the game, or the more daunting task, steal a game by yourself when your team needs it the most.
The Brodeur of old had no problem doing either, however with age, Marty's playoff performances have been unspectacular.
With backup goalie Johan Hedberg taking a good bulk of games this year, one has to figure that Brodeur should be well rested as soon as round one comes knocking.
With a soild team and a system that stresses defense first, Brodeur should get all the help he needs.
Should those two things fail him, Brodeur's real test will to be show flashes of himself back in his earlier years when he could single handily win games by himself.