New York Jets Mock Draft: Predicting All Picks for the Jets in 2012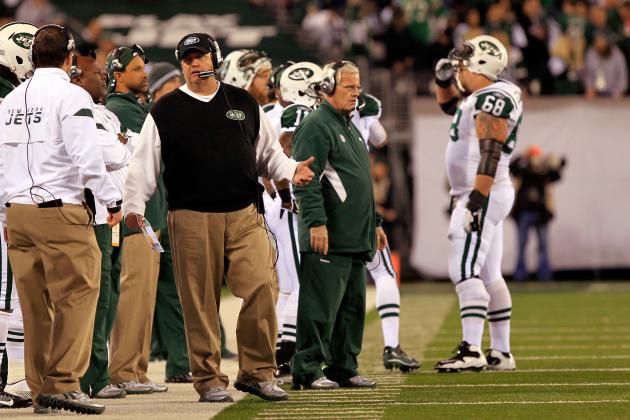 Chris Trotman/Getty Images

The Jets need to make the right decisions in the 2012 NFL Draft.
I suppose that's true for every team every year, but it's especially true for the New York Jets this year. After a disappointing season where they missed the playoffs amidst controversy, the Jets could turn over a new leaf by drafting some good, promising players this year in key areas.
The most important aspect of the Jets' attack on the draft should be addressing the pass-rush and filling other needs such as safety, wide receiver and running back.
Begin Slideshow

»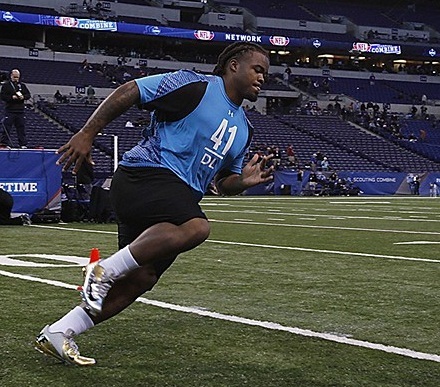 In an interview with Bill Simmons on ESPN's The B.S. Report, President Barack Obama said this:
They just had the Combine and they're talking about [Dontari Poe] who is like 340, who runs a 4.8, and has a three-foot vertical. And I don't know what you do if a guy like that hits you.
Poe has been making waves recently with his crazy draft combine performance. Standing at 6'4'' and 346 pounds (one of the heaviest in the draft), Poe ran a 4.98 40-yard dash and had a vertical leap of around three feet. He benched 225 pounds forty-four times.
Poe is an athletic monster, and his draft stock has been rising astronomically since his combine performance. I am worried that he might be gone by the time the 16th pick roles around.
Many have claimed that Poe has all the indications of a bust, and that while he is an athletic monster, his college record should show that he might not have what it takes to make it in the NFL.
I agree. Poe could end up being a bust. But that's the thing with players like Poe—you can either win big or win nothing at all. I think Poe is the type of player who needs a coach who will push him to be great, and Rex Ryan is just that kind of coach.
While the Jets do not need a DT, Poe's athleticism could easily help him switch to DE. He is already being compared to Haloti Ngata, the NT/DE for the Baltimore Ravens, and Ngata does this very well.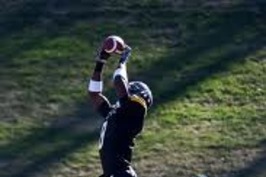 We already know Mark Sanchez has gotten comfortable throwing the high ball to Plaxico Burress.
Brian Quick, a projected second or third-rounder from Appalachian State, is the same kind of animal. Standing at 6'4'' with a three-foot vertical, Quick is the type of player who can catch the deep ball or catch the short high pass over a short corner.
He's just the type of reliable option that Sanchez could use, especially after getting used to the type of height Burress brings.
Plus, Quick is projected to go as low as the third round, meaning that halfway through the second round means he has a good chance of being on the board when the Jets come up to pick.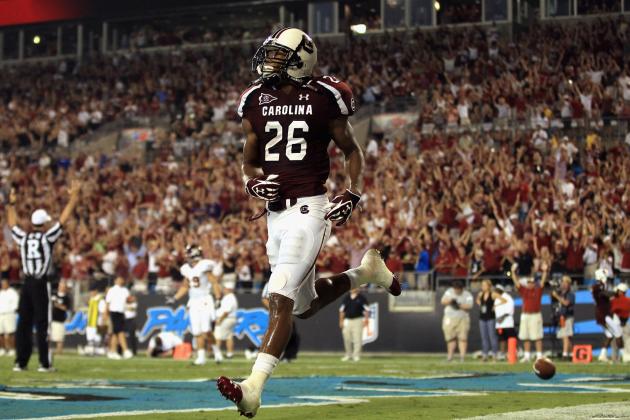 Streeter Lecka/Getty Images

Unless the Jets resign Jim Leonard and Brodney Pool, they are going to need to draft a safety, and Antonio Allen is a good prospect to take.
Allen is one of the best safety prospects available.
He missed two games in the 2010 season and still managed to record 70 tackles, 2.5 sacks and 2 interceptions, including a touchdown.
He's a talented player who is projected to go in the third round and could turn into a real threat given the time and experience.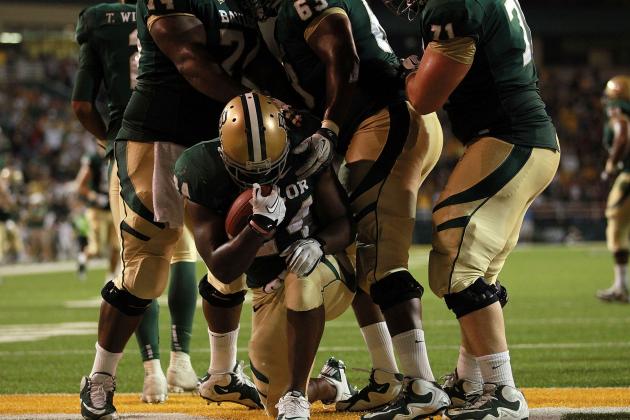 Ronald Martinez/Getty Images

One of the most disappointing things about last year was the lack of spark the Jets received from their run game.
Some analysts think that the Jets should use their first-round pick to draft a running back, but I disagree.
I think that the Jets' need for a pass-rusher is much more prevalent than the need for a running back. Drafting Ganaway in a later round is a perfect option—with low risk and high reward.
Ganaway is 6'0'' and 240-pound beast that has a 4.67 dash time and a 37" vertical leap. He's another athletic monster that could come in raw and be coached up to a real talent.
Plus, having extra running backs on the roster will pressure Shonn Greene or any RB the Jets acquire in free agency to focus hard on keeping his starting job.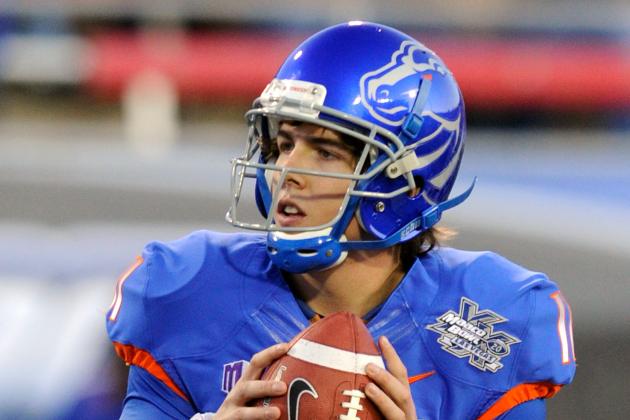 Ethan Miller/Getty Images

Now this one might get me some negative feedback.
I think Kellen Moore is one of the more underrated quarterbacks coming into the draft.
I understand he's short, and he played in an "easy" conference. But just because he is going to be taken late is why I think he's underestimated. Moore is one of those QBs who will sit at home and wait and wait for his number to get called, and it won't.
It won't until very late in the draft. And I hope that this will drive him to be hungry in training camp. I want Moore for the Jets not because I think he is a starter, but I want Sanchez to feed off that energy.
If Moore brings any inch of killer instinct to the Jets' training camp, maybe Sanchez will wake up and start playing like an All-Star.
Plus, if worse comes to worst and Moore is just not cut out for the NFL, you can cut him during training camp.
If better comes to best? He's the next Tom Brady. So here is another one of those low risk, high reward picks.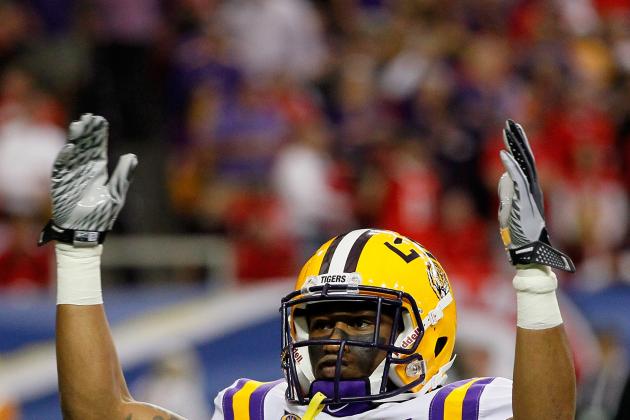 Kevin C. Cox/Getty Images

I like Ron Brooks here because at this stage in the game you're most likely going to get nothing.
And that's exactly why you take a cornerback. The Jets already have one of the best pass defenses in the league, so taking Brooks out of LSU is a smart decision. Maybe he is not an NFL player and will never be and that's fine.
You can just cut him in training camp. However, if he is talented and has the athletic ability, imagine the teachers he would have: Darrelle Revis and Antonio Cromartie.
If any team is in a position to turn a diamond in the rough, end-of-the-draft cornerback into a starter, it would be the Jets.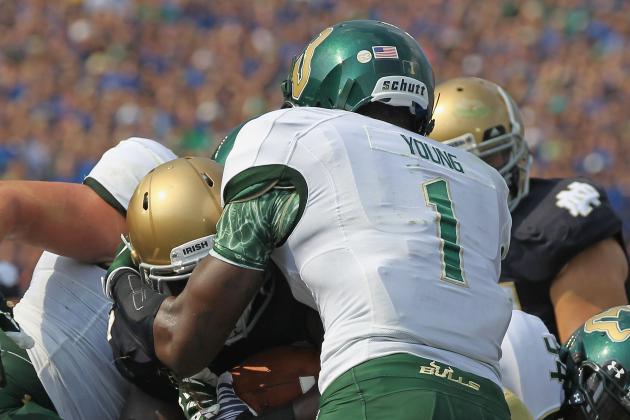 Jonathan Daniel/Getty Images

A lot of people say when drafting, you should draft talent instead of need.
I agree. For the purposes of this article, though, I have been looking mostly at need over talent.
However, this late in the game in the draft, there is almost no talent left. At this point, I think the best talent that the Jets could take is Jerrell Young out of South Florida.
I've already said that the Jets need safety help, especially if they can't sign Leonard or Pool, and Young is a perfect end-of-the-draft pick to help address those needs.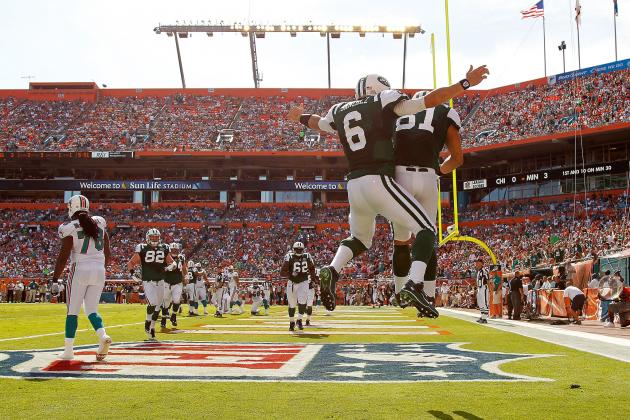 Mike Ehrmann/Getty Images