2012 American League East Division Preview from Dugout Central
March 11, 2012

Christopher Pasatieri/Getty Images
We will dive into the American League East for our next set of predictions, given that ESPN's coverage will largely focus on them.
The story of the East has been well documented: The Yankees and Red Sox use their tremendous resources to dominate the division, combining to win 12 division championships, eight wild cards and six world championships in the first 13 years of the wild card era. But, in recent years, the payroll-impaired Rays have made runs, winning two of the last four division crowns and snagging the 2011 Wild Card.
Starting with the most alphabetical (and pathetic) team…
2011: 69-93, fifth place, 28 GB, scored 4.37 R/G (seventh in AL), allowed 5.31 R/G (14th in AL)
Key losses: Vladimir Guerrero (DH), Luke Scott (OF/DH), Jeremy Gutherie (SP
Key gains: Wilson Betemit (IF), Endy Chavez (OF)
Why they could win it all: Matt Wieters's development into an elite catcher hasn't been quite the jolt to the top that the Orioles were expecting, but the 25-year-old did win a Gold Glove and earn an All-Star appearance in 2012, while slugging a fairly impressive .450.
JJ Hardy is locked into a fresh deal (three years, 21 million dollars) after hitting 30 home runs. A very good shortstop in his own right, Hardy will likely end up shifting to second or third in the next few years when Manny Machado (the No. 11 prospect in America right now) makes his way up to the show.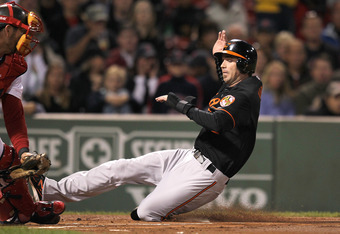 Jim Rogash/Getty Images
Adam Jones needs to improve his patience, but has progressed well other than that. All in all, the offensive side of the ball is actually looking somewhat above-average.
Why they could fail: Because barring a snap decision by Roy Halladay, Cliff Lee, Clayton Kershaw, CC Sabathia, and Justin Verlander to simultaneously demand a trade to Baltimore, this is the worst rotation in the league—and it doesn't help that they face some of the biggest offenses in the league.
I want to know what happened to Brian Matusz. He arguably should've been the 2010 rookie of the year, but come 2011…poof. Twelve starts, 49.2 IP, 59 earned runs, 18 home runs, and a staggering 81 hits.
No team should give up 900 runs in today's offensive climate, but the Orioles just might, especially with staff ace (I mean, technically) Jeremy Gutherie being shipped off to Colorado this past off-season. 
What to watch: Brian Roberts has battled injuries for the past two seasons and had been experiencing concussion-like syndromes after a bad head-first slide this past year. Is the two-time All-Star finished? 2012 will tell; if healthy, the Orioles would be rock-solid up the middle.
2012 prediction: 66-96, fifth place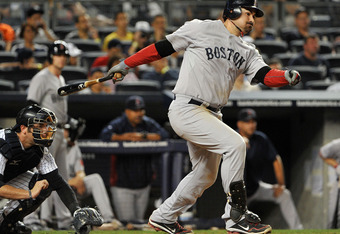 Christopher Pasatieri/Getty Images
2011: 90-72, 7 GB, scored 5.40 R/G (first in AL), allowed 4.55 R/G (ninth in AL)
Key losses: Jonathon Papelbon (RP), Marco Scutaro (SS), Tim Wakefield (SP/RP), Jason Varitek (C)
Key gains: Andrew Bailey (RP), Cody Ross (OF)
Why they could win it all: Despite all their fried chicken and chaotic front-office maneuvering, the Red Sox are still a good team, and there's something downright fluky about out-scoring your opponents by 138 runs and failing to make the playoffs.
The Red Sox lineup led the league in scoring last year, led by three of the top five position players in the league by WAR (Ellsbury, Gonzalez, Pedroia). They brought back David Ortiz, who has been a dominating bat for most of the last decade.
This is the best team, offensively, in all of baseball and they should put up the runs needed to stay competitive.
Why they could fail: Red Sox Nation suffered through a tumultuous September, where the Red Sox blew a 10-game lead and missed out on the playoffs on the season's final day. Then they saw the brass that had brought them back to greatness get cut up and shipped off to Chicago while forcing out the first Red Sox manager to win a World Series since Ed Barrow.
They brought in Bobby Valentine to re-institute some discipline, but the Red Sox, as a franchise, are devolving into a chaotic group. Add to that the tangible problems—no back end of the rotation, injury issues to Crawford and Youkilis, lack of much in the way of a shortstop or right fielder—and this team could implode once again.
What to watch: Spring Training has already started, and Roy Oswalt is still without a home. The Boston Red Sox are incredibly desperate for starting pitching. They have money.
Dear Boston: I know Oswalt's going to be a massive overpay for someone his age with his injury issues. But you don't get bonus points for winning efficiently. You have the money that 28 other teams don't—bring this man to Fenway.
2012 prediction: 91-71, second -lace
2011: 97-65, first place, scored 5.35 R/G (second in AL), allowed 4.06 R/G (third in AL)
Key losses: Jorge Posada (C/DH), AJ Burnett (SP), Bartolo Colon (SP)
Key gains: Hiroki Kuroda (SP), Michael Pineda (SP), Raul Ibanez (OF/DH)
Why they could win it all: The New York Yankees had the best record in the American League in 2011, and Brian Cashman deserves full marks for his off-season efforts. Learning a lesson from the ARod debacle, Cashman settled Sabathia's contract quickly and decisively for a reasonable price (one extra year, 30 million more guaranteed dollars).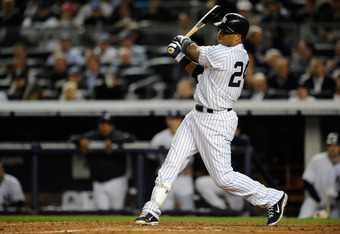 Patrick McDermott/Getty Images
He then shifted his focus to upgrading the rotation and acquired one of the best young pitchers in the game in Michael Pineda (in exchange for the vastly overrated Jesus Montero). He solidified the rotation by picking up Hiroki Kuroda and then dumped the ever-undependable AJ Burnett.
This team is a lock to be in the top-five in the league in both offense and pitching, and probably closer to top-three.
Why they could fail: Age is a concern, of course. Alex Rodriguez  is 36 and hasn't played 140 games since his historic 2007 campaign. He was limited to just 99 games this past season, when he failed to notch 30 home runs for the first time since he was 21.
Derek Jeter is 38 and clearly in the home stretch of his career—and because of his contributions to the Yankees, he won't be moved from the shortstop, a position where he is probably ranks dead-last in the league as a fielder.
Teixeira's 30s have not been treating him well, as he has notched the two worst OPS's of his career in the last couple years. All three of these gentlemen are impossible to bench because of their contracts and stature in the organization, and all three appear to be in rapid decline.
What to watch: Alex Rodriguez could reach some pretty significant milestones with a good year in 2011. He should pass former teammate Ken Griffey Jr. on the all-time home run list, and if he replicates his average numbers from 2008-2010, he'll eclipse Willie Mays for fourth all-time in home runs, becoming just the fourth player ever to eclipse 2000 RBI's.
2012 prediction: 99-63, first place
Tampa Bays Rays
2011: 91-71, 6 GB, scored 4.36 R/G (eighth in AL), allowed 3.79 R/G (first in AL)
Key losses: Johnny Damon (DH), John Jaso (C), Casey Kotchman (1B)
Key gains: Josh Lueke (RP), Luke Scott (OF/DH), Carlos Pena (1B), Jose Molina (C)
Why they could win it all: This is the best-run team in the league from a front office standpoint. Despite a miniscule payroll made possible by a barely-existent fanbase, the Tampa Bay Rays have won two division titles and a wild card in the last four years through smart management and calculated risks.
With a great core of young players (Longoria, Zobrist, Shields and recently, Matt Moore) locked up long term, the Rays are in excellent shape for years to come.
And while playing against the powerhouses of the AL East is an instant disadvantage, the Rays gained a major shot in the arm when MLB elected to expand to two wild cards, meaning that beating out Boston and/or New York isn't even necessarily a must anymore.
Why they could fail: When you have a limited payroll, it hinders your ability to acquire game-changing players unlike, off the top of my head, the Los Angeles Angels and the Detroit Tigers. So while the Rays are smart with their money, they can't procure any player who will fundamentally make a splash in the standings.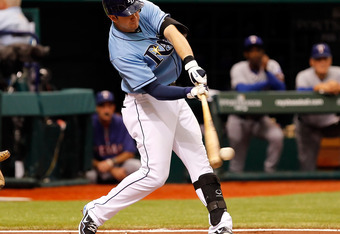 J. Meric/Getty Images
They're also hindered in their ability to find final pieces at the trading deadline. This makes it hard to bet on the Rays, despite the genius that is Andrew Friedman.
What to watch: Jeremy Hellickson won the Rookie of the Year award last year, going 13-10 with a 2.95 ERA and 1.153 WHIP in 189 innings pitched. However, his peripherals—strikeout rate, GB/FB ratio, walk rate—lead some to believe he could regress.
Alternatively, he might just regress because the league has gotten a good look at him. It'll be interesting to see if he can defy the predictive numbers yet again.
2012 prediction: 88-74, third place
2011: 81-81, 16 GB, Scored 4.59 R/G (fifth in AL), allowed 4.70 R/G (11th in AL)
Key Losses: Jose Molina (C)
Key Gains: Francisco Rodriguez (RP), Colby Rasmus (OF, midseason last year)
Why they could win it all: Every year, the Blue Jays win between 80-86 wins, and every year you think they're on the verge of breaking out of their shell for the first time since winning the 1993 World Series.
This year, that feeling has to be as strong as ever, especially with MLB adding a second wild card. Canada's team currently features arguably the best hitter in the game (Jose Bautista), the American League's best shortstop (Yunel Escobar), and two excellent position sophomores.
Finally, the heir to Doc Halladay's throne as staff ace truly emerged last season: Ricky Romero was a force last year, posting a 2.92 ERA and 1.138 WHIP in 32 starts.  
Why they could fail: Romero's terrific, but after that, the rotation isn't much to write home about. No other Blue Jays starter notched as many as 180 innings pitched. Granted, the whole staff is under the age of 30 and could come along—but barring four rain-outs in between each of Ricky Romero's starts, this team is going to give up a lot of runs.  
What to watch: Brandon Morrow is the converse of Jeremy Hellickson; he has lightening stuff and averaged a league-best 10.2 K/9 last season. His peripheral numbers are excellent, but they haven't translated to real life success.
Part of this is due to control; Morrow walked 3.5/9 last season, while hitting 12 batters and throwing 12 wild pitches. Actually, doesn't that remind you of another former Blue Jay who got an 82 million dollar contract a few years back?
Anyway, Morrow will also make an excellent case study for the predictive value of statistics like xFIP—for the opposite reason as Hellickson.
2012 Prediction: 84-78, fourth place