SEC Tournament 2012 Schedule: Kentucky Set To Sweep Vanderbilt and Conference
March 11, 2012

Joe Robbins/Getty Images
The once-beaten, No. 1-ranked Kentucky Wildcats (32-1) will complete an incredible conference stretch of basketball Sunday afternoon in New Orleans when they face off against the Vanderbilt Commodores (23-10) in the SEC Conference Tournament Final (1:00 p.m. ET, ABC).
John Calipari's ball club went 16-0 in SEC play during the regular season and have since gone 2-0 against conference opponents in their first postseason tournament of 2012. 
Vanderbilt will soon join the Florida Gators as the only two teams to be defeated three times by the Wildcats this season. For as hot as the Commodores have been through two days in Louisiana, their solid play and two-game winning streak pales in comparison to Kentucky's 24-game streak that began back in December.
In the two teams' previous two meetings, Vanderbilt has fought hard to remain within striking distance, but has lacked the offensive firepower to overcome Player of the Year candidate Anthony Davis and the Wildcats.
The Commodores were out-scored by 12 in the first half in Nashville and by 10 in the second half in Lexington. Nothing Vanderbilt does well has worked thus far, and that bodes well for Kentucky and their hopes of winning a third consecutive SEC Conference Championship on Sunday afternoon. 
Meanwhile, Davis is leading the Wildcats in points, rebounds and blocked shots this season as a freshman. His 4.7 BPG are stunning, and a large reason why Calipari has his best shot at winning it all this season. 
Davis has been simply amazing throughout the year and even more so during conference play, using his long arms and frame to block anything in sight and rebound at a high level (10 RPG).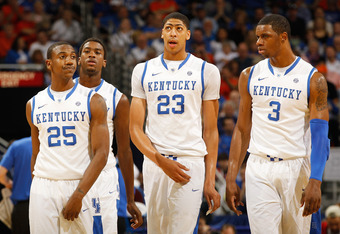 Chris Graythen/Getty Images
His scoring punch in the paint and in transition has added another element to the Wildcats offense as well, something Vanderbilt had no answer for last month in Lexington, when Davis poured in 28 points on 10-of-11 shooting from the field.
The rest of Calipari's lineup has done no wrong either, playing in unison game after game since January when they began their SEC schedule. Their offensive efficiency during that time (10th in the nation in shooting percentage) has been key and will likely be the difference when the competition ratchets up in late March.
For now, though, there is no way that the Wildcats let a familiar conference foe in Vanderbilt halt their epic win streak and derail their run to the 2012 SEC crown. Kentucky is set on becoming the NCAA Tournament's top seed, and that would be cemented in stone with even the narrowest win over the Commodores on Sunday.