Peyton Manning: Denver Broncos Aren't a Good Fit for the Future Hall of Famer
October 18, 2016
Joey Foley/Getty Images
I am not anti-Peyton Manning.  I already detailed why I don't think he's is a good fit for the Denver Broncos, with the basic argument being that this isn't the Manning of 2004.  He's an aging, injured cast-off who will command a huge portion of the Broncos cap space (and throws his linemen under the bus and makes "the Manning face," but that is a minor complaint). 
So, of course, he will choose Denver.
Although I am pro-Tim Tebow, I don't believe Tim Tebow, or 99 percent of future quarterbacks, can possibly hope to have Peyton Manning's career.  If the Broncos were getting Peyton Manning of eight years ago, I would be thrilled beyond belief that the Broncos were trying to obtain him (which means, of course, that they wouldn't). 
But when I look at this from the perspective of Peyton Manning, there are a few reasons that would make him want to look elsewhere.  According to the Miami Herald, the top destinations for Manning are Denver, the Arizona Cardinals and Miami Dolphins.
According to KCKK 1510 AM Denver, Kansas City has already offered Manning a contract.
The Houston Texans would be a possibility if they show interest.
I. The Wide Receiver Countdown
If you were Peyton Manning, which No. 1 receiver for the top destinations would you rather throw to?
1. Larry Fitzgerald (Arizona)
2. Brandon Marshall (Miami)
3. Andre Johnson (Houston)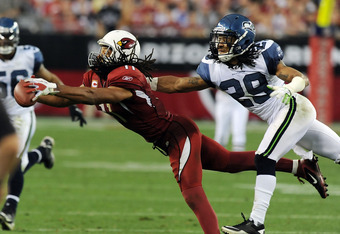 Norm Hall/Getty Images
4. Demaryius Thomas (Denver)
This is the order I would put them in.  This doesn't include Vernon Davis of the San Francisco 49ers or free agent Dwayne Bowe in Kansas City.  You could make the argument that they would both go above No. 4 from as well.
Although this article isn't meant to be about supporting Tebow (for me, it does come down to that), isn't it telling that the Broncos' wide receivers of 2011 would rank sixth on a list of six?  No wonder Tebow's stats were terrible.  Imagine if Tebow threw a 15-yard pass to Brandon Marshall that was turned into a 55-yard touchdown.
Imagine if Tebow threw a jump ball to Larry Fitzgerald that was plucked out of the sky against hapless defenders who happened to be in perfect position.  Imagine if Tebow threw a deep ball to Andre Johnson that was impossible to overthrow because Andre outruns everything.
Or Manning can try to make it work in Denver, where Eric Decker and Demaryius Thomas were the only two players on the same team to be in the bottom 15 for dropped balls.
Hmmm...
II. The Weather Outside is Frightful
Peyton Manning has played in the comfort of a dome and the warm weather of the AFC South his entire career.  Doesn't it make sense that he would choose another dome (Houston or Arizona), or at least warm and predictable weather (Miami or Arizona with the roof open)?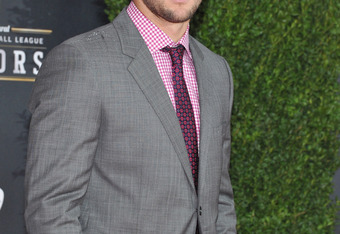 Mike Coppola/Getty Images
Denver, though sunny, is still considered a cold-weather city (and so is Kansas City).  Further, the dry air in Denver makes gripping a football much harder, something John Elway complained about during his career (and even once pointed to the advantage that Marino had in this respect). 
I believe this happened after Elway's bumbled pass attempt against the San Diego Chargers (how Cutler-esque!) in the early 1990s.
III. Foxes Need to Run
Everyone talks about how John Fox would give Manning control of the offense, and point to the fact that Fox changed his offense to benefit Tim Tebow.
However, Tim Tebow fits John Fox's coaching philosophy: eat clock, minimize risk, end every possession with a kick and only throw when needed.  This isn't a philosophy that screams "Peyton Manning."
Would Peyton Manning be happy if John Fox only called seven pass plays in a game?
Would John Fox be happy watching Peyton Manning run an up-tempo, no-huddle passing attack?
The fact is that Fox is very conservative and risk averse.  Maybe the best example was the 2011 New England regular season game:
The Broncos were winning the game.
They had already run for 167 in the first quarter alone (which tops their NFL-leading average), and had the ball on the New England 19-yard line on 4th-and-1.  The New England Patriots came in with the worst rushing defense in the NFL.  The Denver Broncos had the best rushing offense in the NFL.  75 percent of 4th-and-1 tries in the NFL are converted.
The Broncos chose to kick a field goal.
(That, of course, was the last time they led the game and went on to lose.  TMQ's "football gods" chortled.)
 IV. Welcome to Miami

Peyton Manning owns a house in Florida already.  It is a huge media market.  It is filled with celebrities and star athletes (many people say South Beach is the "new Hollywood"). 
Does Peyton Manning, after playing his entire career in a small-market, want to once again be one-man show for an entire town? 
Does he, once again, want to stick out like a sore neck…excuse me…sore thumb? 
In South Beach, Peyton Manning is just one of a dozen huge names and personalities walking around.  You have LeBron James and Dwyane Wade, Sylvester Stallone, Will Smith and, occasionally, The Situation and Snooki.  What's not to like?
V. Houston…We Don't Have a Problem
Houston is an ideal spot for Manning.  First of all, they are a legitimate team.  They didn't make it to the playoffs because of their third-string quarterback (another Tebow reference, sorry), but in spite of him.  Imagine what the Texans could do with Manning there. 
He would have a real defense, a real running game and real offensive weapons who have all proven themselves over multiple seasons.
Further, he would be in the AFC South.  Not only does he know the division well, he knows how weak it is.  He would get to play Blaine Gabbert and the Jacksonville Jaguars twice, the decimated Indianapolis Colts with a rookie quarterback twice and perpetually-rebuilding Tennessee, with a first-year starter as a quarterback. 
The bad news is that, as Woody Paige reports, the Manning camp reached out to Houston (you can imagine why, based on everything I just listed), but Houston doesn't appear interested. 
You mean that Houston is going to support its set of proven quarterbacks—none of whom measure up to Manning in his prime—rather than take a chance on an old injured guy?  Weird.
VII. Arizona: Football Out-of-Staters Welcome
In Arizona, Manning could re-create the success of Kurt Warner, another aging quarterback coming off of injuries and an address change who almost won a Super Bowl with the Cardinals.  Manning would get an offensive-minded coach, a top receiver and an easy path to the playoffs.
The three weakest divisions, in no particular order, are the AFC West, the AFC South, and the NFC West (perpetually). 
Whether Peyton chooses to play for Arizona, San Francisco or even Seattle, his opposition would be minimal.  The 49ers would be the biggest threat, having come off a near-Super Bowl appearance, but their quarterback situation is also up in the air, and could prevent a repeat season.
VIII. This One's NOT for John
Most people are saying that John Elway is a huge bonus for the Broncos in the Manning proceedings.  He probably is.  However, there is the possibility that Manning isn't interested in working in the shadow of John Elway (AND Tim Tebow's shadow, whose aura comes not from his on-field exploits, but from the heavens). 
The only town in America that is more closely associated with a star athlete than Manning was with Indy is how Denver is with John Elway.  There is a reason why no quarterback has succeeded in Denver since Elway retired…the shoes are impossible to fill.
IX. Tebow Time
Peyton Manning is, fundamentally and statistically, a better quarterback than Tim Tebow.  Manning has been, for most of the last decade, the most famous, marketable player in the NFL.  Until now.  Until Tim Tebow time.  Tebow became not just the most popular player in the NFL (virtually overnight), but the most popular athlete in the U.S. 
And he did so faster than any other athlete in history.
If healthy, Peyton Manning has nothing to fear from Tim Tebow on the field.  Off the field is a different matter.  The Tebow fan base is unique, passionate and huge.  Backlash towards Elway, Manning and anything less than a Super Bowl win from the two could be unprecedented.
X. Some Pale, Boulder Hippie Chick with Hairy Armpits...or a Latin Beauty with a Great Tan?
In sum, when you add it all up, Peyton Manning coming to Denver doesn't make much sense after all.  I, like everyone else, have no idea.  But if I were Peyton Manning (how I wish I was), I would have to think that Denver has more cons than pros.  Moreover, the cons are really big cons, and the pros aren't that significant.  
Like a first date on Match.com, you might be able to settle down with the person, but you'd do well looking around some more and finding someone else (in a sunny place) much better looking.