Florida State vs North Carolina: Live Score, Reaction and Analysis
March 11, 2012

Streeter Lecka/Getty Images
Despite the fact that most college basketball fans were clamoring for an ACC tournament final between the North Carolina Tar Heels and Duke Blue Devils, the Florida State Seminoles had something to say about that.
The Noles nipped Duke in the semifinals and will take on the Tar Heels, who narrowly escaped with a win over North Carolina State. Florida State was a force in the ACC during the regular season, as it knocked off both North Carolina and Duke, and it will be looking to prove that it is a championship-caliber team.
While the No. 4 Tar Heels are favored and look to be a lock for a No. 1 seed in the NCAA tournament, the Seminoles won't go quietly. Florida State shockingly blew North Carolina out of the water early in ACC play, as the Seminoles romped to a 90-57 victory.
Senior guard Deividas Dulkys came from out of nowhere to explode for 32 points in that game, so he will be someone to watch, despite his per-game average this season of only 6.7 points. While that win proved that Florida State could beat the nation's elite teams, the Tar Heels will most definitely be out for vengeance.
North Carolina had its share of bumps in the road this season, but an ACC final matchup against Florida State gives the Tar Heels an opportunity to atone for their shortcomings. Perhaps the Seminoles have more to gain from winning this game in terms of seeding, but North Carolina will be out to assert its dominance within the conference and over college basketball as a whole.
One thing that certainly bears watching is the status of North Carolina junior forward John Henson. He was forced to sit out against NC State with a wrist injury, and he will be a game-time decision for the title game. Playing a Henson-less Tar Heels squad would be a boost for the Seminoles, but I like UNC to win either way.
Prediction: UNC 79, FSU 74
Seminoles Survive Late UNC Barrage to Win First ACC Championship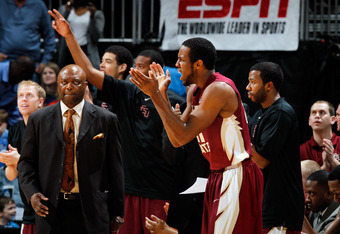 Kevin C. Cox/Getty Images
North Carolina certainly made it uncomfortable for Florida State in the latter stages of the game, but the Seminoles led wire to wire and won their first ACC championship by virtue of an 85-82 victory over the Tar Heels. UNC pulled to within one with 32 seconds left thanks to a Kendall Marshall three pointer, but Florida State persevered.
FSU big man Okaro White was fouled on the ensuing possession, and although he is a 75 percent free-throw shooter, he missed the front end of his one-in-one. That allowed the Tar Heels to have a shot to win. Rather than getting into the paint, however, Marshall settled for another three that went begging.
Dulkys hit two free throws for Florida State, and Hairston missed a last-ditch three pointer for the Tar Heels, giving the Seminoles the win. With that win, Florida State became the first team since the 1995-96 Georgia Tech Yellow Jackets to beat both UNC and Duke twice in the same season.
If it wasn't already apparent that the Seminoles were for real, then it certainly is now. With that win, they will almost definitely be at least a No. 4 seed in the NCAA Tournament and may be as high as a No. 3 seed.
Calls Going Florida State's Way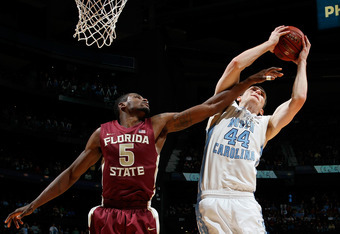 Kevin C. Cox/Getty Images
North Carolina pulled to within four after a signature Tyler Zeller play as he ran the floor and converted on an easy lay in, but Florida State forward Bernard James answered right back as he saved a broken play with a put back. After that, Reggie Bullocks was called for a questionable foul while going for an offensive rebound, and Zeller was called for a blocking foul on the ensuing possession.
Zeller looked to be established and in the right position, but the call went the way of the Seminoles. This allowed Florida State to keep its lead intact. Xavier Gibson answered with a great base-line jumper after UNC got back within six as well.
The hallmark of Florida State in the second half has been its ability to answer every North Carolina run with a big play of its own, and the Seminoles will have to continue that over the final three minutes.
Florida State Quells Another North Carolina Run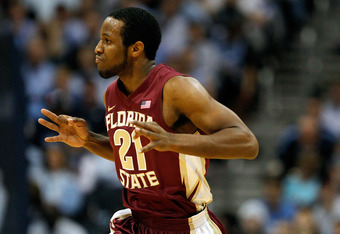 Streeter Lecka/Getty Images
North Carolina seemed to be building momentum as P.J. Hairston hit yet another three and shots were beginning to fall, but like they have all game long, the Seminoles had an answer. Florida State forward Okaro White after the referees awarded him a questionable continuation basket on a Harrison Barnes foul, and Snaer hit another huge three to get the lead back to nine with less than eight minutes left. 
The Tar Heels are starting to be much more efficient on offense, but Florida State is succeeding at taking time off the clock in the half-court offense and continuing to hit shots. North Carolina will be best off pushing the pace with time running down and the Seminoles looking to shorten the game.
North Carolina is still searching for a sustained run as they can't seem to get closer than about six points on the scoreboard.
Tar Heels Draw a Bit Closer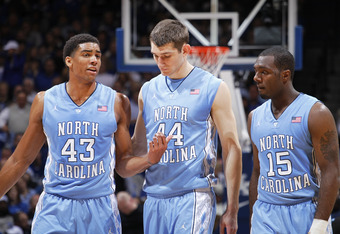 Joe Robbins/Getty Images
Every time it looks like North Carolina is ready to go on a run, Florida State seems to answer, but the Tar Heels are starting to heat up from beyond the arc, just like FSU has all game long. North Carolina pulled within eight with roughly 13 minutes remaining as guard P.J. Hairston nailed a pair of threes, forcing the Seminoles to take a timeout.
Florida State continues to shoot the rock well too, though, so overcoming the 62-54 deficit will be no easy task for the Tar Heels. Snaer, Dulkys and Luke Loucks have been gunners from long range for the Seminoles and certainly haven't shown any signs of slowing down.
The Tar Heels are chipping away, but they need a big run of some sort.
Tar Heels Go on Run to End Half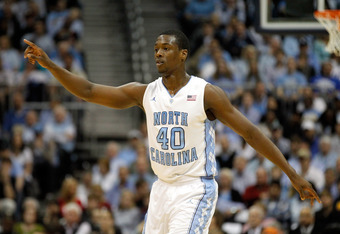 Streeter Lecka/Getty Images
Following the final TV timeout of the half, the Seminoles began to blow it open as they led by as many as 16 points. The Tar Heels were able to compose themselves, however, and claw their way back to respectability. After a mini run by UNC, Jon Kreft flushed a wide-open dunk to put the Seminoles back up by 11.
Harrison Barnes nailed a mid-range jumper with just a few seconds remaining, however, to make the half-time score 49-40 in favor of the Seminoles. Florida State is shooting 62.5 percent from the field and is on pace to score even more points than it did when it destroyed UNC earlier in the season.
The Seminoles haven't had an answer for Barnes as he has 15 points, but Michael Snaer has paced Florida State with 15 points of his own, and he is getting plenty of support from Kreft, Dulkys and the rest of his teammates.
North Carolina is going to have to tighten up on defense in the second half because it is allowing far too many high-percentage shots. Also, it will be important to get the ball to Tyler Zeller in the paint rather than jacking up jumpers continuously. 
It will be interesting to see if head coach Roy Williams considers the Tar Heels to be in a state of emergency because playing John Henson could then become an option.
Seminoles Continue to Roll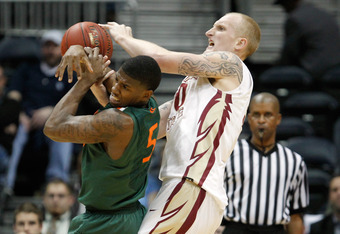 Streeter Lecka/Getty Images
Although Florida State's shooting has inevitably cooled off a little bit, the Seminoles' defensive intensity has been ratcheted up and is beginning to stymie the Tar Heels. North Carolina is shooting just 39 percent from the floor and are no longer getting into the paint with ease as they were able to early in the half.
With Florida State's wide array of bigs clogging up the lane sufficiently, the Tar Heels are starting to settle for contested jump shots, and not surprisingly, it hasn't worked. Center Jon Kreft has excelled off the bench for the Seminoles, and the seven-footer completed a three-point play to widen the gap even more.
The Seminoles now lead 41-30 with less than four minutes remaining in the half.
Florida State Extends Its Lead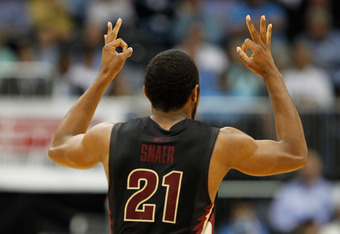 Streeter Lecka/Getty Images
Each team continued to get to the rack, but it was strong three-point shooting that allowed Florida State to widen its advantage. Guard Michael Snaer is red-hot from the field, including two three pointers, while Dulkys nailed yet another trifecta and continues to be a thorn in the Tar Heels' side.
The Seminoles are hitting at an incredible 66.7 percent clip from the field and the Tar Heels are beginning to feel the pressure. On the possession prior to the television timeout, UNC was very sloppy with the ball as it nearly turned it over and allowed a fast break. The Heels regained possession, but Barnes was called for a travel.
This gives Florida State a 33-24 advantage and possession of the basketball with under eight minutes remaining in the half.
Both Teams Off to Quick Start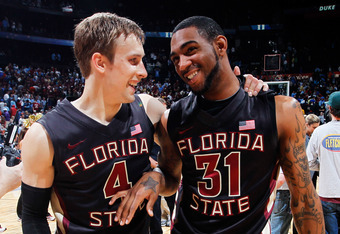 Kevin C. Cox/Getty Images
Through five minutes of play, both North Carolina and Florida State are playing at a break-neck pace. That is to be expected of the Tar Heels since they are second in the nation in scoring and have always played that way under Roy Williams, but the Seminoles are matching them punch for punch.
There hasn't been any defensive resistance to speak of to this point as Tyler Zeller and Harrison Barnes are having their way inside for the Tar Heels, and the Noles have gotten to the paint easily as well. You have to wonder if John Henson's absence will cripple UNC.
Deividas Dulkys, who torched the Tar Heels for 32 points in FSU's blowout of UNC earlier in the season gave the Seminoles a 14-11 lead at the first break.
John Henson Suits Up, But Is Unlikely to Play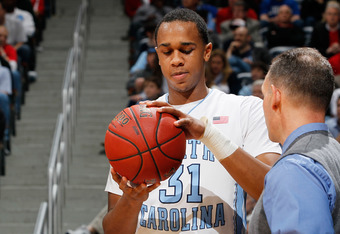 Kevin C. Cox/Getty Images
According to ESPN's sideline reporter Erin Andrews, North Carolina John Henson has suited up and will be on the bench after testing his injured left wrist in warm ups. Head coach Roy Williams said that he would not play, however, unless there is an emergency. James Michael McAdoo will one again start in Henson's place, so UNC shouldn't miss too much as McAdoo has done a nice job this season.
Henson is third on the team in scoring (13.8 PPG), first in rebounding (10.1 RPG) and first in blocks (2.9 BPG), however, so it will be interesting to see how the Tar Heels' interior holds up after NC State gave them a run yesterday.