March Madness 2012 Bracket: Peyton Siva and Louisville Boost Chances with Title
March 11, 2012
Chris Trotman/Getty Images
Peyton Siva and the Louisville Cardinals had themselves a historic run at the 2012 Big East tournament, taking the conference championship in dominating fashion.
After looking to be a team on their way out of the bracket, Louisville was faced with two top-25 teams along the way and would win four games in four days to seal the deal with a Big East championship.
The secret to the success for these Cardinals?
The No. 54 scoring defense in the league was at its best come tournament time, holding Seton Hall, No. 23 Notre Dame, and Cincinnati in the championship game below 55 points.
In the championship-game win over the Bearcats, Louisville held Cincinnati to just 44 points in the game. The defensive mastery was the easily the best performance of the season for the team, as it was the fewest points allowed to a conference opponent in the 2012 season.
This stifling defense will be key for the Cardinals heading into the NCAA tournament, along with a sense of urgency on the offensive end.
Given their late March run, this will be a team that makes a dramatic jump in the tournament bracket seeding as well, which can only help this team.
As Louisville is now expected to jump up to a top-six or -seven seed, it will have to play less difficult teams early on in the tournament.This helps the Cardinals to be able to continue to keep the momentum going and pick up several wins to begin play.
Heading into the NCAA tournament, the offense has picked up dramatically as well for this team and will be essential for the Cardinals if they expect to keep moving on.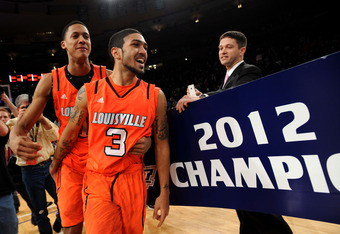 Michael Heiman/Getty Images
Siva has been the answer for this team offensively, dominating on the defensive end and using it to better his offensive game.
After averaging a solid 1.9 steals per game this season, Siva would record 11 steals in the four games while also recording 25 rebounds during the conference tournament.
Offensively, this led to 13.8 points per game as well as a 22-of-47 shooting total in the four wins for the team. The 13.8 points per contest are nearly five points better than the 9.1 Siva averaged during the regular season.
Talk about impressive.
Siva and Co. will have to ride this momentum going into the NCAA tournament, as it will be key to lean on their tough defense to produce offense.
If the Cardinals are able to pick up the offense and continue to improve the play defensively, this Big East threat will be a tough team to eliminate in the big dance. Make no mistake about it.