WWE Raw Live Event March 10: Punk, Jericho, Ziggler, Kingston Shine
March 11, 2012

I went to a WWE Raw house show on Saturday, March 10, in my hometown of London, Ontario. The John Labatt Centre holds about 10,000 people for hockey. The upper decks were tarped off in parts, but it was pretty full everywhere else. I'd guess the attendance was around 7,000 people.
On Friday, I wrote an article about the house show experience in general. This is a recap of my experience. 
The house show set design changed since the last time they came here in September. There was now a small stage at the top with two video screens and the WWE logo at the top of the ramp. It looked better than simply walking out through a curtain.
The show started right at 7:30 p.m. My friends Steve, Eric and I were sitting in row two, so we had a great view of the action.
1. Santino defeated Jack Swagger to retain the US Title. Mostly a comedy match. Good choice for an opener since Santino was loved and he actually lives in Milton, Ontario. I doubt most people know that he's really from the area, because he's billed from Italy. People were making fun of Swagger's hair. He had fun taunting people. Santino won with The Cobra. Went about 10 minutes.
2. Ryback beat JTG. Short match with little heat. Ryback was formerly known as Skip Sheffield. There were some Goldberg chants for him, which were pretty funny. Ryback won with a gorilla press into a powerslam for the win. Match was about five minutes.
3. Eve defeated Kelly Kelly. Lots of "hoeski" chants at Eve as well as a "We Want Ryder" chant. He was not there. Eve showed more charisma as a heel here than she did in the past as a face. I started a "She's a screamer" chant for Kelly. It didn't take. So disappointed. Other chants would work, though. Eve won in around eight minutes.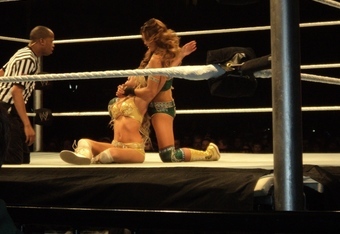 They put a video up on the screens with Jericho doing a pre-tape about how he was ashamed that he was from Canada like all of us. They likely filmed it at Raw. Good idea in theory. Crowd didn't feel like booing Jericho, though. That's not our way.
4. R-Truth defeated The Miz. I slapped hands with R-Truth before the match. What's up? They each cut promos prior to the contest. It was the typical Miz promo bragging about headlining WrestleMania last year while Truth's promo was his usual spiel telling us it was okay to "What?" him. Miz did a great job of interacting with some trash-talking fans in the front row. R-Truth won with his finisher after about 12 minutes.
5. Chris Jericho beat Kofi Kingston. Jericho did a pre-match promo saying his usual deal about "I'm the best in the world at what I do." Most people cheered. It's Canada. We love our Canadians here. Every time he put Kofi in a submission, we chanted "Ask Him" just like he does during his matches. I think he appreciated that.
Match was mostly Jericho working him over with lots of "Y2J" chants, but crowd got behind Kingston too. Kingston had a good near-fall with the Trouble in Paradise only for Jericho to get his foot on the bottom rope. Jericho won with a Codebreaker. After the match, Jericho attacked Kingston. Punk saved.
They had a 15-minute intermission plugging the merchandise available.
6. WWE tag team champions Primo & Epico w/Rosa Mendes beat Alex Riley & Mason Ryan. They worked hard. Crowd reacted to them well. At one point, Riley turned to nearby fans and asked us to cheer loud because he wasn't on TV very much recently. I thanked him for saying it to my face. It's funny because that's his song. Rosa's dancing was the highlight of the match. Epico won for his team with a Backstabber on Ryan. Match went about 10 minutes.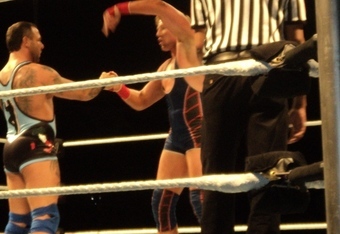 Prior to the Cena match, they aired a Rock/Cena WrestleMania 28 video.
7. John Cena defeated Kane in a Last Man Standing Match. Huge pop for Cena. Some boos, but I'd say 80 percent cheers. They used weapons such as a steel chair, the ring steps, the microphone and tables. Kane propped up a table in the corner. He put Cena through it. Kane set up a table in the ring.
Cena made his comeback to win with the Attitude Adjustment through the table after about 15 minutes. Good match. After Cena won, some older lady pushed me in the back because she wanted to touch Cena when he went to the railing. She did not touch him. She was pissed off. No promo from Cena.
Prior to the main event, ring announcer Justin Roberts thanked us for coming and said WWE would be back. They usually do two shows per year here.
The main event was supposed to be CM Punk vs. Dolph Ziggler for the WWE Title. Punk got the biggest pop of the night.
Before the match started, the ring crew was cleaning up from the broken tables and Ziggler had a "match" with a broomstick where he fell on his back with the broomstick on top. The ref counted the pin as the broomstick won.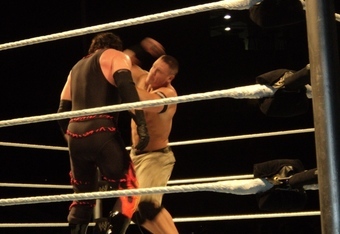 The reason he did it is because they used to say Ric Flair could carry a broomstick to a great match. It's praise for a great in-ring performer. I found it hilarious that Ziggler actually did it.
The Punk/Ziggler singles match only went a couple of minutes when Chris Jericho ran out. Kofi Kingston saved Punk from the beating. Before we get to that match, there were some funny things that happened worth sharing:
- A little girl that was probably 8 years old was telling Ziggler that he sucked. Ziggler was great in terms of how he reacted to her. The fans loved it. He put the mic to her and she said: "Leave. You suck!" Then a "leave you suck" chant started thanks to Punk's encouragement. Dolph went all the way to the back before coming out again. The little girl was hilarious.
- Prior to the Punk/Ziggler match, some guy was heckling Punk. Punk was laughing at him and said: "You're wearing a Miz shirt. Why?" That was funny.
- A little boy asked Punk to wear his winter hat. It was one of those ones that kids wear where the ears are covered by a flap on each side. Punk wore it. It was one of those funny house show moments that he was tweeting about a few days ago when he said house shows can be more fun than TVs. He was right.
- After ref Chad Patton frisked Punk, the champ ended up frisking him and taking off his shirt. Funny.
-  Following the attack by Jericho & Ziggler, they left. Punk grabbed Justin Roberts' cell phone and said he got a text from WWE President Jack Tunney (old school!). Tunney announced that we would have a tag match. If they didn't then, they would lose their spot on WrestleMania.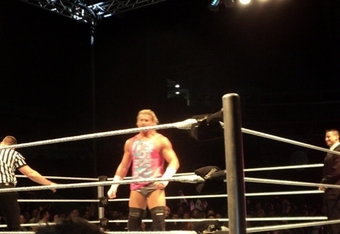 The funny thing about that was that Ziggler doesn't even have a WrestleMania match at this point. The Tunney thing was great because he was from Toronto. He's also been dead for many years. Your legacy lives on, Jack!
- Jericho didn't want to have the match. They called him a chicken. That prompted Steve, Eric and I to start a Y2Chicken chant. Jericho heard it, pointed right at us. Punk pointed at us too. He was laughing about how silly it was. Punk did Y2Chicken hand gestures: first the Y, then the 2, then the Chicken part. The whole arena picked up on it. Pretty damn great.
The pre-main event festivities lasted about 20 minutes. It's amazing how much fun wrestling can be when you let the performers go off on their own and entertain the masses like they want to do.
8. WWE champion CM Punk & Kofi Kingston defeated Chris Jericho & Dolph Ziggler. Awesome tag match. I would love to see this on television so every fan can experience how good these four workers are. Most of the match saw the heels working over Kingston. The "Y2Chicken" chant made it to the match, too. When Punk got the hot tag, the place erupted. Punk used a Sharpshooter.
That move is obviously big with a Canadian crowd. He had a big smile on his face while he did it too. Instead of a top rope elbow, he hit a top rope crossbody onto Jericho & Ziggler on the floor.
The match ended with Kingston hitting Jericho with Trouble in Paradise while Punk hit Ziggler with the GTS for the pan. The match lasted about 20 minutes.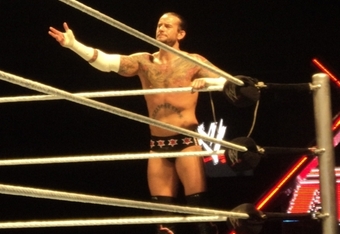 After the match, Jericho & Ziggler laid down in the ring for at least ten minutes. Not moving. They weren't hurt. They were just being silly. We chanted things like "we're not leaving" and other fans got a good laugh out of it. After 10 minutes, they left. That was the end of it.
The main event angle and match started at 9:35 p.m. By the time Jericho & Ziggler left the ring it was 10:20pm or so. All of it was very entertaining.
This event was the most fun I've ever had a wrestling event in my life. I've been all kinds of events ranging from WrestleMania last year to PPVs, Raw, Smackdown and many house shows. This was the best of them all.
There were a lot of fun things that happened, but it also helped that we were sitting row two. We paid $70 for the seats. Last time I went to the show I paid $40 and sat in good seats, but they weren't in a spot where you could be heard. Due to where we were sitting at this event, we felt more like a part of the show.
Thanks to all the performers that put on a tremendous show for us. You could tell that a lot of them had fun interacting with the crowd the way they did. It's important to remember that every performer, from the midcard to the main event, loves what they do. As fans, it's up to us to attend the shows and show them our appreciation.
If World Wrestling Entertainment is in your area, I'd suggest going to the show and if possible you should spend the extra money to sit closer. You'll enjoy the experience that much more.
John Canton is a regular contributor at the Bleacher Report that's excited about going to WrestleMania 28 in Miami. All photos in this article are his own. You can read more of his work at his website thejohnreport.net where he's currently reviewing every WrestleMania event prior to WrestleMania 28. Follow him on Twitter @johnreport where he tweets a lot about wrestling as well as other interesting topics.