Georges St-Pierre vs. Nick Diaz and 5 Blockbuster Fights That Fell Through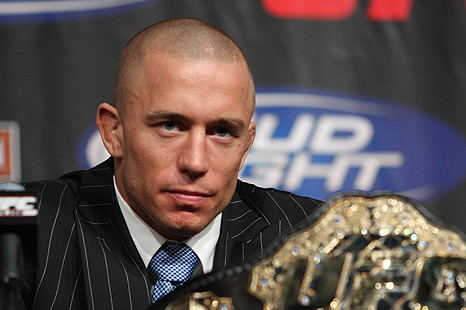 Georges St-Pierre/ Ken Pishna for MMAWeekly.com
We've been teased with this match for the better part of a year. Former Strikeforce welterweight champion Nick Diaz was set to make an immediate splash back into the UFC, taking on pound-for-pound great Georges St-Pierre.
The duo were originally scheduled to meet at UFC 137, though several mishaps on Diaz's side prevented the matchup from commencing.
After a decisive win over BJ Penn, Diaz again regained the top spot and was again slated to take on the Canadian.
St-Pierre suffered an injury in the months leading up to the fight and was forced to withdraw.
The many obstacles and hurdles that preceded the match are a common tale in MMA, as several other bouts—fights that the fans have been dying to see—have failed to come to fruition.
Begin Slideshow

»
During his third reign as UFC heavyweight champion, Randy Couture was looking for big fights.
At the time, it didn't get any bigger than a battle with heavyweight great Fedor Emelianenko.
Both Couture and Emelianenko looked to be on a collision course once "the Natural" attempted to exit his UFC contract in order battle the Russian.
Cooler heads prevailed and Couture eventually made amends with the UFC, while Emelianenko would continue his career with Affliction and, later, in Strikeforce.
For several years, UFC head honcho Dana White made every attempt at bringing Emelianenko to the promotion.
Proving to be the most elusive free agent at the time, Emelianenko eventually opted to compete for Strikeforce, leaving behind a battle with then-UFC champion Brock Lesnar in the dust.
Last October, Strikeforce transplant Nick Diaz was originally slated to take on welterweight great Georges St-Pierre at UFC 137.
After no-showing several press junkets, Diaz was removed from the main-event tilt, later replaced by Carlos Condit.
The Stockton, CA native eventually made a return to the event, this time fighting in the co-main event opposite BJ Penn. The two took headlining duties once St-Pierre was forced out with injury.
After a dominant decision win turned in by Diaz, the enigmatic fighter quickly regained his No. 1 contender status.
Another hurdle came when it was revealed GSP had further injured his knee, this time needing invasive surgery to repair the damage.
An interim title bout was then slated for both Diaz and Condit—who edged the Californian by a hotly-disputed decision win.
Jump to the 1:17:20 mark for the goodness.
The legendary Bas Rutten was ushered into retirement soon after winning the UFC's heavyweight title.
He would later enjoy a career as a color commentator for the now defunct Pride organization.
During the promotion's heyday, Wanderlei Silva was coveted as one of their biggest stars. Just days leading into Pride's annual year-end extravaganzas, Silva was left without an opponent.
Rutten opted to step up to the challenge, though negotiations quickly fell through.
Longtime friends and training partners, a battle of epic proportions between Wanderlei Silva and Mauricio Rua almost came to fruition.
Almost.
During the Pride 2005 Middleweight Grand Prix, both "Shogun" and Silva battled their way to the semifinals, defeating notable opposition along the way.
A victory over Alistair Overeem put Rua in the finals, though Silva failed to make it to the last round of the tournament, suffering a decision loss to fellow Brazilian Ricardo Arona.
Rua met Arona in the finals, knocking out the submission ace to claiming the 2005 Grand Prix title.