Graded Baseball Cards: 1990s Revolution Now Mainstream
March 11, 2012

If you collected baseball cards more than 20 years ago, chances are you knew little or nothing about the whole concept. You were happy with your Topps Mattingly and your Griffey Jr. rookie cards in those ten-for-a-buck, semi-rigid card holders and that was that. 
Times change.
Graded baseball cards have become the market standard for equality between buyers and sellers. Third party grading gives a buyer the peace of mind needed to invest in a card for his or her collection.
The independent third party grading system, which was born in the 1990's, evolved to a more stable market in the baseball card industry. Before then, collectors graded their own and there was no objectivity that gave the market the "buyer's stability" that it currently enjoys and prospers from. 
Not every card is worthy of being graded. It's not free, after all. When more than a few dollars are at stake, though, it's generally easier to buy and sell graded cards.
The industry currently has three leading independent companies that provide authentication and grading service to collectors. They are Professional Sports Authenticator (PSA), Sportscard Guaranty (SGC) and Beckett Grading Services (BGS or BVG)
PSA was the first to establish the independent third party grading system that has driven the market of today. It is generally regarded as the "Grandfather of Grading" and they have established grading standards that are widely used in the profession. PSA grades range from PR1 (Poor) to GEM-MT 10 (Gem Mint).
SGC grades are a lot like PSA's, but their numeric scale ranges from 10 (Poor 1) to 100 (Pristine).  SGC does in fact have a unique and distinguished holder they use for all their graded cards. Its "unique, custom fit design" insert can hold both small and oversized cards securely, protecting them from damage as a result of movement. SGC has a client list that includes loyal long-time collectors and has done a vast amount of pre-War cards.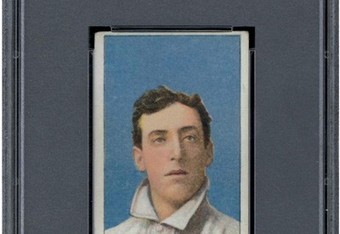 BGS or BVG has uniquely positioned itself in the market as an "on-time or it's free" kind of company. Their 10-point grading scale raises and lowers by half-point increments in descending order. Beckett's top-grade cards receive color-coded labels, sort of an identifiable badge, if you will. Gold labels are for 9.5-10, silver labels are for 8.5-9. Anything that is eight or below receives a white label.
The four eras of baseball cards are separated by 30- to 40-year spreads. What began as a little cardboard advertisement for sporting goods in 1869 ultimately became an industry that now feeds the craving beast of collectibles. Nineteenth century cards are is the first era dating from 1869-1900.
Pre-War baseball cards date from 1900 to 1940 and include cards that bear the likes of Lou Gehrig and Babe Ruth.
The Post-War Era included Hank Aaron and Mickey Mantle cards, dating from 1940 through 1980. The Current Era is from 1980 to the present and over the past 30 years, there has been much to talk about.  "Relic" cards. Autograph cards. Box prices that range from $70 to $400 depending on the quality of the cards and those pricey inserts. 
Graded baseball cards now encompass every era. Ultra high-grade limited edition cards with autographs and jersey relics can cost more than classic rookie cards of guys like DiMaggio and Williams. It may not make sense, but such is the power of the third party system.