NBA Rumors: Some Unhappy Trail Blazers Reportedly Want Nate McMillan Fired
March 11, 2012

Christian Petersen/Getty Images
The Portland Trail Blazers season is quickly spinning out of control, and apparently now there is a divide in the locker room over the displeasure in head coach Nate McMillan.
According to HOOPSWORLD's Alex Kennedy, some players on the team are unhappy with the way things are going this season, which may have led to McMillan losing the faith of his players.
Sources close to the situation believe that McMillan has lost the locker room. According to one source, there's a growing number of players who would like to see McMillan fired, with assistant coach Bernie Bickerstaff taking over as interim head coach.

The players aren't the only ones who are questioning McMillan. Sources within the organization have criticized the coach's rotations and in-game adjustments. It's always telling when a head coach has seemingly run out of answers, and that appears to be the case in Portland. One team source said that McMillan "has no idea what to do" as the Blazers slip further down the standings.
McMillan has been the head coach of the Trail Blazers since the 2005-06 season, and the troubles that the team has faced are ones that have been out of their control.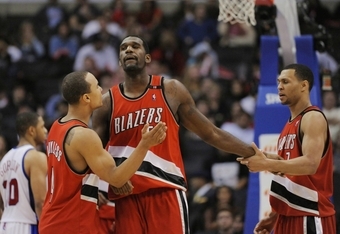 Kevork Djansezian/Getty Images
Players like guard Brandon Roy and center Greg Oden haven't been able to play much over the last few years, which even led to Roy's shocking early retirement since his knees were no longer able to handle the day-to-day action of the NBA.
Oden on the other hand hasn't even been able to contribute on a consistent basis, as he has been in and out of surgery since being drafted as the No 1 overall pick in the 2007 NBA draft.
This problem with the locker room doesn't come as much of a surprise though, as Chris Haynes of CSNNW.com reported that McMillan has had an ongoing rift with guard Raymond Felton throughout the season.
With the Trail Blazers sitting at 19-21 this season, it is becoming quite clear that the team may find it in their best interest to move in a new direction.
The team has dropped 11 of their last 16 games, and who knows how much more that will continue to be the trend if McMillan has truly lost his voice amongst his players.
If the team continues to slide, management may decide that a new direction will be needed before season's end.
That will remain to be seen, but for now the team isn't playing like many had expected. If voices continue to emerge from the Trail Blazers' locker room and front office, McMillan's future will likely continue to be in question.
Jeff Chase is a Featured Columnist for the Chicago Cubs and Arizona State football.
Follow @Real_Jeff_Chase