ACC Tournament 2012: Tar Heels' Kendall Marshall Puts Muzzle on Wolfpack
March 10, 2012

Streeter Lecka/Getty Images
On this day, the rivalry between UNC and NC State was officially revived.
The ACC tournament semifinal match between the North Carolina Tar Heels and the NC State Wolfpack went down to the wire and ended on a controversial play. With the clock winding down, Kendall Marshall drove and stepped into Alex Johnson as he pulled up for a short jumper. The ball banked off the glass and dropped through the net with just 10 seconds left in the game.
Let the controversy begin.
Before we even get into the game, let me address the no-call. I assure you, I did my due diligence and watched the replay frame-by-frame. Johnson did slide in front of Marshall and he did get bowled over. However, his left foot was still sliding as he was leaning into Marshall.
That is not an offensive foul and it's a great no-call in the final seconds of the game. Back to the game.
NC State played its heart out in this back-and-forth matchup between the two long-time rivals. Foul trouble became the issue with both teams, but it hurt the Wolfpack much more. After putting up 22 points, seven rebounds and two steals, Wolfpack forward C.J. Leslie fouled out with 8:03 to go. He would still end up their leading scorer on the day.
North Carolina went up 58-52 after Harrison Barnes hit 1-of-2 free throws, following the Leslie foul.
NC State fought back hard, on the wings of Lorenzo Brown's aggressive play. At the 4:33 mark, Brown jacked the ball from Marshall and went coast-to-coast for a dunk that sparked the crowd of NC State and Duke fans.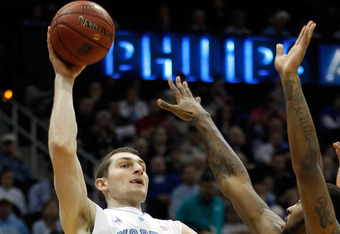 Streeter Lecka/Getty Images
Brown would later split the defense on a drive and jam it home again. And with 1:30 left in the game, Lorenzo Brown struck again. The Tar Heels up 66-63, Brown got in the paint off a nice crossover. He drew contact, sunk the shot and the free throw that followed.
The Wolfpack had tied it up again at 66-66.
On NC State's next possession, Tyler Zeller was called for going over the back of DeShawn Painter on a rebound. That was Zeller's fifth foul, and Carolina would also lose their leading scorer for the final 1:08. Painter hit 1-of 2 from the line to put NC State up 67-66.
The Wolfpack never scored again. Carolina would regain the lead off a free throw from Harrison Barnes and the controversial basket by Marshall.
This game was definitely not easy on the eyes for North Carolina fans. Marshall had a solid day shooting three-pointers, but the rest of the squad went 3-of-16 from the arc. Marshall knocked down two of his four attempts.
However, even Kendall Marshall's passing was a little errant at times. He overthrew his teammates a couple times on his trademark fast-break bombs and missed on an alley-oop to Barnes. Defenders are also jumping Marshall's passing lanes, so he needs to watch out for that tomorrow.
Barnes desperately tried to shoot his way out of the slump he's been on. He managed to knock down two three-pointers, but was 0-for-3 in the final six minutes of the game. Barnes had another subpar day at the charity stripe, too. He did play a big part in the final minutes by getting to the stripe, though.
You can never knock Barnes for effort. And I won't knock North Carolina's bench, either.
Justin Watts made some mistakes with offensive fouls and a couple bad shots, but he played hard and made a difference with his three steals.
It's hard not to like the way Stillman White plays, either. He'll never put up a bunch of stats, but he plays great fundamental basketball. On top of that, he looks like Michael J. Fox in Teen Wolf. And who doesn't like Michael J. Fox?
James Michael McAdoo did a great job, again, filling in for the injured John Henson. But he limited his second-half play when he picked up his fourth foul—just over two minutes into the half. He finished with nine points and a steal, but wasn't effective on the boards. That is where Henson was missed the most.
Tyler Zeller had another typical Zeller kind of day. Left hooks, right hooks, running the floor and drawing fouls—Z was unstoppable. He also picked up a lot of fouls. Before checking out, Zeller had 23 points, nine rebounds and was 7-of-8 from the free-throw line.
This wasn't a breeze for North Carolina, by any stretch of the imagination. It was, however, another game to boost the confidence of the Carolina pine—and gain invaluable experience going into the ACC Championship and beyond.
North Carolina will take on the Florida State Seminoles for the ACC tournament title, Sunday at 1 p.m. EST on ESPN. FSU made my list of the four teams that could upset UNC.