Big 12 Tournament 2012: Missouri Tigers Deserve No. 1 Seed over Jayhawks
March 11, 2012

Jamie Squire/Getty Images
The No. 3 Kansas Jayhawks may have entered the Big 12 tournament in the driver's seat, but the No. 5 Missouri Tigers came cruising by in the other lane to be the ones to likely capture a No. 1 seed in the 2012 NCAA tournament.
With the Tigers taking down the Baylor Bears 90-75 in the conference finals, they made an even more convincing statement on why they deserve that top spot.
The Jayhawks fell in the semifinals to the Bears, while the Tigers made their way into the final with a convincing win over the Texas Longhorns.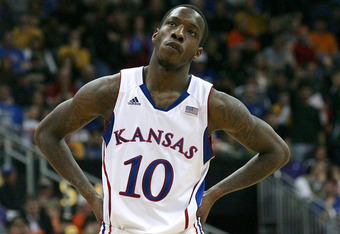 Ed Zurga/Getty Images
The Tigers have done everything they could, and with their results they deserve a No. 1 seed in a region despite their regular season loss to the Jayhawks towards the end of the season.
That game itself was close enough to garner the team any potential of once again reaching the top four, and they should now given their results in the Big 12 tourney.
There is no doubt that the Big 12 has been a strong conference this season, and for the Tigers to prevail the way they did, there just isn't much argument against them at this point to not deserve that No. 1 seed.
They took down the Oklahoma State Cowboys 88-70 in the early goings of the tourney, and then defeated the Longhorns with ease with an outcome of 81-67. In that game, star guard Marcus Denmon only scored two points, but the team was still able to stay on top.
Denmon returned once again to play the way that people expected, as he scored 15 points on the Bears in the title game. Now he will have to show that he can take that style of play once again into the Big Dance.
With the win over the Bears, the Denmon and the Tigers once again showed why they are one of the best teams in the country.
While a win over the Jayhawks would have been even more convincing, the team played what they were dealt, and in the end that is all they can do.
The Tigers have done their part, so now it is time for the seeding to do their's.
Jeff Chase is a Featured Columnist for the Chicago Cubs and Arizona State football.
Follow @Real_Jeff_Chase