Max Pacioretty Scores 30 Goals: First Canadien Since Alexei Kovalev in 2008
March 16, 2012

Richard Wolowicz/Getty Images
In a Thursday night matchup between lottery pick contenders, Montreal Canadiens' winger Max Pacioretty scored two goals, his 29th and 30th of the 2011-2012 season. He became the first Canadien to manage the feat since Alex Kovalev scored 35 in 2007-2008.
An organization like the Canadiens that featured the first NHL player ever to score 50 goals in a season (a 50-game season at that) should not be surprised when one of their players manages to score 30 goals in 66 games. 
Unfortunately, this is where the Canadiens find themselves.
They suffered through three-year gaps where no player on the roster managed to surpass even the meagre 30-goal standard.
Still, this is a good performance for the organization, especially when you consider the Pacioretty's age (still only 23), the type of player he is (power forward), and the fact that he was drafted by Montreal (first round 2007, 22nd overall) and developed by the organization.
Those stories have been thin on the ground over the last 20 years in Montreal. The majority of quality goal scorers in the lineup during that time have come to the team through trade or free agency.
The list of most-recent 30 goal scorers in Habitants' history include: Kovalev, Michael Ryder, Richard Zednick, Vincent Damphousse, Mark Recchi, Pierre Turgeon and Brian Bellows. The only drafted-and-developed scorer in that list was Michael Ryder, who the Canadiens subsequently gave up on.
It's a miserable record for development of offensive talent in Montreal. The last 40-goal scorer in Montreal was Vincent Damphousse back in 1994.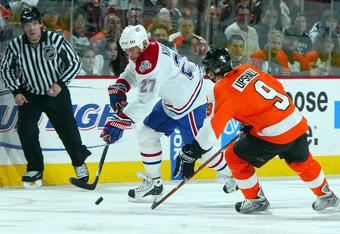 Jim McIsaac/Getty Images
To find a Canadien draft pick who scored 40 goals for Montreal in a season, you have to go back to Stephane Richer, who scored 51 goals for Montreal back in 1989-1990.
That is more than 20 years ago, longer than a lot of devoted Montreal fans' lifetimes.
So the story of Max Pacioretty scoring 30 in a season is a little bigger in Montreal than it should be. Doubly so because he did it a year after suffering a devastating brain and neck injury after being run into the glass by Bruins defenseman Zdeno Chara last March 8th. That injury looked like it could have been a career-ender, but Pacioretty has come back to the roster looking better than ever.
Things are getting so thin on the wing in Montreal that the fear has to be that some of Pacioretty's offense is a function of the fact that he doesn't have to compete anymore to pick up all the prime ice time he wants. The injury to Brian Gionta and the departure of Mike Cammalleri and Andrei Kostitsyn has left only Eric Cole as a legitimate top-six winger on the team.
Even if his offense is more a function of the Kyle Wellwood effect, Pacioretty still is the best offensive player on the team this year, and he is young enough that he still has time to improve.
Hopefully Pacioretty will be around long enough to see the Canadiens turn it around and become a competitive NHL playoff team again. Hopefully this is a sign that the Canadiens, with Pacioretty, Subban, Plekanec and Price, finally become a team again that can draft and develop it's own talent.