The 2012 NBA All-Disappointment Team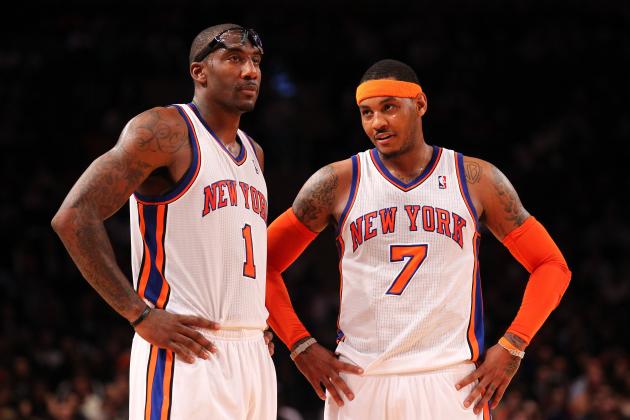 Al Bello/Getty Images

In everyday life, we all find ourselves getting a little disappointed with something.
Whether it's car troubles or not getting that promotion we were striving for, disappointment is just another aspect of life. It's another one of the countless negatives that we are forced to endure with and take in stride. We overcome them because we have no choice. If we let disappointment take over our lives, we'd never be encouraged to do anything worthwhile.
The same goes for any sport. Disappointment plays a tremendous part in the game. In the NBA, did you know that at the end of the season there will be 29 disappointed teams that didn't win a title? It's a pretty interesting thought to consider. All teams have to deal with this, and so must the general managers who make the signings and the players who fail to live up to expectations.
Today we explore the prevalent art of disappointment by selecting 10 of the most disappointing players in the NBA this year. There's no order, only a starting lineup and five other players who would come off of the bench of failure and disdain.
If you're surprised to see a few players from the same team, it's probably because they're the main contributors to their team's disappointing start. Let's just take a look at the all-disappointment team for the 2011-12 season thus far.
Begin Slideshow

»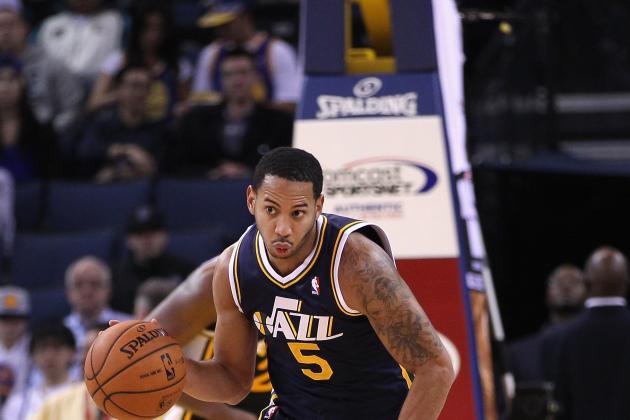 Ezra Shaw/Getty Images

Devin Harris deserves this spot for the past three seasons.
In the 2008-09 season, Harris was only 25 years old when he made it to his first All-Star game. The starting point guard for the New Jersey Nets was perceived to be as a possible future perennial member of the weekend festivities and gave plenty reason after averaging 21 points, seven assists, three rebounds and two steals per.
From that season on, Harris hasn't been the same player. He didn't deal with any catastrophic injuries nor trouble at home. Devin simply regressed the next year and hasn't returned to the form he was at in 2009. He'd spend a year and a half more with the Nets before being shipped off to the Utah Jazz in the Deron Williams trade.
The struggles continued. Harris has managed to start in all 38 games this year, but he's having the worst statistical season of his career since his second year, when he was still a reserve. This season, Harris is averaging a little less than 10 points to go along with four assists per.
It shouldn't come as a surprise that the Jazz are exploring a trade involving the now 28-year-old.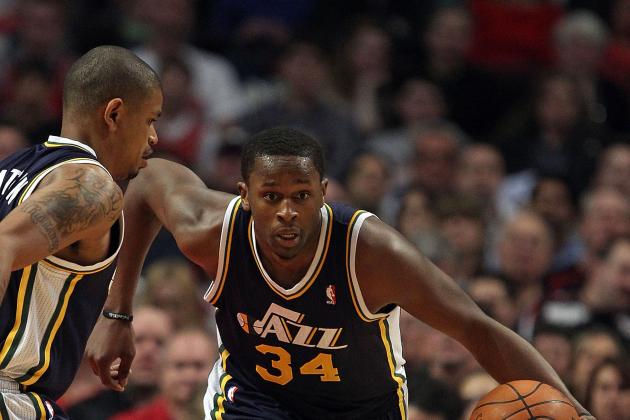 Jonathan Daniel/Getty Images

I'm not targeting the Utah Jazz in any way. It's just that their backcourt has been extremely disappointing this year.
Outside of Devin Harris, their shooting guard in C.J. Miles has also fallen far below the expectations that many had him at after a solid 2010-11 campaign. Miles averaged over 10 points per for the first time in his six-year career with 13 points per on 41 percent shooting from the field, as well as one three-point conversion per on 32 percent shooting.
Not the greatest stats, but significantly better than what he was doing prior. The Jazz had given him opportunities to receive a permanent starting job. He played and started in 72 games in the the 2008-09 season, and would find himself back on the bench the next season, where he would play in 63 games and start in 28.
Miles has been in the league since the age of 18. He had no college experience and was one of the last players drafted to come straight out of high school before NBA rules mandated that an NBA player must have at least one year of college experience.
Maybe the time at the NCAA level would have paid off. Miles is having a dismal season coming off the bench for the Jazz and is averaging nine points on 38 percent shooting to go along with an even more disappointing 28 percent shooting from deep.
He's also dishing out a healthy one assist per to go with a staggering two boards.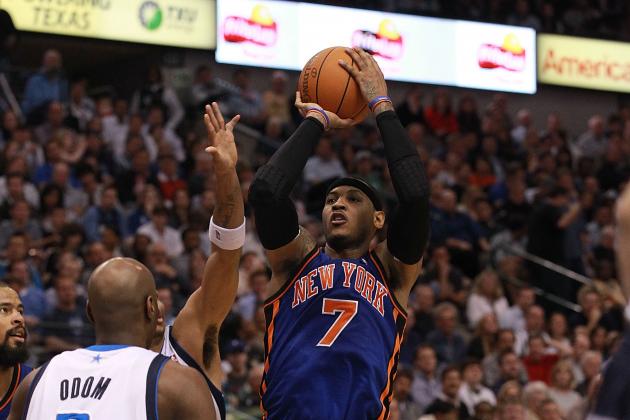 Ronald Martinez/Getty Images

It's probably way too soon to start declaring statements like this, but is this whole Carmelo Anthony in New York experiment not working out?
Since he's gotten there, the best stretch of games the Knicks had was when he wasn't even playing. That came this year when Jeremy Lin burst on the scene to lead the Knicks back to .500 during Melo's absence due to an injury.
Does anyone else think there's a relation to the Knicks playing good with Lin and then going back to awful with Anthony back in the lineup? Maybe we're just too quick to judge. These things do need time to develop.
The Knicks team is basically entirely new with the exception of Landry Fields and Amar'e Stoudemire. With guys like Lin, J.R. Smith, Baron Davis and Tyson Chandler being added to the mix, the Knicks may just need more time gel.
Either way, it still doesn't extinguish the fact that Anthony has been playing arguably the worst basketball of his nine-year NBA career. The 21 points per he's averaging is the lowest since his second year in the league and the 40 percent he's shooting from the field happens to be a career low. The six boards he's grabbing is tied for the second lowest output of his career as well.
If there's anything you can take away as a positive from Anthony's season thus far, it's that he's tied a career high in assists at four per.
I'm not sure if that's a good thing or not.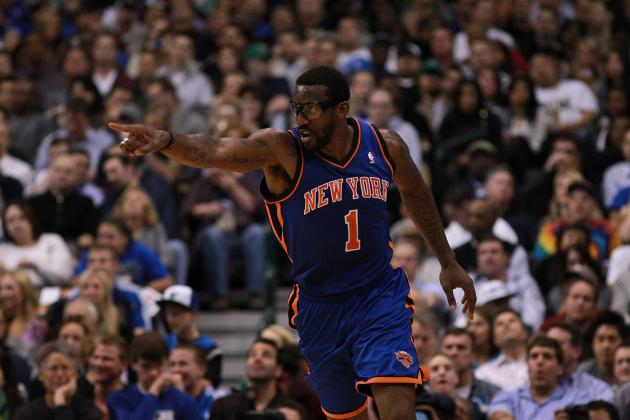 Ronald Martinez/Getty Images

Now this is just upsetting.
Last year, Amar'e Stoudemire was getting MVP chants at Madison Square Garden. He wasn't the league's most valuable player, but he was doing more for the New York Knicks than any other player had in the past decade. The Knicks got off to a decent start—one of their best starts to the season since the Patrick Ewing era.
Then someone from Denver came over and started to disrupt it. It's obvious that Carmelo Anthony has disrupted the flow of this offense. Anthony is purely an isolation player who relies on his own game, while Stoudemire relies on the passing ability of his point guard to get him easy looks near the basket.
When you have one player who dominates the ball and doesn't like passing and one who needs the ball passed to him in order to score, the chances of running into a problem increase tenfold. Anthony and Stoudemire both want to score a lot, and this situation in New York is only going to get worse before it gets better—unless those two figure out a way to share the ball efficiently.
Stoudemire has dealt with some injuries this year, so we'll give him that as an excuse for his struggles. However, his play seems to be far more than just injury concerns. He's still played in 34 games and is averaging nearly 34 minutes worth of playing time when he's out on the floor. It still doesn't explain why he's averaging a mere 18 points on 46 percent shooting.
The shooting percentage is the lowest of Stoudemire's career and the scoring output is the lowest it has been since his rookie year, if you exclude the 2005-06 season, where he only played in three games.
In a Sunday loss to the Philadelphia 76ers, Amar'e had nine points on nine shots. Jeremy Lin took 18. It's that bad in New York.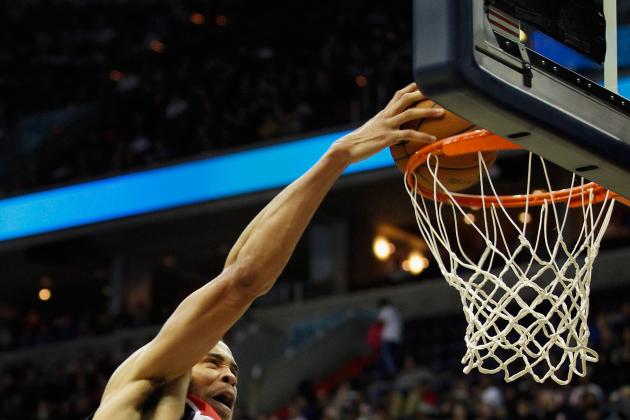 Rob Carr/Getty Images

This game isn't all about stats.
If it were, Wilt Chamberlain would have won a lot more than two championships and Allen Iverson would probably be able to sell of a championship ring or two to pay off some of his debt. Half the game of basketball is mental and there is a large number of players in this league who allow their physicality to speak for their entire game.
You need to have the correct state of mind if you're going to be a successful NBA player. You can have all the top physical attributes in the game, but it doesn't mean a thing if you don't have the right mentality to go with it. There's so much more to this game than simply putting the basketball in the hoop, and players like JaVale McGee don't seem to get that.
We'll give credit where credit is due to McGee. He's averaging career highs in points with 12, rebounds at nine and blocks at three. He's easily one of the scariest players in the league to face when near the basket and is probably the most athletic big man in the game, aside from Blake Griffin and Dwight Howard. McGee has all the advantages you could ask for from a center, except being mentally competent.
Somehow, McGee has regressed mentally. Despite his exceptional play on the court, the Washington Wizards' coaching staff has gone as far as to bench McGee because of his immaturity and childish antics. The Wizards have nothing to lose at this point, and benching a player of McGee's caliber has been one of the boldest moves made by any NBA team.
The sad part about McGee's season is that more people are going to remember him for plays like this or this, instead of the minimal positive plays that he's made this year.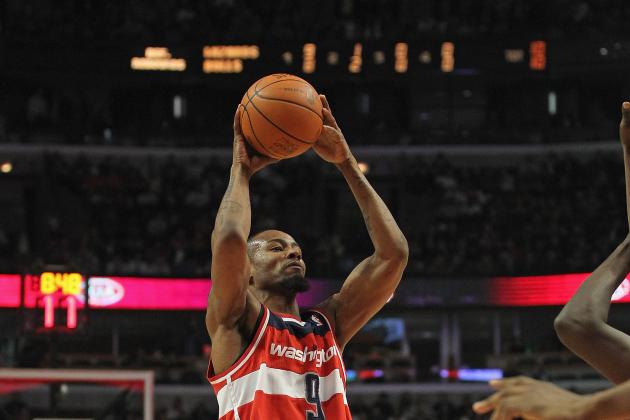 Jonathan Daniel/Getty Images

The past five years of Rashard Lewis' career could be labeled as one tremendous disappointment.
Start out with the idea that he's signed to a $120 million promise that he'll never live up to or the fact that he hasn't averaged 20 points per game or more since 2007, and you'll see that Lewis has been one of the NBA's most significant letdowns in the history of the game.
Lewis saw his best years come as a member of the Seattle Sonics, where he would average up to 22 points per game and would even go on to have some solid years with the Orlando Magic. He'd convert on three three-pointers per game for two consecutive seasons and would even be the starting power forward for the 2009 team that went to the NBA Finals.
After 2009, however, Lewis' career began to go down the tubes and he'd be traded a year and a half later to the Washington Wizards, the team that currently employs him. Injuries would derail his 2010-11 campaign and limit him to only 57 games, but surely it couldn't get any worse the following year.
You'd be surprised. In 28 games, 15 of which he has started, Lewis is averaging eight points on 39 percent shooting from the field to go along with less than a three-point make per on 24 percent shooting. It's the lowest numbers he's had since his second season in the NBA over a decade ago.
On a team where the power forwards are Jan Vesely, Kevin Seraphin and Andray Blatche, Lewis still can't even keep a starting job.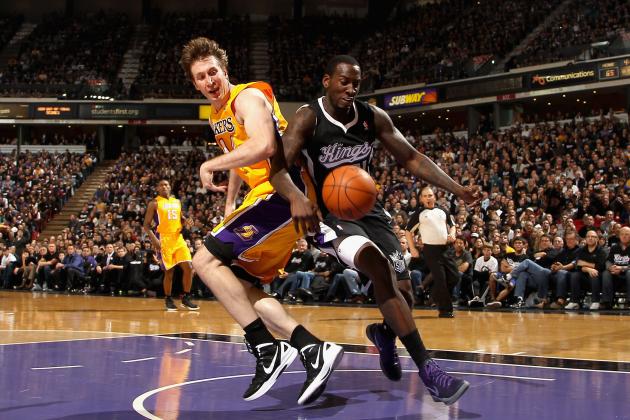 Ezra Shaw/Getty Images

It wasn't even a year ago when J.J. Hickson was setting out to prove that he was an All-Star in the making.
In his final season with the Cleveland Cavaliers, Hickson averaged 14 points and nine boards. He only shot 46 percent from the field, but you can't ask for too much from a third year power forward who's attempting to make up for the loss of the most prolific player in franchise history. He still made progress and was a solid power player who could play the role of an enforcer.
Then the Cavaliers traded him to the Sacramento Kings for Omri Casspi and a first-round pick. The Kings were absolutely loaded with size. Guys like Jason Thompson and DeMarcus Cousins would surely take away some of Hickson's playing time, but we had no idea that it would completely derail his career.
In his fourth year in the league, Hickson is averaging five points on 37 percent shooting to go along with five boards per. He's played in 34 games, starting in nine, and has been injured since March 1st due to a lower back contusion. It's not like the Kings are missing too much, as they could barely get any production from the former starter.
Of the 34 games he played in, Hickson scored 10 points or more three times. His season high was 14 points, but he still needed to play 38 minutes just to reach that mark. He's also recorded 10 or more rebounds on only four occasions and had 17 more total turnovers than assists.
Maybe the Cavaliers and Kings can do this trade over again. It's not like Casspi is working out for Cleveland.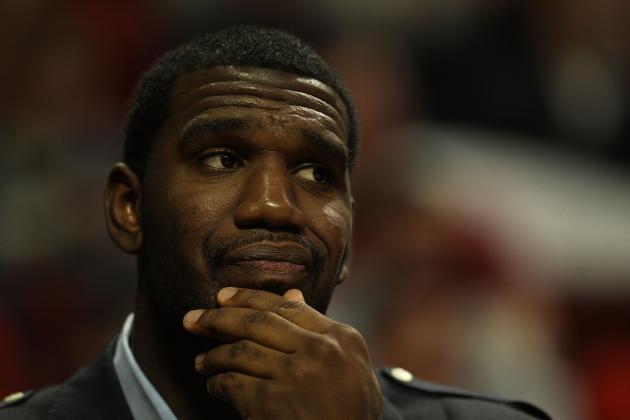 Jonathan Daniel/Getty Images

It's not fair to say a player dealing with injuries has been disappointing.
After all, it's difficult to put on a disappointing performance when you're being hampered by an injury that you had no control over. That's why you don't see players like Brook Lopez or Al Horford on this list. It's disappointing to not see them on the court, but they certainly aren't disappointing because of freak injuries that just happened.
Greg Oden, however, is an exception. He's an exception because this isn't just a one-time thing. This is the second consecutive season, and the third overall, in his NBA career where Oden has had to sit out the entire season due to a knee injury. It's only more disappointing because it was widely believed that he would make his comeback in January.
Setbacks played a huge part again. As a result, Oden had to go under the knife once again in order to repair the severe damage that has taken place on his knees since the initial injuries he suffered during his NCAA career. The significant injuries began to pile up once he came into the NBA, however, as he was forced to sit out what was supposed to be his rookie season.
The Portland Trail Blazers aren't ready to admit defeat. They've invested a lot of time, money and patience in attempting to get Oden healthy and on the court. Since being taken with the first pick in 2007, Oden has played in 82 games and hasn't played since before the All-Star break in 2010.
Another part of the reason the Blazers don't want to get rid of him is simply because of Oden's size. If he ever does make a healthy return, the Blazers would suddenly have a huge advantage over half of the league's teams.
Tough to see him with the Blazers next season after this recent setback.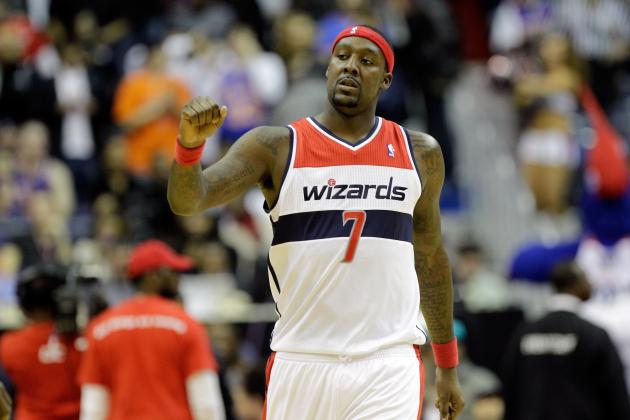 Rob Carr/Getty Images

Are you beginning to notice a trend here involving the historically awful Washington Wizards?
At 9-30, the Wizards have actually regressed from last season, have shown unbelievable immaturity from each young player and even went as low as to fire a possible Hall of Fame worthy coach in Flip Saunders, who had won over 600 games in his coaching career.
Obviously, Saunders isn't the problem. It's not like interim head coach Randy Wittman has done any better. The Wizards aren't good because their players don't care. Everyone is selfish, no one likes to make the smart play and no one cares enough to listen or receive guidance. It's an absolute free-for-all on this team, and not even Saunders could correct this mess.
One of the key contributors in the Wizards' awful start has been power forward Andray Blatche. A second-round pick by the Wizards in 2005, Blatche was actually playing some solid basketball last season en route to averaging a career high 17 points and eight boards per. Sure he took horrible shots and never looked to pass, but at least the Wizards had a big man who could score and rebound.
Not anymore. Blatche has played in 21 games this year and Wizards fans are actually happy about this. They detest Blatche so much that they boo him whenever he has the ball in his hands. Of course, Blatche has gone on to say that the booing and jeering has thrown off his game and he's now hesitant on taking shots.
Who would have guessed that the fans in D.C. would be just as effective at coaching the Wizards than Saunders and Wittman?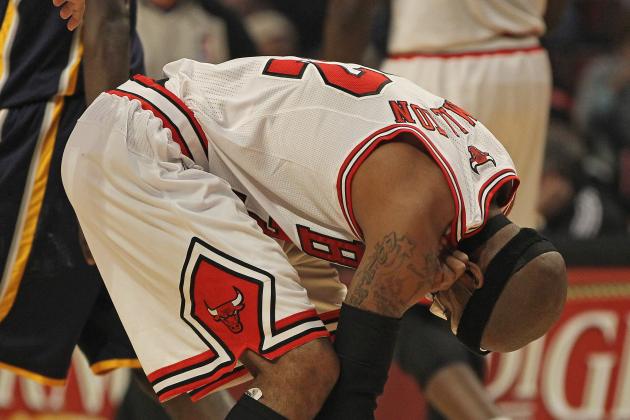 Jonathan Daniel/Getty Images

In last year's Eastern Conference playoffs, the Chicago Bulls were exposed as a one-dimensional offensive threat.
While Derrick Rose did all he could to lead the Bulls past the Indiana Pacers, Atlanta Hawks and Miami Heat, it became dreadfully apparent that he needed help on the offensive end. Luol Deng could step up in instances, Carlos Boozer became more of a liability than anything, and offensive help at the 2 and 5-spot and off the bench was extremely limited.
What the Bulls needed was another scorer in the starting lineup to relieve some of the pressure off of Rose. Teams recognize that he's primarily a slasher due to his lack of a consistent jump shot and defenses will pack the paint in order to limit him. As a result, Rose finds himself getting abused in the paint while receiving little contribution from his teammates who couldn't bail him out when the going got tough.
However, the Bulls managed to pull off one of the more significant moves of the offseason by going after and signing longtime Detroit Pistons shooting guard Richard Hamilton. It was a perfect move by the Bulls, as they not only received a scorer who could stretch the floor, but it also meant that there would be no more Keith Bogans in the starting lineup.
So far, the experiment hasn't been working out too well, as Hamilton's injuries are beginning to affect him once again. What many people failed to mention about the Bulls signing Hamilton was that he had just come off of two of the most injury plagued seasons of his career. He played in 46 games two seasons ago and 55 the next, while shooting less than 43 percent in each season.
This comes from a player who had played in at least 63 games every year of his career and had shot 45 percent.
Hamilton has only played in 16 games this season and was averaging a near career low 11 points on 45 percent shooting to go along with three assists and two boards per. The Bulls are going to need his services if they want to even begin thinking about making it to the NBA Finals.