Selection Sunday 2012 Start Time: Bubble Teams Who Should Be Most Nervous
March 10, 2012

Jim Rogash/Getty Images
On "Selection Sunday", the faithful of Colorado State, Drexel, Washington, and West Virginia will be sweating bullets.
The four are squarely on the bubble. The question persists: will the quartet float up into promised land of the NCAA field, or will they pop and crash furiously down to the ground that is the NIT?
Each team presents a strong case as to why they should be included in the field.
Let's take a look...
Colorado State Rams
Does anyone realize that CSU has the fourth toughest strength of schedule in the country? They are also a top 25 RPI team with a 20-11 overall record.
In theory, a team with that type of resume should be an absolute lock to get into the tournament. It's not a certainty however, that the Rams will earn a bid.
A facet going against CSU is that they play in the Mountain West Conference. It's already difficult enough for a mid-major to get an at-large bid.
It's even more difficult when the Mountain West will most likely send three teams to the dance (UNLV, New Mexico and San Diego State).
Colorado State has a 7-9 record against the RPI top 100 (which isn't terrible), but they don't truly have a signature win outside of the three conference foes mentioned above.
Head Coach Tim Miles and his squad will have to sweat out the selection process Sunday.
Drexel Dragons
Will head coach Bruiser Flint's team catch a break this year?
After being snubbed for the NCAA Tournament last year, Flint hopes his team will be able to crash the party and make some noise in 2012.
This year, Drexel finished a stellar 27-6, with a 16-2 conference record. A team that record should be a no-brainer to get into the tournament right?
Wrong.
Despite their wonderful record, Drexel's strength of schedule sits at 247. Yes, let that sink in for a minute.
They've gone 25-2 since December, yet find themselves not guaranteed of a spot in the dance. They just recently lost the CAA Championship Game to VCU in a heartbreaker by three points.
If Drexel doensn't make it in, they can point to their ridiculous SOS as the sole reason. For a mid-major team, it's a must that they challenge themselves outside of conference play. This enables a mid-major to pick up quality wins that can't be had in conference play.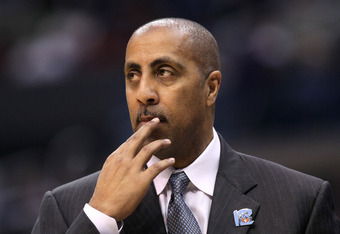 Stephen Dunn/Getty Images
Drexel didn't do that. As a result, that might keep them from dancing.
Washington Huskies
Washington has really made it hard on themselves.
After winning the regular season conference crown in the watered-down Pac-12, they laid an egg in the conference tournament - losing to the No. 9 seed Oregon State Beavers in the first round.
The Huskies had no room for error entering the conference tournament - even when winning the regular season title.
While they have a 21-10 overall record, they're 1-8 against the RPI top 50. Even worse, the win came against UC Santa Barbara. With a SOS of 90 and an RPI of 69, they aren't safe in the slightest.
Lorenzo Romar's team is talented - without question. Even with three NBA prospects (Tony Wroten, Terrence Ross, C.J. Wilcox), there's no guarantee that they make the dance.
West Virginia Mountaineers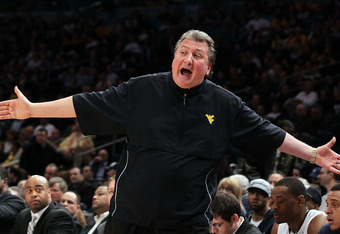 Jim McIsaac/Getty Images
West Virginia is on shaky footing as "Selection Sunday" approaches.
The Mountaineers have a good strength of schedule (15th), and have had quality wins over teams such as Georgetown, Marshall and Kansas State.
However, they aren't a sure thing to get an at-large bid.
Bob Huggins' team is only 4-8 against the RPI top 50. In addition, they've had a record of 4-8 in their last 12 games. That's not exactly the momentum the team wants heading into possible postseason play.
An overall record of 19-13 is solid, but losing in the first round of their conference tournament isn't a good sign.
At this point, it could go either way for West Virginia.