NFL Mock Draft 2012: Kansas City Chiefs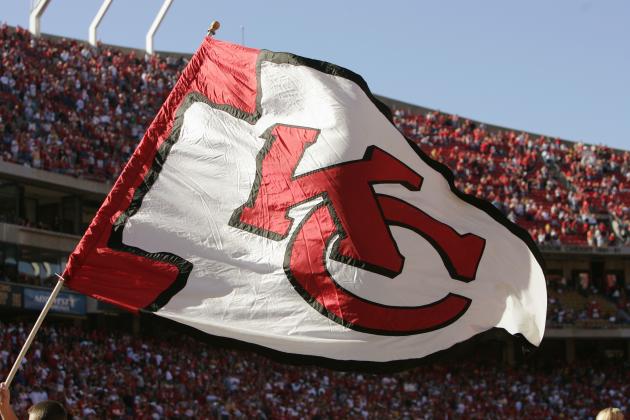 Brian Bahr/Getty Images

The Kansas City Chiefs have a strong young nucleus that rivals any team in the NFL. Through player retention and shrewd drafting since his arrival, Scott Pioli is starting to build an exceptional roster with very few weaknesses. One might even argue the majority of the Chiefs' problems do not lie in their starting line-up, but in the back-half of their roster; a place I like to refer to as the 25-53.
Don't get me wrong, the Chiefs certainly need to upgrade a few starting positions, but their primary concern should be finding quality depth and sub-package players that compliment the rich base of talent already in place.
The free agent additions of Eric Winston, Kevin Boss and Peyton Hillis all came in key areas of need, giving the Chiefs increased flexibility with each of their eight picks. I wouldn't rule out anything in the first few rounds, but here is my current hypothesis for how things will shake-out in April.
Begin Slideshow

»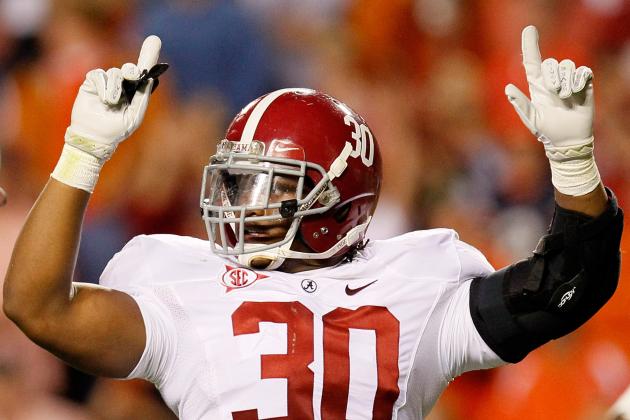 Kevin C. Cox/Getty Images

A two-year Captain and rare starter as a true freshman, Dont'a Hightower has been a force in Tuscaloosa since he first stepped foot on campus. He's regularly referred to as the "heart and soul" of the Crimson Tide's top-ranked defensive unit. The outstanding inside linebacker has made every call for Nick Saban's 3-4 defense for two consecutive seasons, eventually being named consensus first-team All-American in 2011.
Not only does Hightower fit the Chiefs' defensive alignment like a glove, he's a significant upgrade over current starter (and impending free agent) Jovan Belcher. With Belcher you have more of a pile-maker than a playmaker and someone who offers almost nothing against the pass. Given that Tamba Hali and Justin Houston might be the worst coverage linebackers in the NFL, the Chiefs must have elite-level ability on the inside in order to shore-up the middle of the field.
Looking for a reason the team has trouble getting off the field on third down? Poor zone play against crossing patterns by tight ends and running backs is the main culprit. Pairing Hightower with Derrick Johnson on the inside will go a long way into making the unit more effective. Also worth noting is the release of Demorrio Williams, the primary back-up to both Johnson and Belcher.
With even a quick study of the game film, its easy to see the rare combination of skills Hightower possesses. I've often likened him to a workhorse running back given his tendency to wear down opponents and play his best football in fourth quarter. His violent style of play is endearing but perhaps more impressive is the wisdom to know when to use finesse rather than aggression to bring players to the ground. Despite his mammoth frame at 265 pounds, he has very adequate zone coverage ability to compliment his elite presence against the run and considerable pass rushing talent.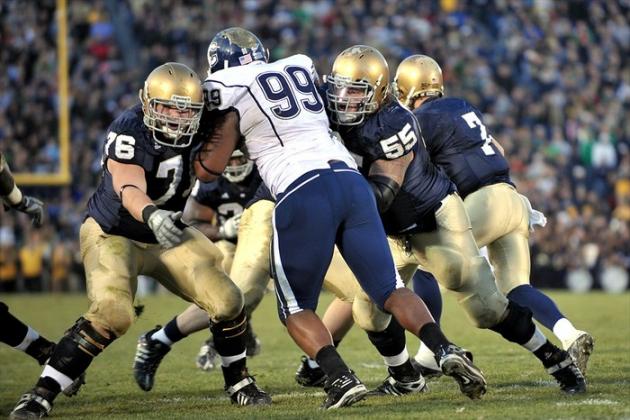 One of the biggest disappointments for the Chiefs in 2011 was the play of Wallace Gilberry. Essentially a starter, given the number of reps he received in the nickel package, his performance dipped considerably after a questionable offseason regimen had Gilberry add significant weight to his frame. Primarily a pass rusher in previous seasons, word was he decided to bulk-up in hopes of becoming more of a well-rounded player. The results, however, were unimpressive. Not only were his pass rushing numbers essentially non-existent, Gilberry never showed improvement against the run. Also worth noting is that he was on a one-year restricted tender (with an elevated salary) and is now an unrestricted free agent.
With the addition of Kendall Reyes, the Chiefs get an immediate contributor against the run and pass in their 2-4-5 nickel package. Constantly disruptive at or behind the line of scrimmage, this former Husky has flashed an immense talent that should only be further cultivated in the NFL.
The Chiefs defense was gashed countless times with draw plays on third down, often times due to Gilberry's ineffectiveness. Reyes should be an instant upgrade in that regard but also brings exceptional strength and quickness inside to split double-teams and make plays in the backfield. While he'll have to learn how to two-gap if he's to earn reps at either defensive end spot down the road, the upgrade for Kansas City's sub-package in the interim will be well worth the investment.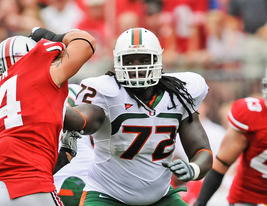 After spending his first two seasons playing left guard for the Hurricanes, Brandon Washington was moved to the glamor position of left tackle for his junior year. Despite the difficult transition, the former prep star held his own, only being flagged for three penalties all season.
There will be teams considering Washington at right tackle but the Chiefs are drafting him here to replace Ryan Lilja at left guard in 2013 - as has been their formula with both Jon Asamoah and Rodney Hudson. Fortunately, Washington left Miami after his junior campaign, meaning his first year of service in the NFL can't be considered lost time.
Scouts will tell you the problem area of his game is in pass protection but the tape is a little hard to diagnose when he's playing left tackle. Not only was he out of position there, he was plugged-in at the most difficult spot on the offensive line without much preparation. On the interior, he was a truly dominant run blocker while maintaining adequate savvy in pass protection with plenty of room to improve.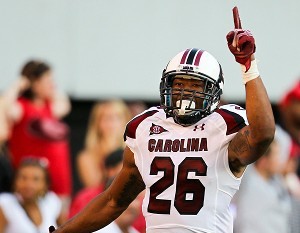 After Eric Berry was lost for the season, the Chiefs were forced to turn to a mish-mash of under-whelming talent at the safety position. The likes of John McGraw, Sabby Piscitelli, Reshard Langford and Donald Washington roamed the secondary, routinely giving-up plays that extended drives.
The Chiefs inability to cover tight ends, slot receivers and running backs (regardless of man/zone) really hurt them over the course of the season. Fortunately, the team can add a specialist in that area of the game with Antonio Allen. His position at South Carolina was usually as a "rover" or "spur" that basically amounts to an in-the-box type that could be described as a safety/linebacker tweener. He's an extremely opportunistic defender (three defensive TDs in college) with an impressive array of statistics to back-up his diverse skill set.
One of the popular alignments for Romeo's Crennel's blossoming unit was the 2-4-5 nickel package, made up of two defensive linemen, four linebackers and five defensive backs. This unit plays a pivotal role for the Chiefs so they must continue to upgrade roster spots 25-53 in order to make it more effective. Given Allen's college experience coupled with the Chiefs glaring need for a back-up at each safety spot, this is an ideal selection at this point in the draft.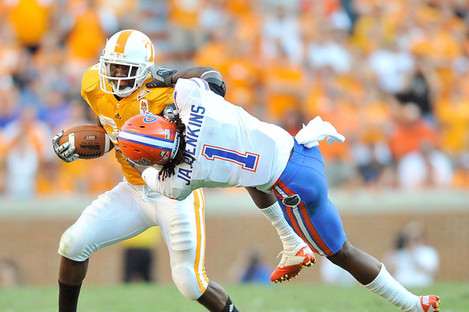 Even after the popular addition of free agent Peyton Hillis, the Chiefs still need to add depth at running back. With Tauren Poole, Kansas City gets an excellent one-cut style runner perfect for their newly adopted zone blocking scheme. Adept in pass protection with soft hands of the backfield, Poole has a complete skill set just begging to be refined by NFL coaching.
Caught amidst coaching and philosophy changes at Tennessee, he was never able to truly land a foothold as the starting rusher but routinely flashed ability that could help him earn a nice living at the professional level. His patient, almost cunning style reminds me a lot of Thomas Jones despite not having anywhere near the collegiate success. At what would amount to the fourth back on the depth chart behind Charles, Hillis and McCluster, Poole is a truly outstanding option with tremendous upside.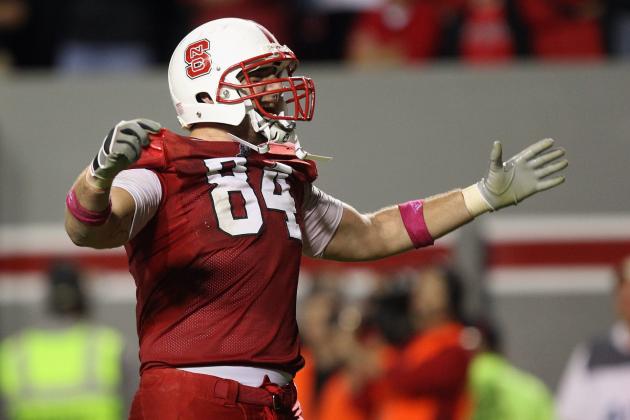 Streeter Lecka/Getty Images

Facts are facts: Scott Pioli loves to draft tight ends. At this stage in the draft, nearly any pick is a gamble so why not spend it on a position of need? There are injury concerns with both Tony Moeaki and the newly signed Kevin Boss, neither of which are similar players to NC State's George Bryan.
Bryan is anything but an athlete, but he's a plus blocker with amazing hands. This kid catches everything when he gets open...key word there being when. He's obviously capable of contributing on special teams but the hope is that he develops into a nice second or third tight end and a solid red zone option.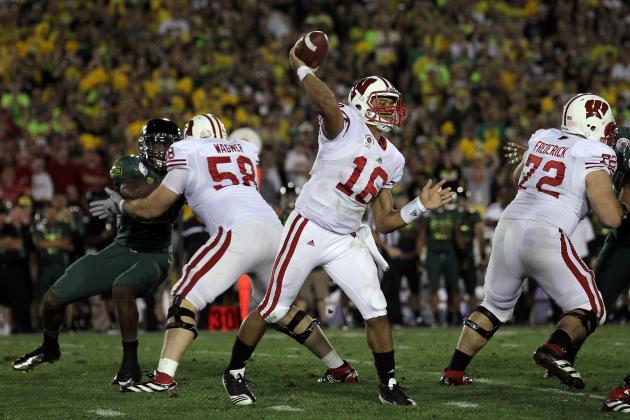 Stephen Dunn/Getty Images

It's pretty likely he may not be available here, but Russell Wilson would certainly be worth a look as a seventh round pick. Stature seems to be the only thing missing in his game and that includes velocity and accuracy. Its hard to succeed as a quarterback in the NFL when you're anything shorter than about 6'2", but there are certainly exceptions...just ask Drew Brees.
Frankly, Wilson's numbers during his senior season at Wisconsin were ridiculous. The Chiefs already have three capable quarterbacks on their roster so this may be the season they choose to skip drafting one, but it's always nice to have competition—even if it's just for training camp, or eventually the practice squad.
** The Chiefs also have a seventh round selection from New England for Jarrad Page but I almost decided to not even mock their original seventh, let alone another one. You'll have to forgive me for not going out on a limb and projecting two seventh round picks.