2012 NFL Draft: Washington Redskins Putting Too Much Faith in Robert Griffin III
March 10, 2012

Joe Robbins/Getty Images
The Washington Redskins are setting themselves up for failure by putting all of their eggs in Robert Griffin III's basket.
According to ESPN, sources claim the St. Louis Rams have traded their No. 2 pick in the 2012 NFL draft to the Redskins. Washington plans to select the Baylor quarterback with the pick.
But the Redskins aren't just choosing any old quarterback.
With Stanford's Andrew Luck considered the best quarterback in this year's draft, there is no debate Robert Griffin III barely misses top honors.
One thing is clear: Washington needs Griffin to be a franchise quarterback.
There's no arguing Griffin can fill the role nicely and live up to expectations eventually. He has talent, that's for sure. But the question of how fast his skills can translate to the NFL level, if at all, remains.
Ryan Leaf was once thought to be the best quarterback of his time. He failed miserably and is deemed one of the biggest draft busts in history. JaMarcus Russell had the same results.
On the other hand, many felt Cam Newton would fail as a professional. So far in his young career, Newton appears to have what it takes to succeed. Though Newton has many reliable pieces surrounding him already.
Will Griffin be the next Leaf? Or will he be 2012's Newton?
Either way, the Redskins may have pulled the trigger too quickly.
The Price
The Washington Redskins are giving up three first-round picks and a second-round pick in return for the opportunity to select Griffin.
A first-round pick in this year's draft, as well as the 2013 and 2014 draft. Not to mention Washington's second-round pick in 2012 as well.
That is way too much to give up.
So the Redskins grab the second-best player in the draft and their quarterback of the future. Great. Now who do they surround him with?
Nearly one year ago head coach Mike Shanahan made it clear his intentions were to acquire as many draft picks as possible.
"Obviously we have a plan with which direction we're going," Shanahan said.
Now they've sacrificed four picks for one player in the opposite move of the "obvious" plan.
In 1999, the New Orleans Saints traded eight picks for the rights to running back Ricky Williams. After three seasons, the Saints traded Williams to the Miami Dolphins.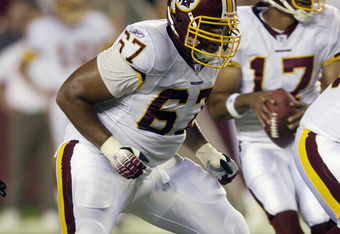 Greg Fiume/Getty Images
The Redskins didn't give up all of their picks in one draft, thank goodness for them, but first-round picks are extremely valuable.
They're more desirable than most players already in the league.
Giving up three of them is too much to give up for any player.
Team Needs
The Redskins need a quarterback. There's no denying that.
After failed experiments with John Beck, Rex Grossman and Donovan McNabb, the franchise needs quality and continuity.
But even a reliable quarterback will fail when he has no offensive line to protect him and no wide receivers to throw to.
Santana Moss, Jabar Gaffney and Donte Stallworth are all aging and aren't premier wide receivers. They could have used high draft picks to take wide receiver talent early in the 2012 draft. Instead they must now spend in free agency.
Most of the concern on the offensive line revolves around the injuries of Jammal Brown and the ability of Will Montgomery.
The lack of wide receiver options and shaky play from the offensive line, among other issues, had Peyton Manning ruling out the Redskins as an option for him. If Manning can't succeed in Washington, it's going to be difficult for anyone else to.
Griffin could suffer and draw comparisons to Tim Tebow of the Denver Broncos. Once the line breaks down and no receivers are open, Griffin will be forced to make plays with his feet more often than not.
Luckily for Tebow, his defense kept games close enough to pull off comeback wins last season.
The Redskins are in the middle of the pack in nearly every defensive category. If they want to keep games close, they'll need upgrades on defense as well.
Unfortunately, there are less picks now to enhance either side of the ball with major playmakers.
Faulty Game Plan
At this point it's pretty well-documented that Shanahan is a difficult coach to read.
Shanahan traded for McNabb, benched him, said he was out of shape then claimed he loved McNabb, signed him to an extension then traded him. All of this happened in one season.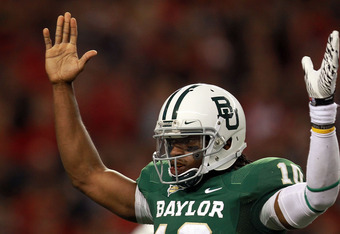 Ronald Martinez/Getty Images
Fantasy football players grow more frustrated every season with Shanahan's indecision and constant shuffle of running backs.
Tim Hightower, Ryan Torain and Roy Helu all reported on Sundays as the featured back during the 2011 season.
Even after the recent trade of draft picks, Adam Schefter reports on Twitter the Redskins are still interested in Manning.
"Trade will not change Redskins plans in pursuing Peyton Manning. Intend to talk with and try to sign him, even if considered a long shot," Schefter tweeted.
For three first-round draft picks and a second-round pick, selecting Griffin and then signing Manning would be the Redskins' worst offseason move in recent memory.
It wouldn't be the first time the coaching staff, including offensive coordinator Kyle Shanahan, has been called into question about its ability to lead the team in one direction.
With so many holes and so many problems on offense, defense, special teams and coaching, it appears the Washington Redskins have more issues to resolve than any one person can handle.
No Griffin, Luck or Manning is going to immediately pull this team out of the cellar.
Griffin is supposed to be the savior of the franchise.
The Baylor quarterback who took all four years in college to develop into an elite college quarterback is expected to be top notch in his first year in the NFL.