WWE's 6 Best Romantic Relationship-Themed Angles Ever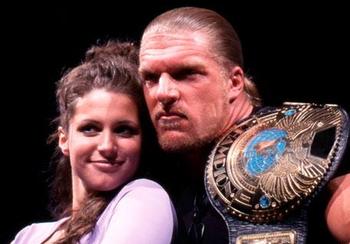 Triple H and Stephanie in 2000 (photo from wrestlingvalley.org)
One thing is for sure: Over the years, we've seen some dreadful romance angles in WWE: Ted DiBiase and Maryse in 2010 (the two had all the romantic chemistry of Hayden Christensen and Natalie Portman in the Star Wars prequels).
The terrible pairing of Perry Saturn and Terri in 2000 and 2001. Then later Perry Saturn and...an, er, mop (lame, but actually far more convincing than him and Terri).
Oh, and on Smackdown, there's the current romance storyline with general manager Teddy Long and diva Aksana which has been going on for what feels like years.
Also, the whole thing is so darn sleazy and unethical (Long is Aksana's boss and almost twice her age), bad guys John Laurinaitis and David Otunga don't even come off as remotely heelish for complaining about how unprofessional Teddy is acting in his attempts to bed the Lithuanian star.
But sometimes, just sometimes, WWE have shown they can put together convincing, well-written romance angles that provide entertainment for fans, help the on-screen product and boost the careers of those involved in them greatly.
So rather than dwelling on the awful, cringe-worthy relationship storylines that have blighted WWE TV, it might better serve us to focus on the angles that have actually been pretty good. With this in mind, here are the six best romance angles in WWE history...
Maxine and Derrick Bateman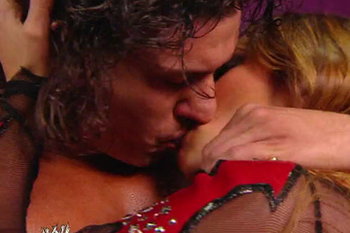 Maxine and Derrick Bateman (photo from diva-dirt.com)
Alas, due to this playing out on the little-watched show NXT: Redemption, Maxine/Bateman may be the best wrestling romance no one has ever heard of.
But despite its relatively small audience, the tumultuous Maxine/Bateman relationship has turned NXT: Redemption into must-see television.
With the strong, believable chemistry between the pair, their funny, wry dialogue ("You're so hot when you're scheming against leprechauns," grinned an infatuated Derrick to his conniving girlfriend at one point), great supporting characters (fresh from his failed stint on Smackdown last year, Johnny Curtis has been reinvented as a perverted, evil heel out to steal Maxine's heart), and plentiful amount of airtime to allow it to develop, the Maxine/Bateman saga has turned into one of the most entertaining romance angles of recent times.
Are they "on" this week? Or have they split up yet again? Either way, this romance is keeping all of us gripped.
Bryan and AJ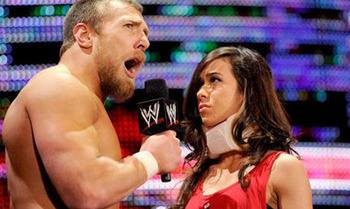 Bryan and AJ (photo from UGO.com)
Let's make on thing clear: AJ loves World Heavyweight Champion Daniel Bryan and he...he appreciates that!
After his debacle with Gail Kim in 2011 (never has there been a romance storyline where two people looked less interested in each other) you'd have been justified in thinking Bryan (not exactly anyone's idea of a romantic leading man) should steer clear of dating/relationship angles.
However, this recent angle with AJ, which sees Bryan ruthlessly exploit the former NXT diva's feelings for him and use her to help him retain on several occasions, has greatly aided his heel character and helped him get over as an obnoxious, arrogant bad guy.
Indeed, he's become so mean to the poor girl (check out this clip from this week's Smackdown where he cruelly tells her to shut up for trying to answer back to Sheamus) we are really hoping AJ comes to her senses and turns on her cowardly boyfriend soon, maybe even costing him the title in his upcoming match at WrestleMania.
Stephanie and Triple H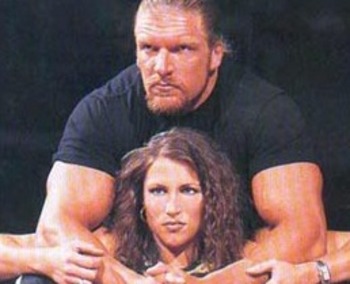 Stephanie and HHH in 2000 (photo from onlineworldofwrestling.com)
The revelation that he had drugged and married Stephanie McMahon at a Las Vegas drive-thru in late 1999 kick started Triple H's main event career, allowing him to dominate the year 2000 as a monster heel greatly aided by his family connections.
Stephanie (who was revealed to have been in on the whole wedding thing along, thus setting up her heel turn after a year of being an innocent babyface) also saw her status in WWE skyrocket, as she became of the best female heel characters ever, eliciting strong boos from fans in virtually every arena she went to.
As far as their personal lives go, it was also a good move for the pair.
As most will undoubtedly know, the storyline ending up flourishing into love off-screen. While the two were divorced in the storylines in 2002, in real life, the two are now happily married with three daughters (something that has been acknowledged on-screen now, with their first marriage on WWE television seemingly swept under the rug).
Randy Savage and Miss Elizabeth
Randy Savage and Miss Elizabeth (photo from bleacher report.com)
How could we possibly have a list of successful romantic relationships in wrestling without mentioning these two?
One of the most iconic couples in WWF history, the crazy, over-protective Savage and his meek, beautiful girlfriend (and later wife) Elizabeth provided plenty of drama and tears in the late '80s and early '90s, as their fairytale romance played out for the world to see.
Edge and Lita
Edge and Lita (allwrestlingsuperstars.com)
Based on their real-life affair/scandal which rocked WWE when it was revealed in 2005, the racy and highly controversial Edge/Lita pairing helped Edge ascend to the top of the company in 2006.
Indeed, it is highly questionable whether the Canadian star, who had spent years in mid-card limbo prior to the angle, would have even become as big as he did without the aid of his red-headed valet and her ability to garner huge amounts of negative crowd heat wherever she went.
Maria and Santino Marella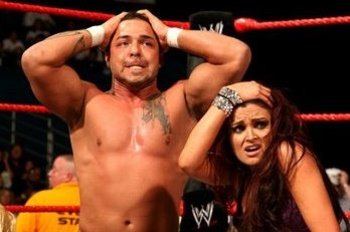 Maria and Santino (photo from wwe.com)
Possibly the funniest on-screen couple in WWE ever, the romantic pairing of the ditsy but good-hearted Maria and slimy heel Santino Marella in 2008 churned out several hilarious moments (particularly Santino's crazy over-reaction to finding out his girlfriend had scored the cover of Playboy) and helped establish the current US Champion as the funniest wrestler in WWE today.
In the years since, WWE have attempted to replicate the success of Maria/Santino by pairing the wrestler with other females on the roster (he was put with Beth Phoenix in the storylines, then later second-generation wrestler Tamina Snuka), but these storylines never managed to quite live up the original.
Keep Reading