6 NBA Players Whose First Halves Were Flukes
Pool/Getty Images
To merely refer to the 2011-12 NBA season as "unconventional" wouldn't nearly capture all of the strange occurrences that we've seen so far. But with more than half of the season in the books, we pretty much know what to expect for the rest of the year.
Or do we?
These final two months before the playoffs will be quite different for a number of players. There are some who will finally find their groove now that they've carved out a spot in their team's rotation. On the other hand, there are those that benefited from an easy early-season schedule who will find a rough go of it over the final six weeks.
Let's take a look at a few players whose second-half performances will be a marked departure from their play during the first two months of the season.
Derrick Williams, Minnesota Timberwolves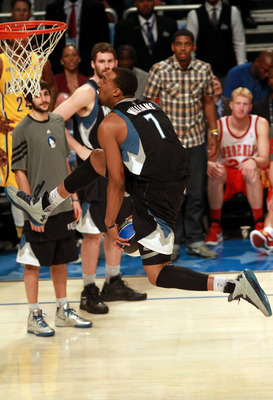 Ronald Martinez/Getty Images
Derrick Williams will never say it, but inconsistent playing time is the reason why many were quick to write off the No. 2 pick early in his rookie campaign.
In the six games that he's started this season, Williams has scored in double figures. Conversely, he's also endured several three-game stretches this season where he's played less than 35 minutes in total.
This erratic assignment of playing time isn't the optimal situation for Williams' development, and it appears that Minnesota head coach Rick Adelman is slowly coming to that realization.
Williams' fortunes have changed for the better following All-Star Weekend: Since then, he has scored 15 or more in five games, and finished with a career-high 22 points against the Lakers on March 9.
Unfortunately, with point guard Ricky Rubio out for the rest of the year, the 6'8" Williams will have to work that much harder on the offensive end. But now that he's solidly in the Timberwolves' rotation, at least he won't have to work hard for consistent minutes.
Evan Turner, Philadelphia 76ers
Mike Ehrmann/Getty Images
After a lackluster February in which Evan Turner scored a mere 5.1 points per game, many 76ers fans were ready to put the 6'7" swingman on the first thing smoking out of town.
Turner's swoon coincided with the 76ers' recent fall from grace, so with Philadelphia in a tail spin, head coach Doug Collins chose to switch things up by starting Turner at shooting guard.
It would prove to be a wise decision.
As the team's de facto point forward, Turner—who is averaging 17.8 PPG and 10.6 RPG as a starter—has reinvigorated a Philadelphia offense that had been stagnant for weeks. Before Turner entered the starting lineup on March 5, the 76ers had only scored 100 points once in their 22 games prior to the move.
Since then, they've cracked the century mark three times.
Collins said that he's committed to Turner as a starter for the rest of the season, barring injury. If that's the case, expect Turner to nearly double the numbers that he put up during the first half of the season.
Iman Shumpert, New York Knicks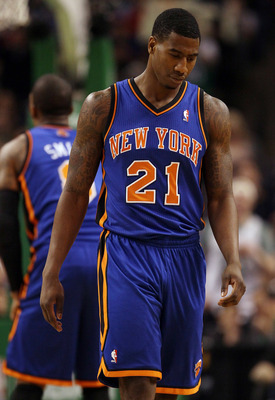 Elsa/Getty Images
Not only did the return of Carmelo Anthony end "Linsanity", but it also relegated rookie guard Iman Shumpert to the Knicks' second unit.
Shumpert—who averaged 10.5 PPG prior to March—happens to be New York's best wing defender, but there just isn't any room for him in the starting lineup, especially considering that the on-court chemistry between Jeremy Lin and Landry Fields is too strong to ignore.
If the Knicks are going to make any noise in the playoffs this year, Lin and Anthony need to get on the same page. And that page probably doesn't include Shumpert, whose infatuation with shooting the basketball doesn't mesh well with the other Knicks starters.
Of course, the 21-year-old Shumpert will have to share backcourt duties with both J.R. Smith and Baron Davis, so expect his numbers to fall sharply over the final two months of the season.
Ersan Ilyasova, Milwaukee Bucks
Jonathan Daniel/Getty Images
Ersan Ilyasova is making the most of his second stint as a starter, averaging 18.8 points and 10.4 rebounds per game since Bucks head coach Scott Skiles re-inserted him into the lineup on February 17.
And at only 24 years old, there's no reason why he can't be a very productive low-post player for years to come.
Referred to by Hoops Hype as a "poor man's Dirk Nowitzki", the 6'9" Ilyasova has many elements of the classic European "big man" game. What separates him from most foreign-born players is his willingness to bang in the paint: He's eighth in the league in offensive rebounds, and already has 11 double-doubles on the season.
Rodney Stuckey, Detroit Pistons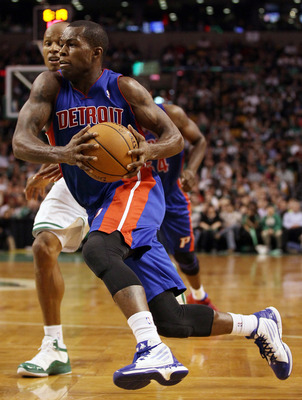 Elsa/Getty Images
Point guard, shooting guard—no one is quite sure exactly how to classify Detroit Pistons guard Rodney Stuckey. Designations aside, when Stuckey's game is on, he can be one of the more underrated talents in the entire NBA.
It took a while for Stuckey to find his shooting stroke this season—he only scored 20 once during the first six weeks—but he's been a man on fire over the past month. Since February 14, Stuckey is averaging 22.2 points per game, and has led the Pistons to huge wins against both the Boston Celtics (twice) and the Los Angeles Lakers.
Detroit's inability to win on the road (4-16 so far this season) likely prohibits them from making a run at the playoffs, but expect Stuckey to continue to put up good numbers going forward.
Kenneth Faried, Denver Nuggets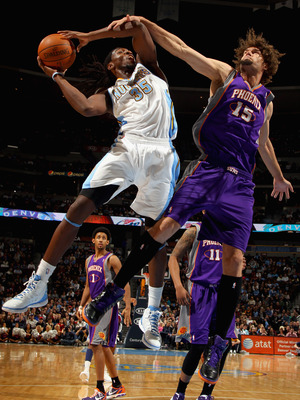 Doug Pensinger/Getty Images
Kenneth Faried was one of the more intriguing prospects in the 2011 NBA Draft. No one denied the fact that he was—and continues to be—a tenacious rebounder who won't easily be outworked. But at 6'8" with no refined offensive game, it was fair to wonder where exactly he would fit in an NBA rotation.
Wonder no longer.
Faried—affectionately referred to as "Manimal"—has been an absolute beast for the Denver Nuggets, and has taken his game to another level since becoming a starter in early February.
Faried has notched five double-doubles in the past month, and for a player who doesn't have a wide array of post moves, he's been an extremely efficient scorer this season (58.0 percent from the floor, 70.1 percent on attempts at the rim).
High-energy players at all positions benefit from the explosive Denver attack, so despite his lack of size, Faried's hustle and "want to" will definitely work to his advantage.
Keep Reading