SEC Tournament 2012: Sloppiness Will Be Kentucky's Downfall
March 10, 2012

Chris Graythen/Getty Images
Despite being the No. 1 ranked team in the nation and losing just one game all season, tournament sloppiness may be the undoing of the Kentucky Wildcats.
That is unless head coach John Calipari can get the team to control their confidence and continue to give their best on the floor. If not, they will be bounced without the SEC Conference tourney title they want.
With 18 turnovers against the Tigers, Kentucky single-handedly kept LSU close enough during the game to take advantage of another serious hiccup by the Wildcats. Lucky for Kentucky faithful, Calipari had his boys playing much better towards the end of the game.
Calipari told the New York Times after his team's close-call win over the LSU Tigers:
I'll go back and watch the tape and see what adjustments need to be made because people will be watching the tape, saying 'This is how you need to play them.' And we have been played every way possible.
There is nothing on that tape that will explain what happened to the Wildcats that watching the game live didn't prove.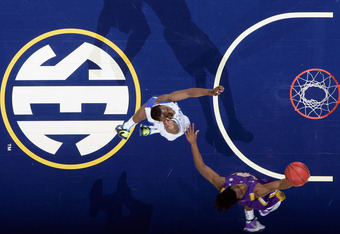 Chris Graythen/Getty Images
Kentucky underestimated the Tigers and almost paid for it.
The hope now is that the players learned from their close call and their sloppiness and want to redeem themselves. With another tough game against the Florida Gators, Kentucky needs to be mentally all-in if they want the chance to win the SEC tourney.
If the Wildcats want to win this tournament and build momentum for March Madness, they need to take every game as serious as they can. They need 100 percent effort from the start to the finish or it will be the downfall of their season.
Check back for more on the NCAA Basketball as it comes, and check out Bleacher Report's College Basketball Page to get your fill of college basketball.