Chicago Blackhawks: Can Ray Emery Carry Them to a Stanley Cup Championship?
March 10, 2012

Jana Chytilova/Freestyle Photo/Getty Images
Unless something changes over the final 13 games, it looks like Ray Emery, not Corey Crawford, will be the starting goaltender come playoff time.
This is about the time every season where Joel Quenneville decides on who his playoff goaltender will be and he rides him to the end.
Last season, we saw it with Crawford getting every start in March and April. During the Stanley Cup season in 2010, Antti Niemi made 12 of the final 13 starts. The same in 2009, when Nikolai Khabibulin made 11 of the final 13 starts.
So unless the wheels fall off, it is looking like Emery might be the guy, considering he has started the last six games.
So the question is: Can Emery do the job and help the Hawks reach their ultimate goal?
I have no idea and think coach Quenneville and general manager Stan Bowman are wondering the same thing.
Emery has played in 30 games this season with 24 of them starts. He has a record of 15-9-2 with a goals allowed average of 2.69 and a save percentage of .905. By the way, none of these numbers are much better than Crawford's record of 22-16-5 with a GAA of 2.94 and a save percentage of .900.
As for playoff experience, Emery has a big edge over Crawford, having started 36 games in the postseason compared to Crawford's seven. Emery also helped the Ottawa Senators reach the Stanley Cup finals in 2007.
A concern I have is the amount of goals Emery has given up lately in the final minute of a period.
During his current six-game stretch, he has allowed six goals in the final minute of a period and only one during the first minute of a period. He has only allowed 13 goals during these six games, so more than half come during the first or last minute of a period.
Two of those goals really stood out to me. Friday against the Rangers, Patrick Kane scored a goal with 53 seconds left to give the Hawks a two-goal lead. Emery gave up a goal just 12 seconds later to make it a one-goal game again.
The same thing happened last week against Toronto. Marian Hossa scored a goal with just 16 seconds left to give the Hawks another two-goal lead. Emery allowed the Leafs to score again 12 seconds later to make it a one-goal game again.
Thankfully, the Hawks held on and won both games, but they were both made much more difficult by late goals.
What this shows me is that Emery isn't completely focused at the job at hand. In the playoffs, every goal counts and every player has to be completely focused every second he is out on the ice. That goes double for the goalie.
We should be able to get a good feel for if Emery is ready for the playoffs as the season comes to a close. 10 of the Hawks' final 13 games are against teams that are either in the playoffs or battling for one of the final spots.
If Emery does stumble, let's hope that Crawford can find that magic he had last season in the playoffs.
So what do you think? Can Emery lead the Hawks? Sound off below.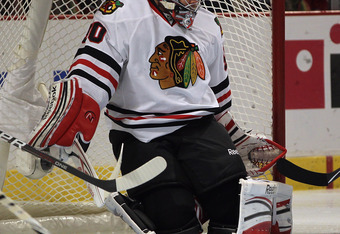 Jonathan Daniel/Getty Images
Odd Stat: Do you know the last time the Blackhawks went into overtime?
It was January 31 against Vancouver. That is a long time.
The Blackhawks have had 14 games go to overtime this season and all but one came before the All-Star break.
I'm not sure which way to go with this stat. Either the Hawks are playing well down the stretch and holding teams off or they are failing to comeback against teams. Or maybe it is a bit of both.
Make sure to follow me on Twitter @dachicagofan and check out my weekly Hawks podcast every Friday on my site The MG Experience.