NBA Power Ranking: Derrick Rose and the Greatest Point Guard Ever for Each Team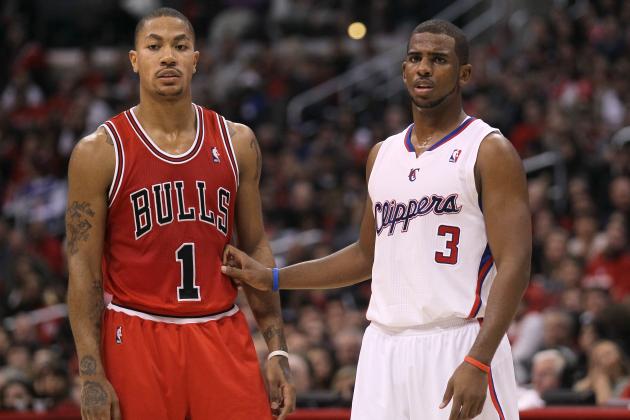 Stephen Dunn/Getty Images

With less than four full seasons under his belt, not only has Derrick Rose established himself as one of the best point guards in the league, but he's also staked his claim as the best in Chicago Bulls history.
Rose's rapid ascension begs the question: Who are the best point guards in the history of each NBA team? In many cases, the answer is simple. In others, the inquiry is sure to spark a fair amount of disagreement.
With that in mind, let's take a look at the players who are currently considered the finest lead guards in the history of their respective franchises.
Let the debate begin.
Begin Slideshow

»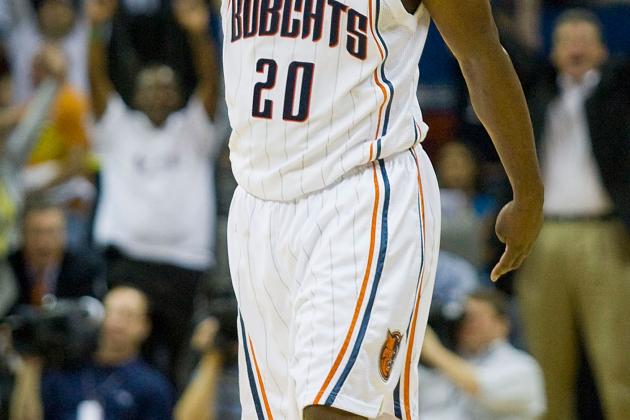 Brian A. Westerholt/Getty Images

The Charlotte Bobcats are the worst team in the NBA, so it's only appropriate that they find themselves at the bottom of these rankings as well.
No disrespect to Raymond Felton, but he's the best point guard in Bobcats history almost by default. To be fair, Felton did dish out more than 2,500 assists during his five seasons in Charlotte. But he won't be the franchise's best playmaker for long: by the end of his rookie deal, Kemba Walker will likely replace Felton on this list.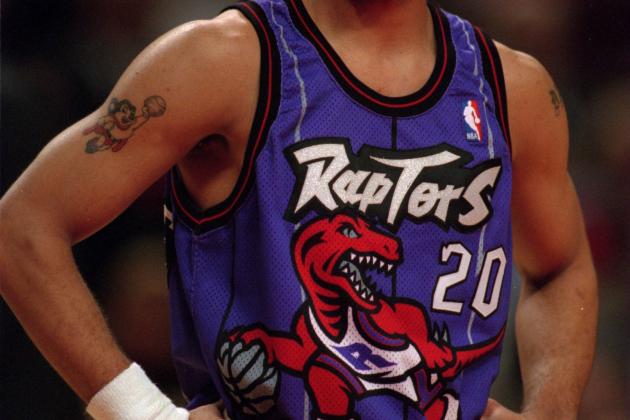 Jonathan Daniel/Getty Images

The first-ever draft pick of the expansion Toronto Raptors, Damon Stoudamire won the rookie of the year award in 1995-96 after he averaged 19.0 points and 9.3 assists per game.
Despite his prolific output, Toronto traded Stoudamire to Portland during the 1997-98 season—the first in a series of moves that netted the Raptors the services of Chauncey Billups. And while Stoudamire is best known for his career with the Trailblazers, his legacy as the best Raptors point guard remains intact.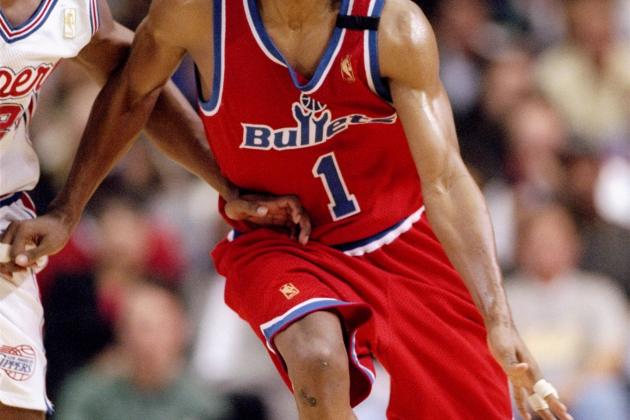 Stephen Dunn/Getty Images

Rod Strickland had a long and very accomplished NBA career, but his best years came as a member of the Washington Bullets.
The Bullets acquired Strickland in the summer of 1996 in exchange for Rasheed Wallace, and the 6'3" point guard paid immediate dividends, leading Washington to its first playoff appearance in eight years. The following season, he was named to the All-NBA Second Team after averaging 17.8 points, 10.5 assists and 5.3 rebounds per game.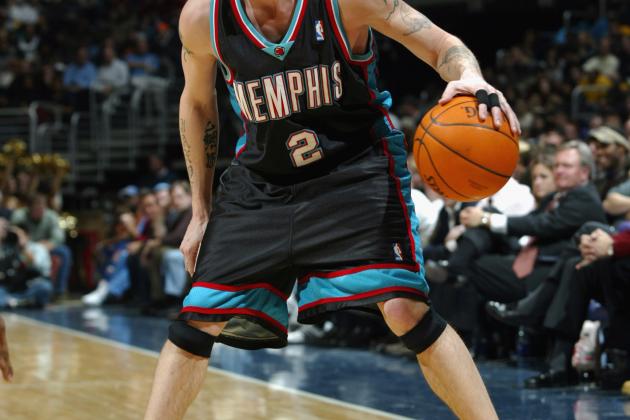 Doug Pensinger/Getty Images

For the first half of his career, Jason Williams (also known as "White Chocolate") dazzled fans with his array of elbow passes and moves that conjured images of Pete Maravich. But often lost amid the flair was the fact that Williams was a very solid NBA point guard.
His jump shot left much to be desired, but Williams had above-average play-making skills, and initiated the offense better than any player in the history of the Grizzlies franchise. For three straight years, Williams was among the league leaders in assists, and his career total of 2,069 ranks first in Grizzlies' history.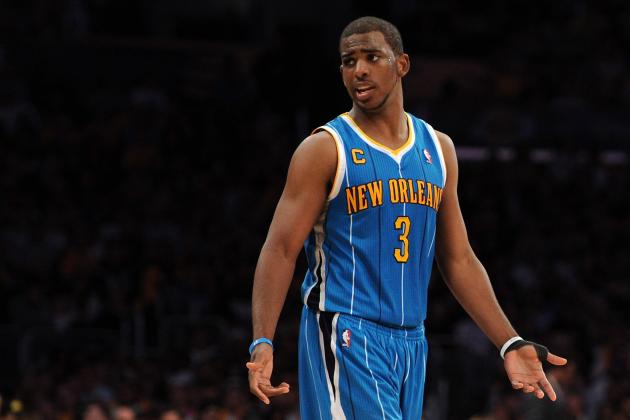 Harry How/Getty Images

With five All-Star nominations to go along with three All-NBA and three NBA All-Defense awards, Chris Paul is far and away the best point guard in the history of the Hornets franchise.
Paul led the league in both assists and steals in two consecutive seasons (2007-08 and 2008-09), and is one of the premier lead guards in the NBA today. With more than 4,200 assists in his Hornets career, Paul is in little danger of having his spot on this list challenged any time soon.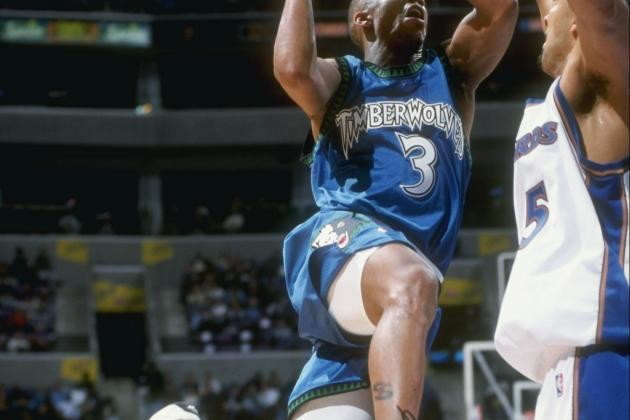 Doug Pensinger/Getty Images

For as young as the Minnesota Timberwolves franchise is, they've had a number of talented point guards (although none in recent memory before the arrival of Ricky Rubio). But the best of them all is the enigmatic Stephon Marbury.
"Starbury" only played 167 games in a Timberwolves uniform, but the Georgia Tech product was a fearless penetrator who was a double-double threat virtually every night. In a perfect world, he and Kevin Garnett would have stayed together and ran roughshod over the Western Conference. Instead, Marbury was traded away early in his third NBA season - too soon to build a dynasty, but plenty enough time for him to leave his mark on Minnesota.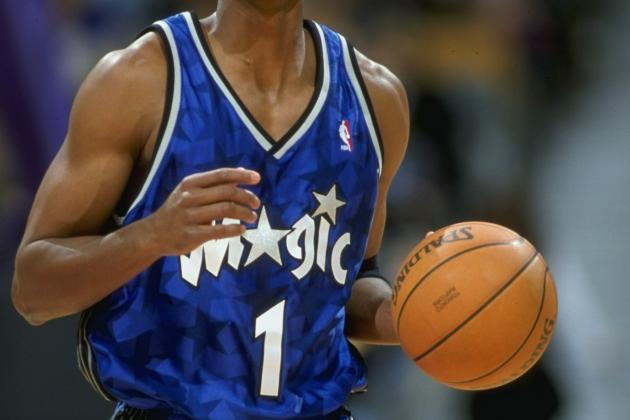 Robert Laberge/Getty Images

Penny Hardaway was dubbed by some as "the next Magic" due to his 6'7" frame and his ball-handling ability. But while he didn't—and couldn't—live up to those lofty expectations, he was well on his way toward a fantastic career until a knee injury in 1997 cost him his signature explosiveness.
In his second NBA season, Hardaway averaged 20.9 PPG, 7.2 APG and 4.4 RPG and led the Magic to the NBA Finals. While that may have been the pinnacle of his Magic career, he put together a solid resume that is far more impressive than the accomplishments of any other Magic point guard in team history.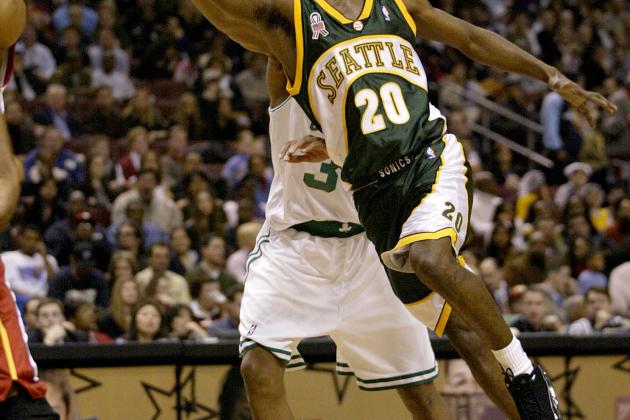 Andy Lyons/Getty Images

Gary Payton might be the most underrated point guard in the history of the NBA.
Sure, he was a perennial All-Star and NBA All-Defense selection, but Payton not-so-quietly (thanks to his infamous brand of trash talk) put together a Hall of Fame-caliber career, yet is never mentioned when the greatest point guards in recent memory are discussed.
It's a shame that a player who is eighth all-time in assists and fourth-best ever in steals—numbers that were mostly acquired in Seattle—is often overlooked. But Seattle fans definitely remember how great Payton was. And as talented as Russell Westbrook is, but he has his work cut out for him if he's ever going to match the accomplishments of Payton.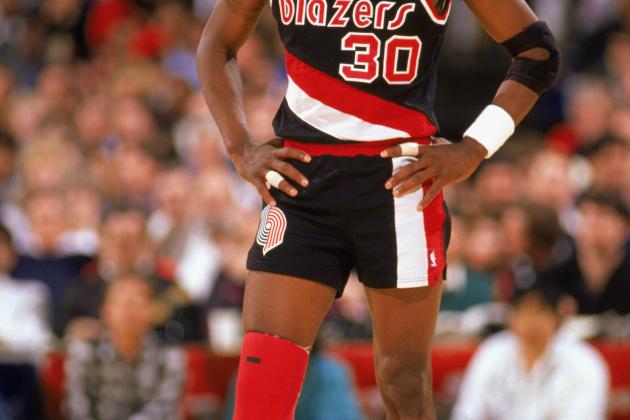 Ken Levine/Getty Images

No one in the history of the Portland Trail Blazers has as many assists (5,319) as Terry Porter, who held down the point guard position for the franchise for the better part of a decade.
Porter was the consummate floor general who initiated the offense for the infamous Trail Blazers squads of two decades ago, leading Portland to two NBA Finals appearances (1990 and 1992). Neither flashy nor flamboyant, Porter was talented enough that he was selected to the NBA All-Star Game in both 1991 and 1993.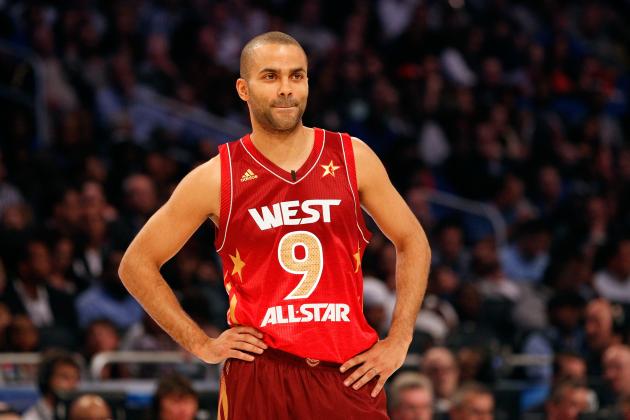 Ronald Martinez/Getty Images

Tony Parker is a four-time All-Star, a three-time NBA champion and an NBA Finals MVP (2007).
He's also only 29 years old.
If it seems like Parker has been in the NBA forever, he has. The Spurs selected him 28th overall in the 2001 NBA Draft, and he's been a fixture in their starting lineup ever since. Over his 10-plus seasons, not only has Parker been one of the most consistent point guards in the league, but he has also firmly established himself as the best Spurs playmaker of all-time.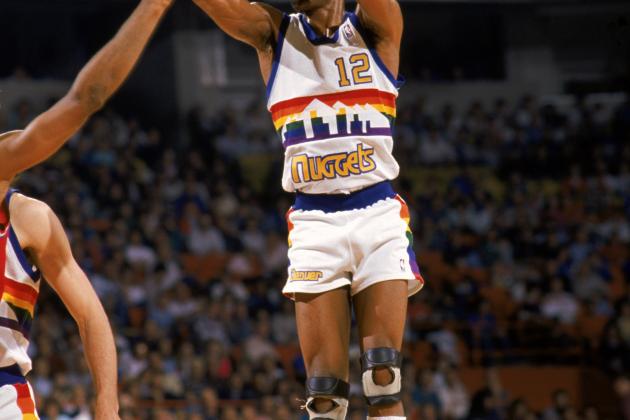 Mike Powell/Getty Images

Lafayette "Fat" Lever was the catalyst for an explosive Denver Nuggets attack that routinely averaged more than 110 points per game in the mid-80s.
Despite standing at only 6'3", Lever was an extraordinary rebounder for his size. Of course, his numbers are slightly skewed due to the fact that the Nuggets put up an inordinate amount of shots, but Lever averaged at least eight boards per game for four consecutive seasons (1986-87 through 1989-90).
Of course, point guards are celebrated for their play-making ability, and few made as many plays as Lever. The former Nugget finished among the top 10 in the NBA in assists four times, and his average of 2.2 steals per game still ranks as the sixth-best mark in NBA history.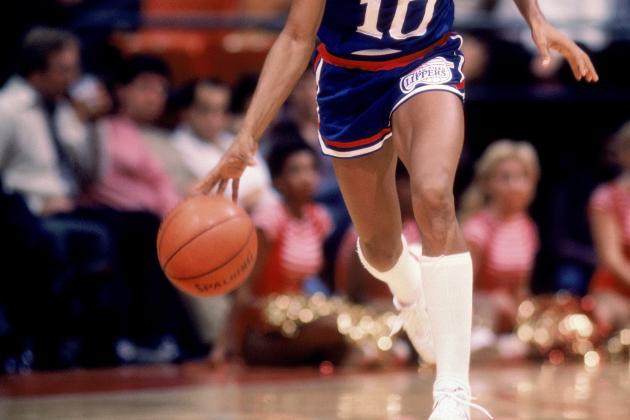 Scott Cunningham/Getty Images

The Clippers franchise doesn't have a long and storied history of point guards, but Norm Nixon is the best of the bunch.
Nixon was a very productive point guard for the Los Angeles Lakers for six seasons, but was traded to the Clippers in the fall of 1983 in exchange for Bryon Scott. Nixon had an immediate impact in San Diego, leading the NBA in assists in 1983-84 with 914.
The 6'2" Nixon—who was named to the 1985 Western Conference All-Star Team—would go on to average at least 8.6 assists in each of his first three seasons with the Clippers. But while his numbers were impressive, Chris Paul will likely overtake Nixon as the greatest Clipper lead guard ever once he gets a few years in Lob City under his belt.
Calvin Murphy is best known for being insanely accurate from the three-point line (89.2 percent—seventh-best all-time), but he also racked up an impressive 4,402 assists during his Rockets career.
Although he was more of a scoring guard, Murphy did have two seasons (1973-74 and 1975-76) in which he averaged more than seven assists per game. And at only 5'9" and 165 pounds, Murphy ranks as one of the best "undersized" players in the history of the NBA.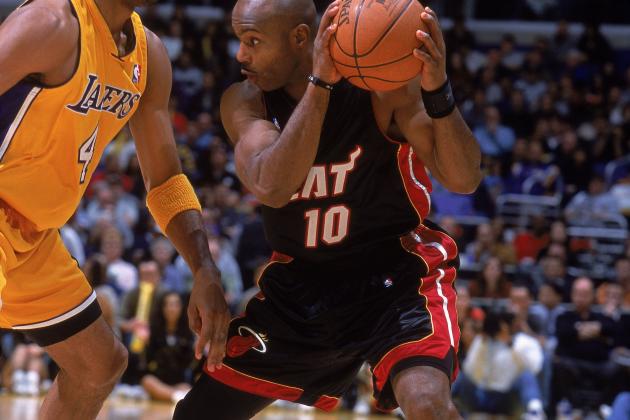 Robert Laberge/Getty Images

While his stint with the Miami Heat was the second act of his career, Tim Hardaway showed much of the same magic that he did when he was a member of the Golden State Warriors. In fact, he made more All-NBA teams as a member of the Heat (three) than he did with the Warriors (two).
Hardaway's game evolved down in Miami as he spent much of his time spotting up from beyond the arc (even attempting a ridiculous 590 three-pointers in 1996-97). He still found time to be an effective playmaker, however, finishing among the top 10 in assists in each of his first three seasons in Miami.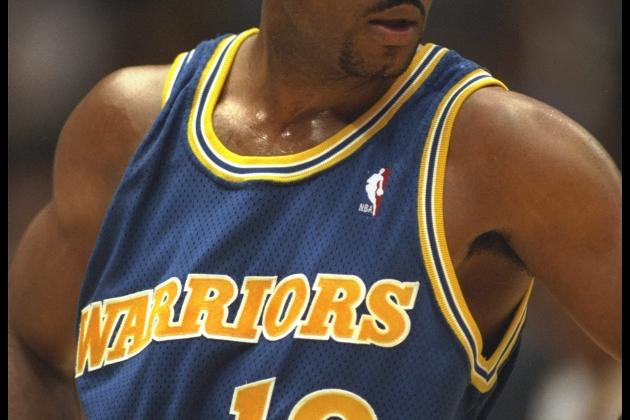 Getty Images/Getty Images

One of the members of Golden State's infamous "Run TMC" trio, Hardaway sparked a potent Warriors team that boasted perhaps the most feared offense in the NBA.
More than a few players fell victim to Hardaway's dreaded "UTEP 2-Step"—a crossover move that was also a nod to his alma mater, the University of Texas-El Paso. The 6-foot point guard was so explosive that even current NBA players are quick to acknowledge that Hardaway's crossover was a game-changer when it came to breaking your man down off of the dribble.
As a member of the Warriors, Hardaway finished among the top seven in assists in each of his first four seasons. And with the exception of Oscar Robertson, Hardaway scored 5,000 points and handed out 2,500 assists faster than any player in NBA history.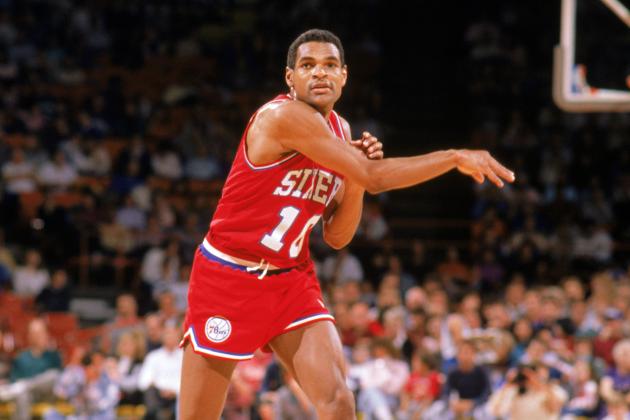 Mike Powell/Getty Images

Of course, Maurice Cheeks was the catalyst for the 1983 Sixers championship team, but he was a quiet, unassuming player—the type that you didn't much notice until you looked at the box score after the game and saw that he filled the stat sheet in nearly every category.
Cheeks was a very accomplished shooter (52.3 percent from the floor for his career) who routinely finished in the top 10 in the league in both assists and steals each year. His five straight NBA All-Defensive selections from 1983 to 1987 only serve to highlight the fact that he also terrorized opposing point guards.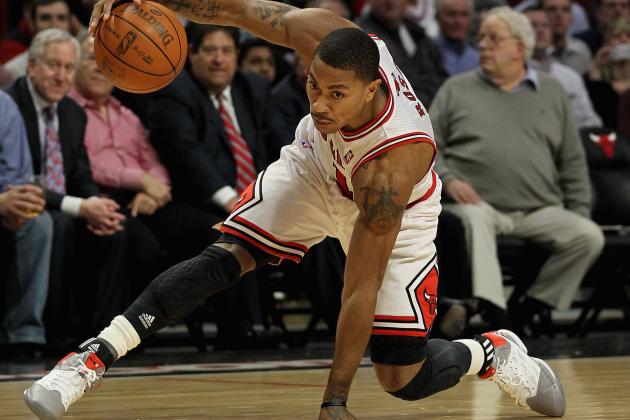 Jonathan Daniel/Getty Images

Less than four full seasons into his career, Derrick Rose is arguably the best point guard in the NBA.
His resume speaks for itself: Rose already has three All-Star nods, a first-team All-NBA selection and an NBA MVP award to his credit. Rose's averages last season (25.0 PPG, 7.7 APG, 4.1 RPG) are even more impressive when you consider that the 23-year-old point guard is actually a shade under his listed 6'3" height.
Rose has single-handedly revived Chicago basketball in the post-Jordan era, and is well on his way to establishing himself as one of the game's all-time greats.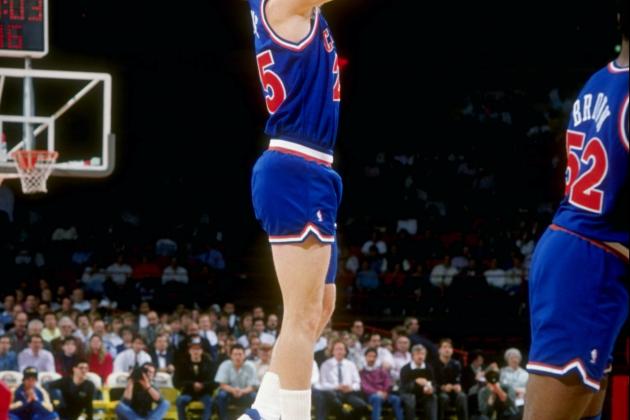 Tim DeFrisco/Getty Images

If there is someone who fits the blueprint for what a team wants its point guard to be, Mark Price would be that player.
There wasn't much flashy about the former Georgia Tech star—he was simply a sharp-shooting, extremely efficient floor general who made opposing teams pay if they sent him to the charity stripe (his career free-throw percentage of 90.4 is the best all-time).
The 6-foot Price—who made four All-NBA teams—led Cleveland to seven playoff appearances, and ranks first in Cavs history in both assists (4,206) and three-pointers made (802).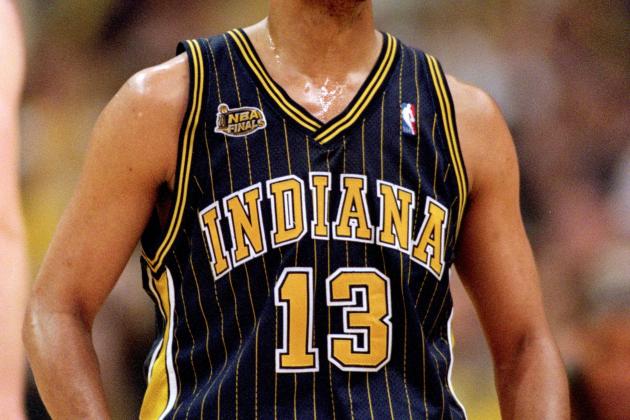 Jed Jacobsohn/Getty Images

Younger fans are familiar with Mark Jackson as either the Golden State Warriors coach or as one of the voice of ESPN/ABC's NBA coverage. But 15 years ago, Jackson was one of the most productive point guards in the league.
Jackson—who ranks No. 1 in Indiana history in assists with 3,294—didn't make a single All-Star team as a member of the Pacers. That seems like a travesty at first, but makes sense once you consider the backcourt talent in the Eastern Conference in the mid-to-late '90s.
For 11 straight seasons (5 1/2 of those with Indiana), Jackson finished among the top 10 in the league in assists, and his career total of 10,334 ranks third all-time. Not to be overlooked is his stellar defense: Jackson was a bulldog on both ends of the court, and was one of the reasons why the Pacers were perennially a tough out in the Eastern Conference Playoffs.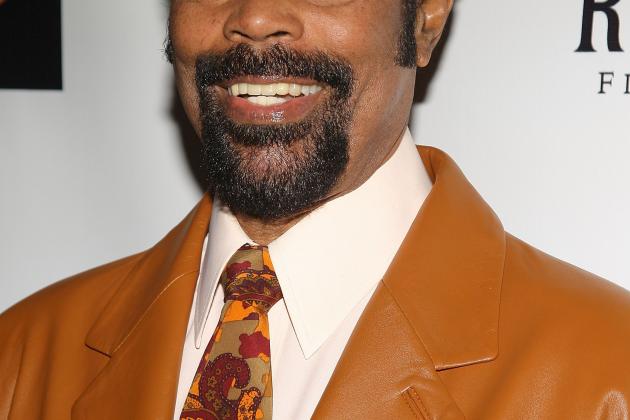 Stephen Lovekin/Getty Images

Walt "Clyde" Frazier—one of the few NBA color commentators with his own dictionary—spent most of his NBA career "dishing and swishing" for the New York Knicks' teams of the late '60s/early '70s.
The seven-time All-Star "sliced and diced" his way to the hoop as one of the most prolific scoring guards in league history. But his seven NBA All-Defense selections are proof that Frazier was stellar on both ends of the court.
Frazier led the Knicks to two NBA championships (1970 and 1973) and is far and away the best point guard in the history of the storied Knicks franchise.
Al Bello/Getty Images

Jason Kidd might be the only modern-day player to shoot 40 percent from the field who also will be a first-ballot Hall of Famer once he decides to finally hang them up.
Kidd made three All-NBA teams and six NBA All-Defensive teams during his stint in New Jersey, and somehow led the Nets—the Nets!—to the NBA Finals in two consecutive seasons (2002 and 2003).
Despite only spending six-plus seasons in New Jersey, Kidd ranks among the top-10 in franchise history in virtually every major offensive category, including assists (1st, 4,620), points (4th, 7,373) and rebounds (4th, 3,662).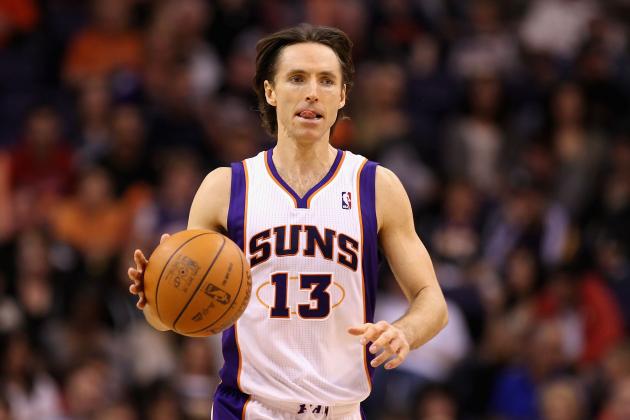 Christian Petersen/Getty Images

Steve Nash's 2005 and 2006 campaigns will always be the subject of much debate, but from now until the end of time, he will listed in the NBA's official record book as the league's Most Valuable Player for both of those seasons.
Since arriving in Arizona nearly a decade ago, Nash has been a wonderfully efficient point guard for Phoenix. He's averaged a double-double (points and assists) in all eight seasons that he's been a member of the Suns—a feat that he never accomplished with the Dallas Mavericks.
And even with the influx of talented backcourt players in the league, Nash has still been elected to six All-Star teams, and has earned five All-NBA bids over the past eight years.
Mike Ehrmann/Getty Images

Because of his fantastic accomplishments on the court, we can forgive Jason Kidd for the horrific rap song that he recorded during his first stint with the Mavericks.
Kidd was a triple-double machine as soon as he arrived in Dallas from the University of California in 1994, and it seemed as though the trio of Kidd, Jimmy Jackson and Jamal Mashburn would rule the Western Conference for the rest of decade.
Less than three seasons later, all three players would be traded away, but Kidd would come back to Dallas in 2008 after outstanding years with the Phoenix Suns and the New Jersey Nets.
Kidd's jumper didn't improve with his time away, but he became a high-volume three-point shooter, and his prowess from beyond the arc—in addition to his world-class court vision—helped the Mavericks capture their first-ever NBA title in 2011.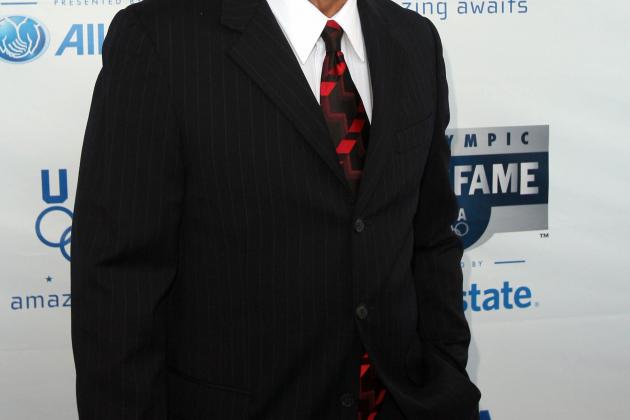 Tasos Katopodis/Getty Images

When the NBA named its 50 Greatest Players and 10 Greatest Coaches back in 1996, Lenny Wilkens was the only man named on both lists.
Wilkens spent the first eight years of his career with the St. Louis Hawks, and quickly made his mark as the best point guard in franchise history. No player in the four-plus decades since has even come close to Wilkens' legacy.
A five-time All-Star during his days with the Hawks, Wilkins also finished second in the MVP voting to Wilt Chamberlain in 1968. Wilkins would finish among the top 10 in the NBA in assists in each of his final six seasons in St. Louis.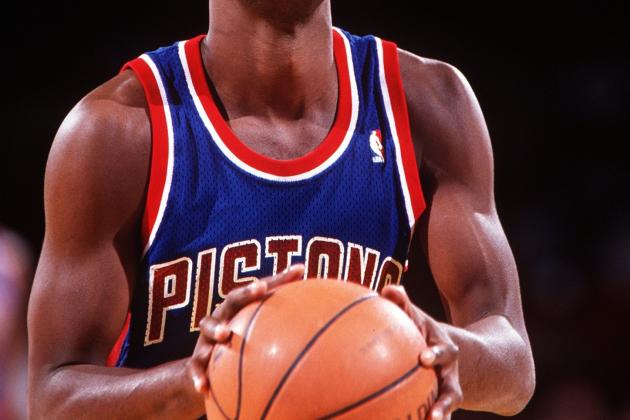 Tim DeFrisco/Getty Images

The fact that Isiah Thomas made the All-Star team in each of his first 12 seasons was not a fluke— the former Detroit Piston is one of the best point guards in the history of the NBA.
After winning a national championship in 1981 for the Indiana Hoosiers, Thomas arrived in Detroit later that year and immediately proved that he belonged in the league. In his first year, he was named to the All-Rookie team, and immediately followed that up with five straight All-NBA team nods.
Thomas only led the league in assists twice, but his career average of 9.3 assists per game is the fifth-best mark ever. Of course, he was the driving factor for both the 1989 and 1990 Pistons championship squads, and was named the Finals MVP at the end of his team's second title run.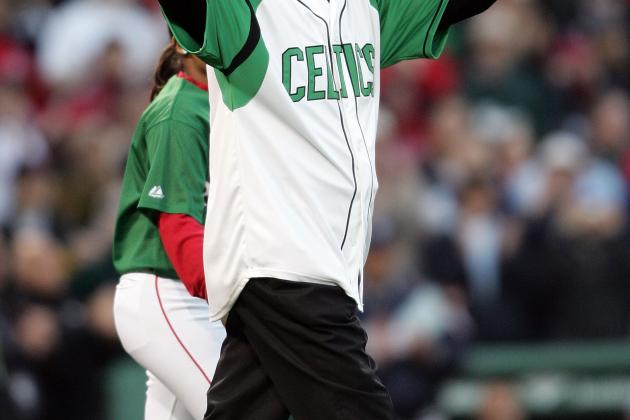 Elsa/Getty Images

Not only is Bob Cousy—the "Houdini of the Hardwood"—one of the five greatest point guards of all time, he also helped define the position for the next six decades.
Cousy led the league in assists for eight consecutive seasons, and was a key member of six Boston Celtics title squads. In addition to his play-making ability, he was a more-than-capable scorer: Cousy finished among the top five in the league in points per game for four straight seasons (1951-52 through 1954-55).
Cousy's most impressive accomplishment? He was named to the All-Star team during each of his 13 NBA seasons.
Oscar Robertson put up far more impressive numbers with the Cincinnati Royals, but his time with the Milwaukee Bucks places him at the head of the class of point guards for that franchise.
Gone were the days where Robertson racked up triple-doubles on a consistent basis, but he still found a way to be extremely productive during the twilight of his career. The "Big O" remained among the league leaders in assists well into his mid-30s, and even made two All-Star teams as a member of the Bucks (1971 and 1972).
Long dismissed as someone who would never win it all, Robertson captured a title during his first season in Milwaukee (1970-71), solidifying his spot as the one of the best players in franchise history.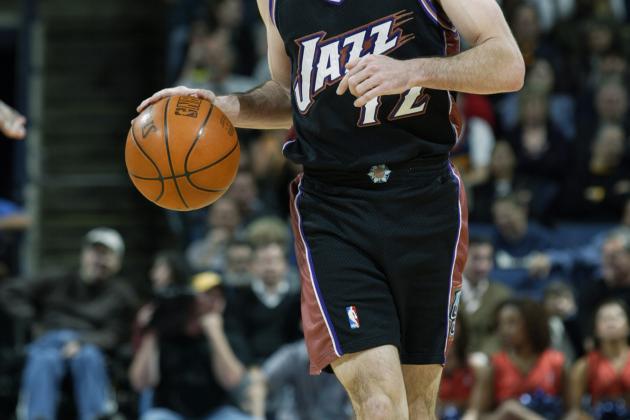 Jed Jacobsohn/Getty Images

Former Utah Jazz point guard John Stockton is exactly one-half of the reason why "Stockton to Malone" is perhaps the most oft-repeated phrase in NBA history.
Stockton crafted Hall of Fame careers for both himself and power forward Karl Malone with his solid, no-frills, play-making ability. Stockton led the league in assists for nine straight seasons and averaged 13 or more dimes five years in a row.
In fact, with 11 All-NBA honors and five NBA All-Defense nods, there wasn't much that Stockton didn't do well. But often overlooked is his exceptional shooting ability: Stockton's career field goal percentage of 51.5 percent is phenomenal, especially considering the fact that he was a 6'1" point guard who spent most of his time on the perimeter.
Most students of the game know that Oscar Robertson averaged a triple-double over the course of the entire 1961-62 campaign (30.8 PPG, 12.5 RPG, 11.4 APG). But not nearly enough has been made about the fact that he nearly accomplished the same feat in four other seasons as a member of the Cincinnati Royals.
Robertson is the only point guard other than Magic Johnson for whom one can make a legitimate argument as to which man can be considered the "best ever." Robertson averaged 9.5 assists per game over his career, a number even more astonishing when you consider the fact that it was notoriously more difficult for players to be credited with an assist 50 years ago. Back then, the pass had to directly lead to a basket; under today's rules, Robertson very well could have averaged 12-13 assists per game.
Not much needs to be said about Earvin "Magic" Johnson—few argue that he's the best lead guard of all time, and even fewer still will debate that he's one of the 10 best players in the history of the NBA.
Johnson's career averages (19.5 PPG, 11.2 APG, 7.2 RPG, 52.0 FG%) are flat-out ridiculous, as is the fact that he was named to the All-NBA First Team nine years in a row (1982-83 through 1990-91).
There are maybe a handful of players—if any—who orchestrated a fast break as well as Johnson did with the Los Angeles Lakers. Magic was a maestro on the open floor, always seemingly in control despite the chaos that swirled around him.
With five NBA titles to his credit, it will be quite a while before any point guard comes even remotely close to the career that Magic Johnson put together. Greatest Laker ever? Maybe. Greatest point guard ever? Definitely.