The Ultimate Fighter 15: Memorable Moments from Episode 1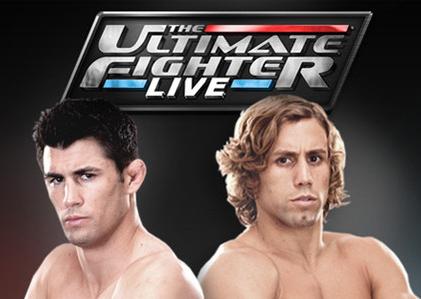 mmamania.com
Season 15 of The Ultimate Fighter kicked off last night with 32 fighters looking to impress potential coaches Dominick Cruz and Urijah Faber.
After years of producing a stale product to fans, the first season of the show on FX promised to bring a number of changes to freshen the show up.
The UFC succeeded in creating a lot of interest with some new changes in this upcoming season by making the season live instead of taped, and it continued with some good items from past shows like performance-based bonuses.
The new season started off on a good note as the first episode pulled fans in for a wild ride through Season 15.
Begin Slideshow

»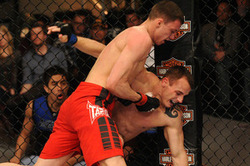 mmafighting.com
Previous seasons of the show have required fighters to compete for two rounds with the possibility of a sudden death round should no clear winner emerge. That was not the case for Friday's premiere of The Ultimate Fighter 15.
Fighters were given only one five-minute round to impress not only the judges, but also their prospective coaches. The shortened fight greatly helped those who are aggressive and obviously hindered some of the slow starters.
It may sound a little extreme but besides the TV constraints, the format for tryouts for TUF are always in an extremely shortened format.
If you've ever seen any of the stuff for behind the scenes of TUF tryouts, you will routinely hear strikers complain they were cut after the grappling round; preventing them from showing their skills.
Just the nature of the beast.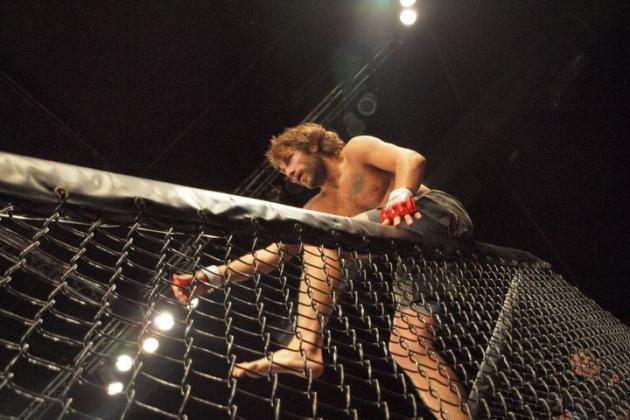 themmacorner.com
The shortened fights produced some high-octane action that we are used to seeing from the lightweight division. Fighters knew they only had five minutes to make a good impression, and for the most part, they did their best.
A couple of fights were slow with some of the grapplers being unable to take their opponent down, but there was more than enough action in the other bouts to balance it out.
It was a great way for new fans to not only be introduced into MMA but also TUF by creating some buzz to lead into next week's episode.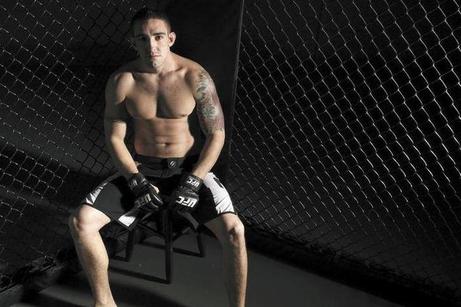 mixedmartialarts.com
Speaking of creating some excitement, Joe Proctor did just that in the first fight of the night. In a MMA card, the main event typically gets all the spotlight but the first televised fight can often be the most important.
Especially in the world of TV, where a viewer can turn the channel with just one click of the button, the UFC needed the first bout to be exciting in order to keep viewers.
Joe Proctor provided that excitement with his performance that was highlighted with a nasty guillotine to begin Season 15 of The Ultimate Fighter.
uvtblog.com
You got to hand it to Dana White, the man knows how motivate a fighter. From his numerous speeches during past seasons of The Ultimate Fighter to bonus money, White knows what fighters want.
For most of the guys who tried out on Friday, many of them were just breaking into the world of professional MMA and many likely didn't enjoy financial security. White changed all that for eight fighters.
Awarding a $5,000 bonus for a finish, White handed out $40,000 in bonus money on last night's show alone. The UFC isn't hurting for money, and it's nice to see White help out some fighters he barely even knows.
mmaweekly.com
A third-degree black belt in Brazilian jiu-jitsu, Cristiano Marcello is one of the more experienced fighters competing on this season.
PRIDE fans will remember Marcello for his backstage altercation with Charles "Crazy Horse" Bennett. Marcello was the BJJ instructor at the Chute Boxe Academy, which at one point in time was one of the top gyms in the world.
Marcello didn't disappoint in his debut either, easily taking the fight to the mat and showing a dominant top game.
poptower.com
Sam Sicilia stated in his pre-fight video that he was coming to lock on a submission to rip someone's limb off.
Sicilia didn't achieve his objective, but I don't think he will be complaining. Sicilia won in just eight seconds via KO with a single punch.
Considering the fact that he's won his last three professional bouts via KO with all coming in under 30 seconds, Sicilia could be a dangerous opponent for any of the competitors this season.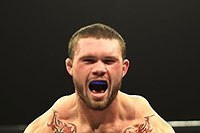 sherdog.com
In the ultimate moment of irony from last night's episode, Austin Lyons said he likes the fact he knows he can go anywhere and beat anyone's a**.
He certainly could talk the talk, but the walking part was too much for Lyons.
It may have been a quick stoppage on referee Steve Mazzagatti's part, but Lyons was dropped and likely would've received additional damage.
The UFC should've put a disclaimer to turn the volume down when Lyons fought as well. He sounded like a women's tennis match with the Williams sisters or Maria Sharapova.
poptower.com
Andy Ogle traveled a great distance to make a good impression in his TUF fight. He showed a lot of heart, even though he didn't get the finish.
After securing a trip from the clinch, Ogle was caught in a triangle choke for nearly two minutes. Not panicking, Ogle survived while being moments away from being choked out had the hold gotten any tighter.
Ogle even nearly ended the fight in the final seconds with a guillotine choke.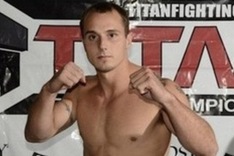 baltimorenewssource.blogspot.com
With all the build-up about Dakota Cochrane and his past employment history, fans were anticipating how he would survive in a house full of "macho tough guy" fighters.
For better or worse, we will never know as Cochrane failed to do much of anything short of "wall and stall," which in a five minute fight isn't going to do much.
Cochrane's story nearly became bigger than the show with all the press surrounding it this week, but it appears the Nebraska native will be forced to find another method into the big leagues.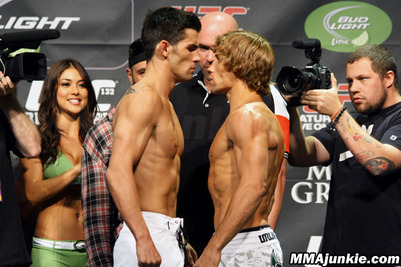 mmajunkie.com
Urijah Faber and Dominick Cruz were billed as rivals and the opening episode failed to get that message across.
The rivalry between the two was never about trash talk, as both are pretty clean as far as MMA standards go. Dana White tried to get the two to go at it during their conversation about the fighters, but neither man wanted to start anything.
Fans who expected a trash-talk battle will be disappointed by Cruz and Faber's passive aggression towards one another.
It will be a nice change from the "in your face" style of banter as both men will take jabs at each other through indirect ways all season.