Louisville vs. Cincinnati: Peyton Siva Will Lead Cardinals to 2nd Big East Title
March 10, 2012

Chris Trotman/Getty Images
They say that whichever team gets hot going into a tournament has the best chance of winning it.
Well, for the Louisville Cardinals, they weren't anything close to being considered hot heading into the Big East Tournament. The Cardinals lost four of six and two straight before playing Seton Hall on Wednesday.
But now, the Cardinals are in prime position to win their second Big East Conference Tournament. Louisville's Peyton Siva has been outstanding in their three games leading up to this point and he's going to lead his team to victory over the Cincinnati Bearcats on Saturday night. 
Siva has had an up-and-down junior campaign, but his best ball has been in the past three games. He has averaged 15 points, seven rebounds and six assists in the tournament. Against Marquette and Notre Dame, Siva dished out six and nine assists. In two of the three Big East Tournament games, Siva has shot the ball better than 54 percent.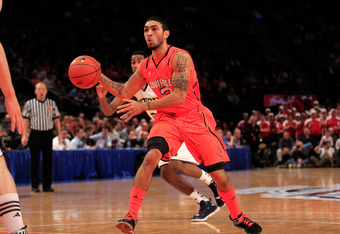 Chris Trotman/Getty Images
Compare these numbers to his two performances prior to the tournament (eight points and seven assists combined) and the difference is night and day. 
Generally, when Louisville loses games, Siva doesn't play well. He has scored eight or fewer points in seven of their nine losses. 
When Siva plays well, Louisville is a tough team to guard if, and only if, guys like Chris Smith, Kyle Kuric and Russ Smith are shooting the ball well. But what allows open shots is Siva's ability to penetrate to score, which brings in help defense allowing spot-up shooters from the perimeter. 
Louisville has showed levels of inconsistency from their players this season and their nine losses prove that. However, if Siva plays well, I don't see Louisville falling on Saturday night. The Bearcats may have had the best win of the tournament, defeating Syracuse, but what Louisville has done over the course of their three-game span is impressive.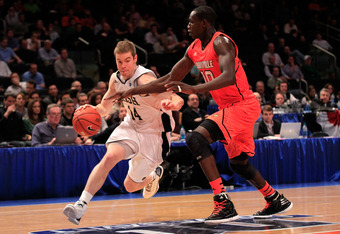 Chris Trotman/Getty Images
The Cardinals knocked off Seton Hall, a bubble team that needed another win while the game was in prime-time. Louisville defeated a Marquette team that finished second in the conference this season by 13 points. Then they defeated the surprise team of the Big East, Notre Dame, by 14 points.
Those are three quality victories in Madison Square Garden after struggling down the stretch. How did they turn their play around? It's mostly because of their defensive play. 
Louisville's defense has been ferocious in the past three games. They have only allowed 58.6 points per game on 38 percent (66-173) shooting and 14 percent (7-49) from beyond the three-point line. 
This great defensive trend will continue against a Bearcats team that is 144th in points per game.
Prediction: Louisville 76, Cincinnati 68