Kimbo Slice and 10 Fighters Who Failed to Live Up to the Hype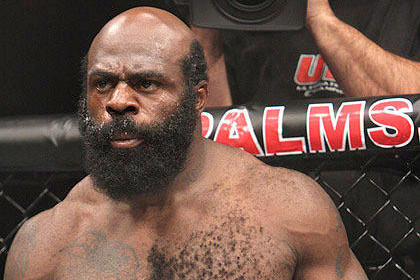 Kimbo Slice/ Scott Petersen for MMAWeekly.com
During his reign of terror, Kimbo Slice enjoyed immediate mainstream exposure, courtesy of his extensive career as an Internet-backyard-brawler.
His exploits eventually landed him in the now-defunct mixed martial arts promotion EliteXC. In his final appearance with the promotion, soon after cinching a TKO victory over PRIDE veteran James Thompson, Slice was viciously knocked out by UFC vet Seth Petruzelli.
Though Slice would eventually make his way inside the Octagon, his unbeatable facade quickly wore off as he suffered an additional loss to Matt Mitrione.
The Floridian has since ventured into the world of boxing, leaving behind his MMA ambitions, at least for the time being. Here, we will take a look at Slice and a number of other fighters who simply failed to live up to those high expectations.
Kimbo Slice/ Scott Petersen for MMAWeekly.com
Begin Slideshow

»
Why UFC head honcho Dana White instilled so much confidence in boxing great James Toney, we may never understand.
Well, White certainly understands money, and if anything, Toney helped register a few more PPV buys and some more tickets when he made his inception into MMA at UFC 118.
There, Toney succumbed to a first-round submission courtesy of Hall of Famer Randy Couture, who secured the arm-triangle choke just minutes into the bout.
It was the first and so far last MMA fight of Toney's career.
Season 8 finalist of The Ultimate Fighter Phillipe Nover was considered "Anderson Silva-esque" by UFC Prez Dana White.
I guess going 0-3 inside the Octagon would be considered a tough go around.
Nover failed to secure a single win during his tenure with the UFC, eventually being ousted from the promotion following a lackluster decision loss to Rob Emerson.
During his run as a UFC welterweight, Johnson traded impressive victories with equally disappointing losses.
After twice failing to make weight at 170 pounds, Johnson was prompted to move to the middleweight class where his weighty issues would seem to dissolve.
Wrong.
In his attempted debut at 186 pounds, "Rumble" came in a staggering 11 pounds overweight, battling former champion Vitor Belfort in a special catchweight bout.
After being fined a percentage of his purse, Johnson was subsequently choked out by the Brazilian, who earned the first-round rear-naked choke this past January.
Following the loss, Johnson was released from the UFC.
An upset knockout victory of former title challenger Matt Lindland instantly catapulted Terrell to the upper echelon of the middleweight class.
The Cesar Gracie black belt earned a shot at the vacant UFC 185 pound belt, taking on perennial contender Evan Tanner.
Terrell choked under the pressure, being manhandled by Tanner who cinched the TKO victory via ground-and-pound.
A submission victory over Scott Smith followed, though Terrell has since failed to mount a return to the sport. It's been more than five years since the submission whiz competed professionally.
After earning back-to-back knockouts of Keith Jardine and Alessio Sakara, Alexander looked like the next big thing in the light heavyweight division.
However, Alexander's deficiencies were quickly exposed, as the slugger went winless in his next four UFC appearances against Thiago Silva, James Irvin, Eric Schafer and Kimbo Slice.
With a 2-1 record heading into PRIDE, many believed that Sokoudjou would serve as a feeder for the upper echelon of talent.
"The African Assassin" quickly established himself as a dangerous up-and-comer, knocking out world-renowned opponents in Antonio Rogerio Nogueira and Ricardo Arona in succession.
The wins caught the eye of the UFC brass and Sokoudjou eventually made his debut for the organization, losing to future champion Lyoto Machida via submission.
Sokoudjou got back to his winning ways with a TKO victory over Kazuhiro Nakamura. However, a decisive KO loss to Luiz Cane quickly squelched any hope that Sokoudjou would remain in the UFC.
The Team Quest fighter is now 12-10 overall.
He may not have been the most technical or refined fighter of his time, but what Sapp did do well was garner plenty of attention during the height of his career.
A K-1 and PRIDE veteran, Sapp had many memorable battles inside the ring, besting the legendary Ernesto Hoost twice in kickboxing bouts while engaging submission whiz Antonio Rodrigo Nogueira in a particularly fan-friendly battle some years ago.
As time has passed, Sapp has continued to mount losses and currently sports a very pedestrian 11-11 record in MMA as well as a 11-14 run as a kickboxer.
After securing a record-breaking knockout victory over Tim Hague, Duffee was headed to the big time.
The UFC immediately moved Duffee along, pitting him against the tough Mike Russow.
For the first couple rounds, Duffee handled Russow all around the Octagon with a good mix of takedown defense and striking.
Eventually, Russow caught Duffee with a vicious right hand, rocking and dropping the juggernaut heavyweight and sealing the "Knockout of the Night" finish.
After the loss, Duffee was released by the UFC and has since suffered another devastating loss, this time at the hands of K-1 and Strikeforce champion Alistair Overeem.
Vera was considered one of the sport's most exciting and promising fighters in his heyday.
However, a dispute between Vera and his former manager kept him away from the Octagon for close to a year.
Upon his return, Vera lost back-to-back fights against Tim Sylvia and Fabricio Werdum, which prompted a move to the light heavyweight division.
Vera would again feel the sting of consecutive losses when both Randy Couture and Jon Jones earned victories over "The Truth."
Brandon is 4-5-1 in his last 10 outings, a far cry from his 8-0 start in the sport.
To be fair, Slice's expectations in the MMA world far surpassed his actual abilities.
A touted striker, Kimbo wielded knockout power in either punch, though his overall experience in MMA was left wanting.
After going undefeated in his first three outings, Slice closed out his career with a 4-2 record overall, losing two of his last three fights due to strikes.