Arizona vs. Colorado: X-Factors Who Must Shine in Pac-12 Title Game
March 10, 2012

With the Pac-12 title game set between the Arizona Wildcats and Colorado Buffaloes, the unheralded players are going to play a prime role in their team's success (or failure).
Considering that the conference is likely to earn just one NCAA tournament bid, this game is literally for all the marbles. All hands are going to be on deck, and it is time for the role players to make a name for themselves. 
Nothing that has happened before is going to matter when these two teams tip-off on Saturday evening. Here are the biggest X-factors who must step up for their team to win. 
Arizona Wildcats
Brendon Lavender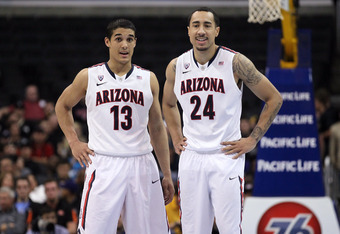 Stephen Dunn/Getty Images
Every team needs a player like Lavender. He is never going to be thought of as one of the best on the floor, but when you need someone to make a shot, he has the confidence and ability to take it. 
In a lot of ways, Lavender is like the Steve Kerr of the Arizona Wildcats. He doesn't score a lot of points, but when he does you will feel it. 
The Wildcats don't have a dynamic offense. In fact, they are rather vanilla with the ball in their hands. Lavender makes them a little more dangerous because of his ability to shoot the ball anywhere on the floor. 
Angelo Chol
On the opposite end of the spectrum, Chol is still finding his niche with this team. He is just a freshman, so there is no rush, but his size and strength in the low post makes him a potential nightmare for opposing teams. 
Chol is still learning how to play, and is only given limited minutes when he is on the court, so he has to make them count. He dropped four points against Oregon State in the semifinals, and will need to be more of a focus on offense. 
Another area Chol can make a difference is defensively. He has proven to be a more-than-capable rebounder when he is on the court. 
Colorado Buffaloes
Askia Booker
One of the best things that the Buffaloes do is spread the ball around on offense, but tournament time is when teams need someone to step up and lead the team. 
Booker has had struggles befitting a freshman. He had just seven points on 3-for-10 shooting against Oregon, which will not be good enough against Arizona. 
While Booker's shooting is not where it needs to be, he is not afraid to have the ball in his hands when he is struggling.
Colorado has been tournament games despite the performance of Booker, but now is the time when he must put all of those struggles behind him. 
Nate Tomlinson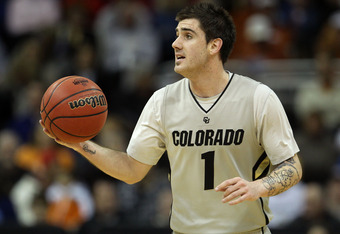 Jamie Squire/Getty Images
This season perfectly sums up Tomlinson's four-year tenure at Colorado: wildly inconsistent with a few performances that give you hope he has turned a corner. 
His shooting has never been great, but it really fell off this season. He shot less than 40 percent from the field. His three-point shooting was not bad at 36 percent. 
Tomlinson played well against Arizona the last time these two teams met, with nine points on 3-of-6 shooting. Another performance like that, and the Buffaloes will be on their way to the NCAA tournament.