Peyton Manning: How He and Justin Blackmon Could Be Houston Texans
March 10, 2012

Joey Foley/Getty Images
Realistically, Peyton Manning to the Houston Texans is not only a possibility but could work out amazingly well for both sides.
How amazing? It's the kind of amazing that involves Manning throwing to Justin Blackmon in Houston next year.
I can't sit here and say for sure the Texans would do this. It is a lot to make happen. At the same time, unless your father is Archie Manning, you can't sit and say it won't happen. Allow me to break it all down.
In my personal "Manning Watch 2012" list, here are the teams I had ahead of Houston in the race to snag  Peyton as their starting QB for 2012.
Washington Redskins: On Friday evening, they sent three first-round picks as well as their second-rounder this year in a trade to the Rams in order to claim Robert Griffin III in the draft. Their run at Manning has officially ended.
Cleveland Browns: The Browns were my original favorite to trade up for the services of RGIII. The former Baylor QB will not find his home in Cleveland, however, due to the Redskins' recent trade. They have stated they have no interest in Manning, and I doubt he would want to join the rebuilding process there. That's all for the Browns for now, but they will come up again in this column soon.
New York Jets: I would not have been surprised to see Manning take a page from the Favre playbook by leaving the team he made his name with in order to play for the green and white. However, the Jets and Mark Sanchez reportedly have agreed on a three-year extension to keep the former Trojan first on the depth chart in New York. Manning will not be sharing the city with Eli come 2012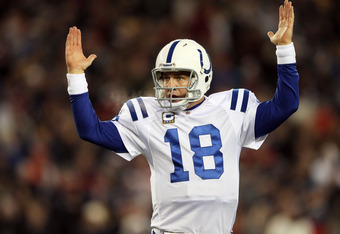 Elsa/Getty Images
Denver Broncos: This team would surprise me just as much by signing him as they would by not even making an offer. Manning was in Denver to meet with John Elway and the gang Friday afternoon with reports saying it was strictly a meeting and no contract would be offered. There has to at least be interest from both sides, however, or Manning wouldn't have made the trip in the first place. They remain a dark horse, but not as highly favored as Houston due to having a less talented roster.
Arizona Cardinals: They could land Peyton as well, but he prefers the AFC to the NFC. This will probably be the factor that eliminates the Cardinals from contention despite their offensive talent.
Miami Dolphins: The strategy for the Dolphins will be to give Manning pieces of paper with Ben Franklin's face on it until he is ready to take his talents to South Beach. Peyton loves Miami. He is familiar with Miami, and they will certainly be willing to give him the most money.
In my opinion, ownership in Miami seems much more focused on the marketing of a franchise rather than building a winning organization. I also don't trust 60 percent of their offensive line. He also will have to play in cold weather in the AFC East and may have to face Tom Brady and the Patriots as many as three times a season.
Regardless, I still view them as a strong favorite to land No. 18. The Texans still make more sense.
Now, time to focus on why it makes sense for Manning to become a Texan.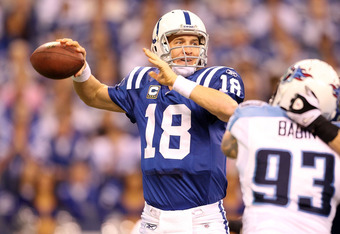 Andy Lyons/Getty Images
Why the move makes sense for Manning:
Did you watch the press conference concerning Peyton's release? By far, it was one of the classiest ways to leave an organization I have seen in recent memory. He did a much better job than a certain athlete from Ohio did.
However, if you think he won't have a huge chip on his shoulder when he sees the Colts in the future, you are strongly mistaken. When Manning meets back up with the Colts, and, trust me, he will, he will want to prove to them that there is still plenty left in the tank.
Why not go to Houston? He is comfortable with the division and will get the chance to play the Colts twice per season.
What better team could Peyton go to for offensive firepower? He will be handing the ball off to a Pro Bowl running back in Arian Foster and another stud in Ben Tate.
As far as the guys catching the passes from No. 18, the talent is strong as well. Andre Johnson is considered by many to be the best wide receiver in the NFL, or at least toward the top of the list. Manning also will have Owen Daniels, a rookie wide receiver (possibly Blackmon, I'm getting there, I promise) from early in the draft as well as Jacoby Jones and Kevin Walter.
The offense is strong and the defense is even stronger. Whether Mario Williams is a Texan or not, the Houston defense led by Wade Phillips will be a force to be reckoned with in 2012. Don't be fooled, this team is on the verge, and Manning knows he could be the piece to throw them over the top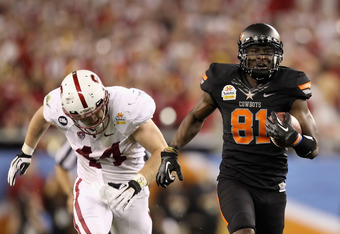 Christian Petersen/Getty Images
Why the move makes sense for the Texans now and in the future:
I promised it was coming. It's time to explain why the Browns are significant to this deal. How. And what the Texans should do with Matt Schaub.
Manning isn't getting any younger, and he will want to go to a team that is a strong contender. Yes, Schaub is younger and has a lot less mileage on him, but the benefits of Manning wouldn't be strictly at the QB position.
As I stated earlier, the Browns have no interest in Manning. The Redskins are now officially (pending league approval on Tuesday) the future destination of RG3. Suddenly Cleveland fans find themselves right back at square one with Colt McCoy.
If you are a Browns fan, wouldn't you much rather have Matt Schaub? I think both teams should give it a look.
Hypothetically, let's say the Texans get Manning and Schaub becomes expendable. Cleveland would be one of the first to come calling.
The Texans could send Schaub to the Browns in exchange for their fourth overall pick. The Browns have two first-round selections this year. And by making this deal, they would essentially satisfy their QB needs for far less of a price than they originally projected chasing RG3.
The Texans could then use the fourth overall selection in one of two ways.
1) Draft LSU CB Morris Claiborne fourth overall and use the 26th overall selection to pick up a second-tier talent wide receiver.
2) Draft Oklahoma State stud WR Justin Blackmon fourth overall and use the 26th overall selection to satisfy another team need.
Worst Case Scenario: Even if Manning's health fails, in option one, you receive an upgrade at corner to replace Kareem Jackson, as well as an upgrade at the second wide-receiver position. In the second option,  you still end up with a solid No. 2 wide receiver to complement Johnson, and with Blackmon you acquire a player who eventually could become the team's No. 1 wide receiver.
In essence, the Texans would be replacing Johnson with a receiver who could reach the same playing abilities that Andre had in his prime.
Best Case Scenario: Everything in the worst case scenario still happens, however, a healthy Manning is taking snaps rather than Matt Leinart or T.J. Yates.
Schaub hasn't played a full season in three of the five seasons he has played in Houston. I understand Manning has had neck surgeries, but it's not exactly a given that Schaub will remain healthy in 2012 either. At least with Peyton, we are drafting higher quality players in the draft.
As far as cap concerns go, I believe that Manning would likely be more generous on his contract than most would assume. Manning has made tons of money in endorsements and contracts while in Indianapolis, I don't feel that money would be the No. 1 concern (This is another reason why I feel the Texans have a better shot than Miami).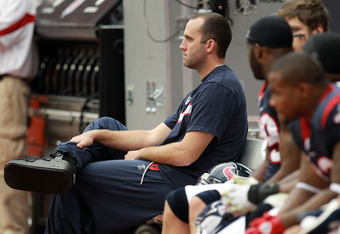 Ronald Martinez/Getty Images
Schaub has at least one more big-time contract to sign before he calls it quits. While I feel he would give the Texans a nice discount to stay with the team, Manning may be willing to come even cheaper.
Manning is aware he won't put up numbers like his career year of 2004, and I highly doubt any team is going to throw that type of money at him (besides Miami). He would probably be open to a low-base guaranteed salary with a lot of incentives if he were to stay healthy and perform.
The Texans are still worried about keeping center Chris Myers and offensive guard Mike Brisiel. Do you honestly think Manning wouldn't take less money if it meant he could have those guys to help keep him on his feet?
I'm not saying this is going to happen, and you can't say that it won't. I'm simply stating that nothing I have stated is beyond the realm of possibility.
A week ago, I would have told you that there was no way you would see my name attached to an article concerning Manning in Houston. The more I think about it, the more sense it makes.
Follow Brandon Wheeland on Twitter @BrandonWheeland