Kansas City Royals: Predicting Their Full 25-Man Opening Day Roster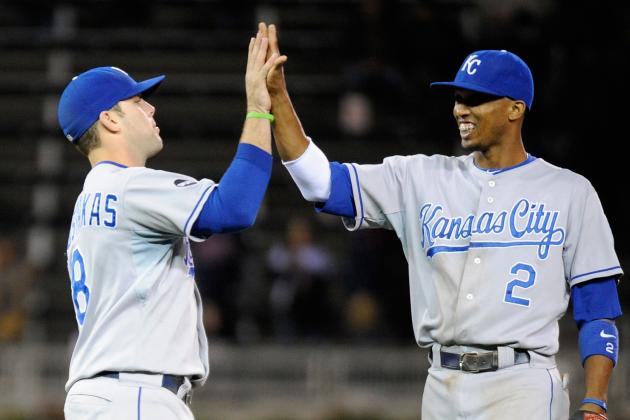 Hannah Foslien/Getty Images

With less than four weeks to go before the '12 MLB regular season begins, it's time to start making predictions for each team's 25-man roster for Opening Day.
For the Kansas City Royals, there shouldn't be too many surprises as far as players making the team out of spring training this year.
Here are my full 25-man roster predictions for KC when they kick off their season on April 5th in Los Angeles.
Begin Slideshow

»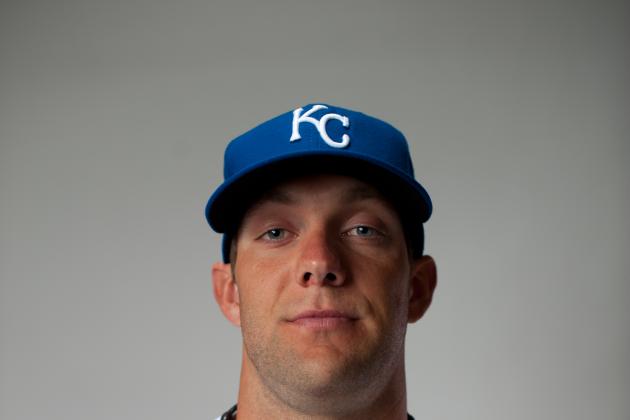 Rob Tringali/Getty Images

Alex Gordon will return to his starting spot in left field for KC this season.
Last year, he had a career year by hitting .303 with 20 homers and 87 RBI.
He was also named the team's player of the year for his efforts as well.
If the Royals hope to challenge for a division title, they will have to get another big season out of Gordon in 2012.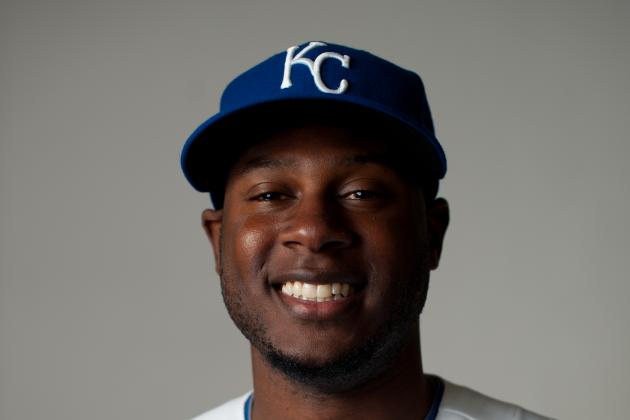 Rob Tringali/Getty Images

The Royals will get their first look at Lorenzo Cain in center field this year.
The former Brewers' prospect became the new starting CF after veteran Melky Cabrera was traded earlier this offseason.
Starting next month, he will finally get his chance to prove himself as an everyday player in this league.
I expect big things out of Cain this season as Kansas City hasn't had this smooth of an athlete roaming center field for quite a while.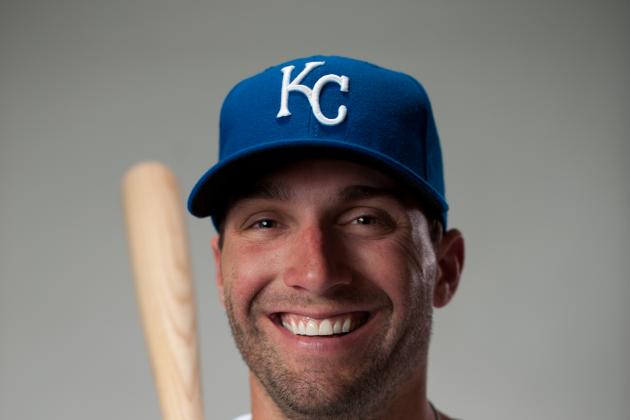 Rob Tringali/Getty Images

Twenty-eight-year-old OF Jeff Francoeur will begin his second season as the Royals' starting right fielder this year.
Frenchy turned in an impressive campaign last year when he hit .285 with 20 homers and 87 RBI, while swiping 22 bases in the process.
Kansas City liked enough about what they saw in the ex-Brave that they gave him a two-year extension toward the end of last season.
He has really turned into one of the leaders in KC's clubhouse over the past year and should excel once again in a strong outfield this season.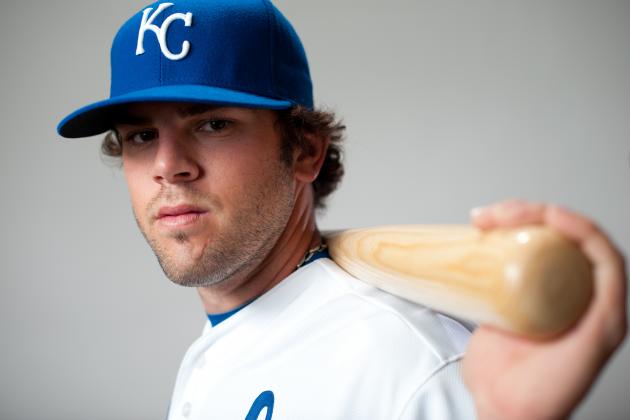 Rob Tringali/Getty Images

Mike Moustakas is the third baseman of the future for this franchise.
The former Chatsworth High star made his much-anticipated major league debut in June of last year, and he went on to finish out the remainder of the season while starting at third base for the Royals.
He's got a lot of potential, and KC should be able to get a much better look at him this year since he will be starting for KC to begin the season.
Don't be surprised if Moose hits 25 homers and drives in over 80 runs in his sophomore season in the league.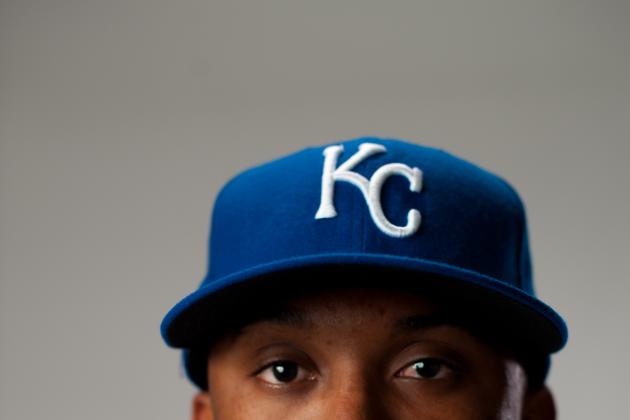 Rob Tringali/Getty Images

Starting at short this year for Kansas City will be former Brewer Alcides Escobar.
Escobar is one of many players who will be heading into his second season with the Royals.
Last year, he played solid defense at short, while hitting .254 and stealing 26 bases in his debut campaign with the organization.
The Royals hope that the 25-year-old rangy shortstop will continue to get better on both offense and defense as he heads into his third full year in the league.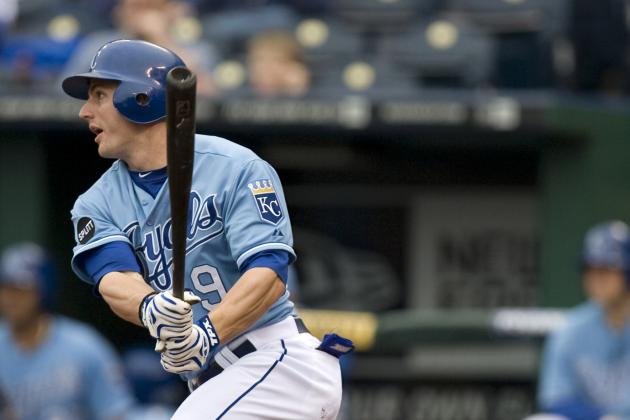 Ed Zurga/Getty Images

University of New Orleans product Johnny Giavotella took over for Chris Getz as KC's starting second baseman toward the end of last season.
Giavotella was called up after hitting over .300 in his time with Triple-A Omaha last year.
He still has some work to do on the defensive side of the ball but should be a major upgrade over Getz on offense going forward.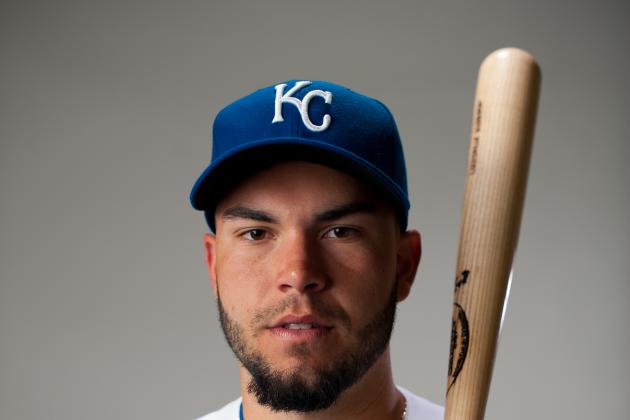 Rob Tringali/Getty Images

Eric Hosmer will take over at first again this year for the Royals.
Hosmer might just be the best player in this talented group of prospects that Kansas City has assembled over the past few years.
After spending one month in the minors to begin the '11 season, he got the big league call-up in May and never looked back as he hit .293 with 19 homers and 78 RBI in 128 games with the big-league club.
He is one of the major keys to this team's success going forward.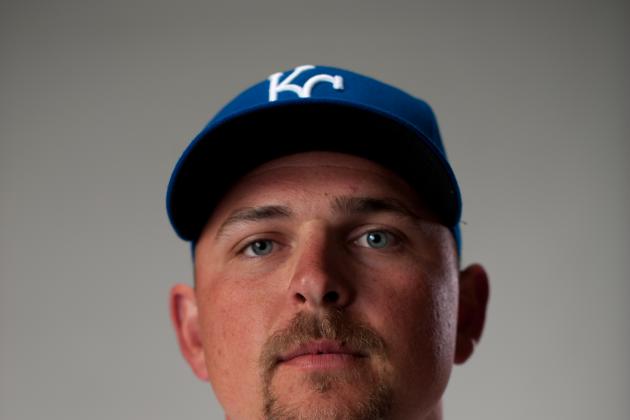 Rob Tringali/Getty Images

Billy Butler will be the team's full-time DH again this year, after assuming that role when first baseman Eric Hosmer was called up in May of last season.
Butler's power still hasn't come around yet, but he should get his fair share of doubles and extra-base hits in 2012.
At just 25 years old, he already has five years of ML service, and he should only get better since he is just now entering his prime as a player in this league.
I expect big things out of Butler this season since he will be in a solid lineup and will be slotted behind Hosmer in the batting order.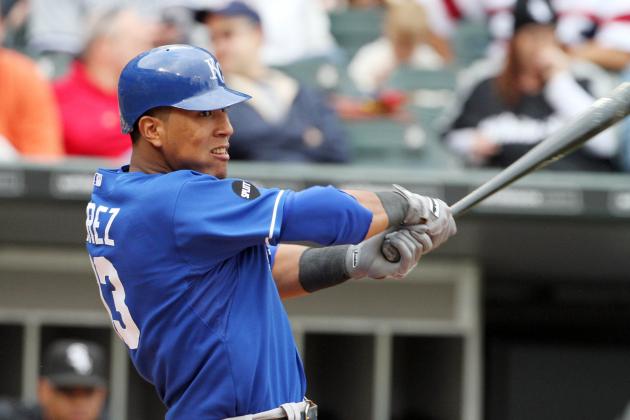 Tasos Katopodis/Getty Images

Twenty-one-year-old Salvador Perez will take over at catcher for this team on a full-time basis in 2012.
The Venezuela native is one of the best catching prospects to ever come through the Royals organization, and it should be on full display this season.
He's known as more of a defensive catcher but showed off some of his offensive skills when he hit .331 in 39 games with KC last year.
After locking him up for to a five-year deal last month, it's very possibly that the Royals may have finally found a long-term answer at the catcher position.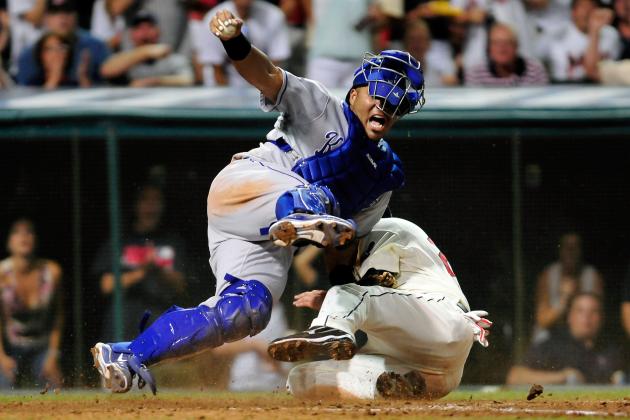 Jason Miller/Getty Images

Making the 25-man roster as the first backup is veteran C Brayan Pena.
Pena, who used to split time behind the plate with then-Royal Matt Trainor last season, will likely backup Salvador Perez this season.
The former Brave will not be seeing as much game action as he has in the past with KC, but he will still be important to this team if Perez were to get hurt at any point in the season.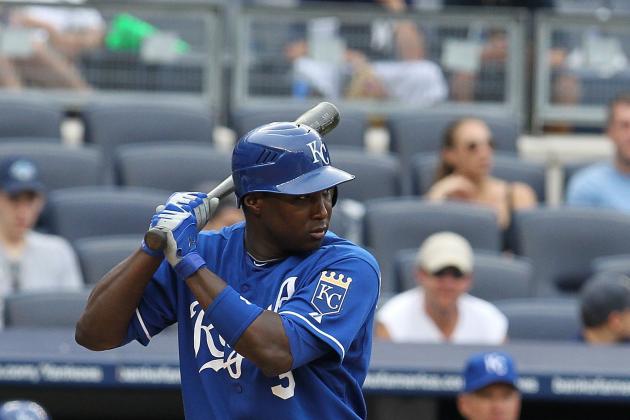 Al Bello/Getty Images

Earlier this offseason, the Royals signed infielder Yuniesky Betancourt to likely fill a backup role this season.
Betancourt played for Kansas City from 2009-10, before being traded to the Brewers along with former Cy Young winner Zack Greinke in the '11 offseason.
His experience playing both second base and shortstop should make him a shoo-in for KC's Opening Day roster.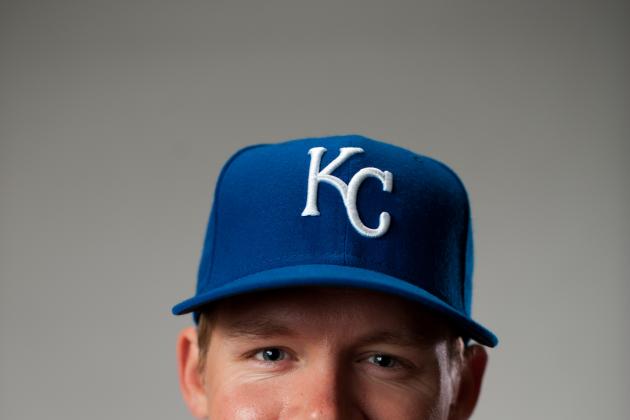 Rob Tringali/Getty Images

Former starter Chris Getz will join Yuniesky Betancourt as KC's utility infielders to begin the '12 season.
Getz lost his job last year after top second-base prospect Johnny Giavotella was promoted from the minor leagues in August.
After starting 190 games in the Royals' infield over the past two seasons, he will now be moved to the bench on a permanent basis.
The only real competition that he should have for his roster spot in spring training will come from former Padre Kevin Kouzmanoff, but I see Getz beating him out to be on the team for at least one more season.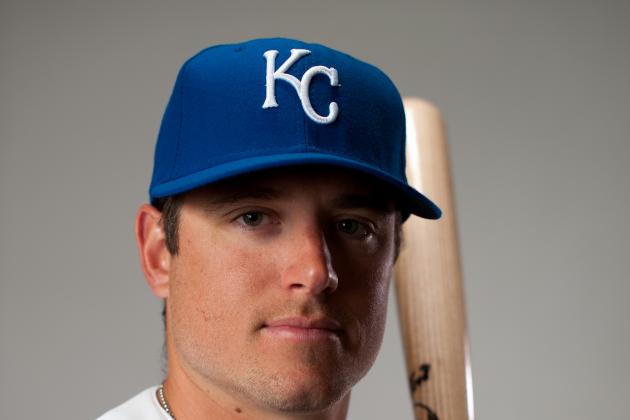 Rob Tringali/Getty Images

Rounding out the bench for KC's Opening Day roster will be outfielder Mitch Maier.
Maier has played 328 games in his Royals career, while hitting .253 during that time.
While it's not likely that he will ever become a full-time starter again in the big leagues, he is still a valuable backup for this team because he's versatile enough to play all three positions in the outfield.
Behind starters Alex Gordon, Lorenzo Cain and Jeff Francoeur, Maier is probably the best option that Kansas City has for their outfield right now.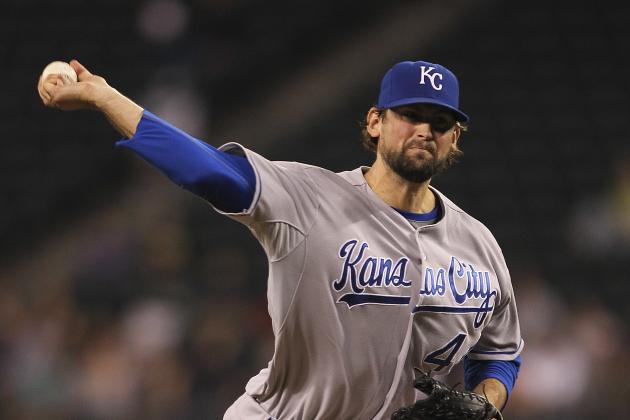 Otto Greule Jr/Getty Images

Veteran starter Luke Hochevar will resume his role as the ace of the Royals' pitching staff this season.
The former No. 1 overall pick turned in the best season of his career so far when he won 11 games with a 4.68 ERA last season.
In a starting rotation that isn't exactly loaded with talent, KC needs Hochevar to have an even better year in 2012.
I expect him to continue to get better this year in his sixth big-league campaign.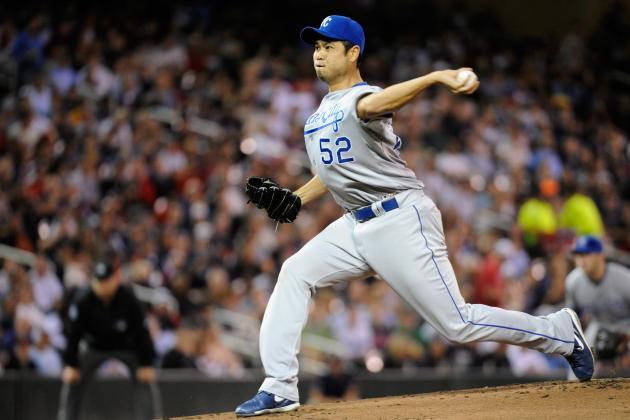 Hannah Foslien/Getty Images

Journeyman left-hander Bruce Chen has been one of the bright sports of KC's rotation over the past two years.
He won 12 games in each of those seasons, while eating up nearly 300 innings for this pitching staff.
The 34-year-old Chen isn't going to blow you away with any of his stuff, but he's really turned into a reliable starter for this team.
I expect him to a be a solid No. 2 pitcher in the Royals' starting rotation for 2012.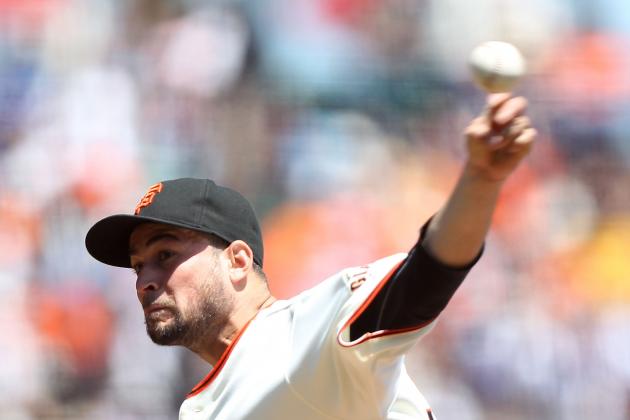 Jed Jacobsohn/Getty Images

Lefty starter Jonathan Sanchez was acquired in a trade that sent CF Melky Cabrera to the Giants earlier this offseason.
Sanchez brings with him some injury concerns, after missing time last season with injuries to his bicep and ankle.
However, he has thrown a no-hitter in the past and is just two years removed from a season where he won 13 games while turning in an ERA of 307 with 205 punchouts.
Sanchez will likely be the No. 3 starter behind Hochevar and Chen this season.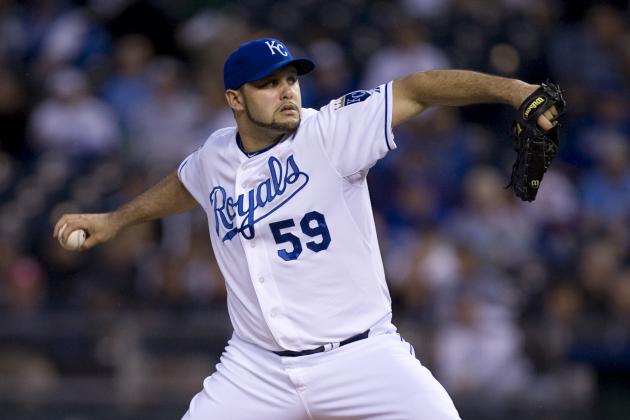 Ed Zurga/Getty Images

Veteran Felipe Paulino should be back in the Royals' rotation for 2012.
The former Rockie seems to have good stuff when he's on his game, but he still needs to show more consistency from start to start.
That being said, he has pitched well so far this spring and should easily make the roster coming out of camp.
After manager Ned Yost's latest endorsement, it's easy to see why Paulino and Danny Duffy will round out the starting rotation for KC to begin the season.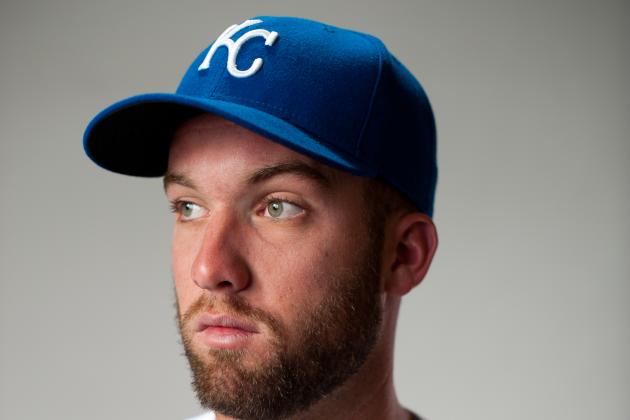 Rob Tringali/Getty Images

Danny Duffy had an up-and-down rookie season for Kansas City last year.
The 6'3", 200-pound lefty finished the year with a disappointing 4-8 record to go along with a 5.64 ERA but also showed flashes of brilliance in some of his starts.
Duffy will either be the No. 4 or No. 5 starter for KC heading into the season opener this year.
I see Duffy as being the wild card to the Royals' rotation in 2012, since he has the talent to have a breakout season in his second year in the majors.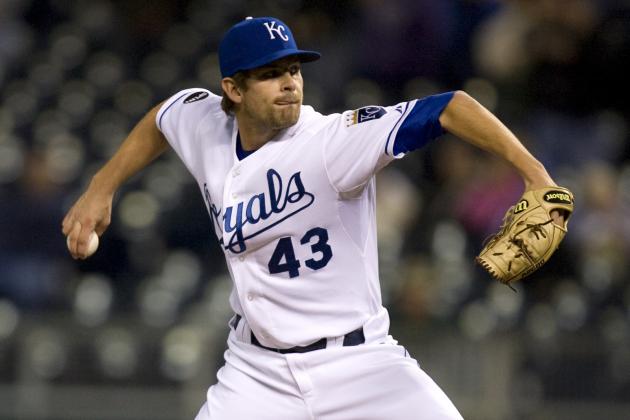 Ed Zurga/Getty Images

Royals righty Aaron Crow did the unthinkable last year when he made the team out of camp and went on to become the team's lone All-Star representative after a dominating first half of the season.
After his breakout rookie campaign, there have been rumblings of him possibly joining the rotation in 2012, since he had always been a starter until he entered the big leagues last March.
As of right now, I have Crow penciled in as either a fill-in starter or a reliever for KC to begin the season.
Jamie Squire/Getty Images

Louis Coleman was one of many relievers who made their ML debuts for KC last season.
The submarine-style right-hander had a solid year, as he compiled a 2.87 ERA and netted 11 holds in his inaugural season in the majors.
Like many of the relievers on this list, I expect Coleman to be a lock to make this team out of camp.
The LSU grad is one of the many weapons that Kansas City will have to work with out of their 'pen this year.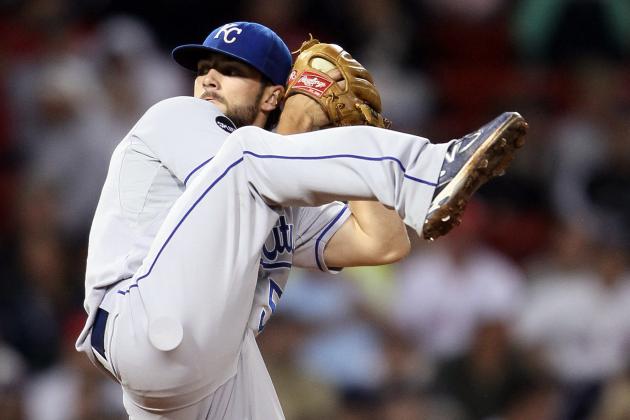 Elsa/Getty Images

Tim Collins should resume his role as the left-handed long reliever in the Royals 'pen this year.
Last season, the ex-Blue Jays prospect went 4-4 with a 3.63 ERA, but also allowed 48 walks in 67 innings of work.
Although it shouldn't be a concern for him to make the team this season, he will have to cut down on the walks this year if he wants to keep his spot in the bullpen for the future.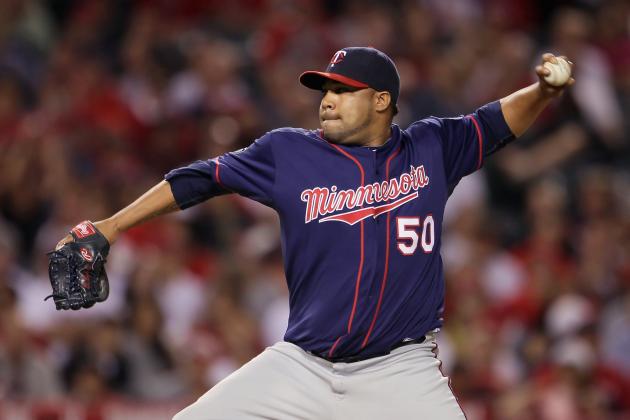 Jeff Gross/Getty Images

Ex-Twin Jose Mijares was picked up by the Royals back in December to give the team another dependable left-handed arm out of the bullpen.
Last year, KC only used two left-handed relievers out of the pen in rookie Tim Collins and 26-year-old Everett Teaford.
Mijares should have no problem making this team, as he owns a 3.16 career ERA and already has four years of ML service time as well.
Other than Collins, I see Mijares being the only other lefty out of the 'pen to make the Opening Day roster for this team.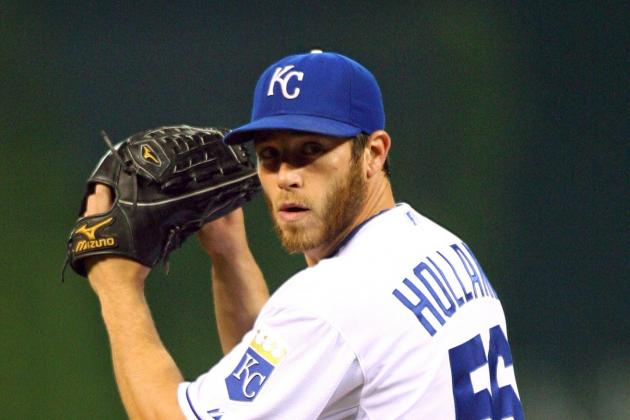 Tim Umphrey/Getty Images

Third-year man Holland made a name for himself as a setup man last season when he went 5-1 with a 1.80 ERA and 18 holds for the Royals' pen.
When he's pitching well, he's nearly unhittable at times.
With the recent signing of flame-thrower Jonathan Broxton, Holland will not be relied on as much this season but is still an important piece of this bullpen.
Expect to see Holland more in the seventh inning, with Broxton possibly becoming the go-to guy in the eighth for KC this year.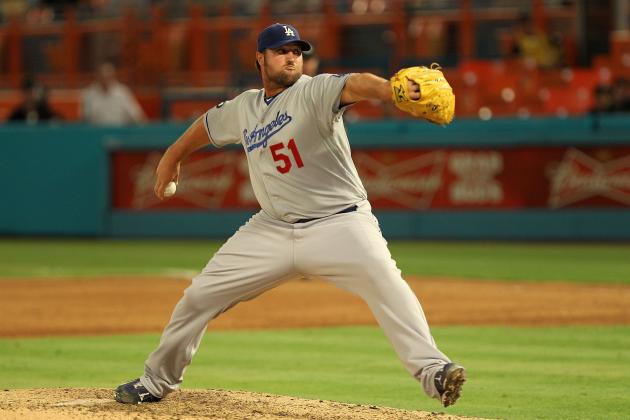 Mike Ehrmann/Getty Images

The Royals surprised some around the league when they signed free-agent reliever Jonathan Broxton back in November.
Broxton had played for the Dodgers over the past seven seasons and put together a 3.19 ERA with 84 saves during that time.
The 6'4", 300-pound righty is coming off an elbow injury but has a killer fastball and will strikeout his fair share of hitters once he gets healthy.
He will likely be one of the two main setup men in the KC 'pen this season, along with third-year man Greg Holland.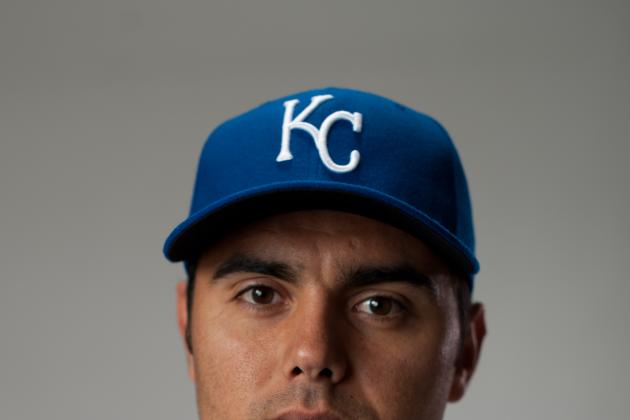 Rob Tringali/Getty Images

Soria has been one of the better closers in the AL over the past five years.
His 160 career saves and 2.40 ERA during that span speak volumes for how dominant he has being since he busted onto the MLB scene back in 2007.
Even though he regressed some in 2011, he still has nasty stuff and could be headed for a bounce-back campaign.