Fantasy Baseball 2012: Red Sox RF Cody Ross & Ryan Sweeney; Why Not Draft Both?
March 10, 2012

What do you think it would cost you in a fantasy draft for an outfielder who would give you a .289 batting average, 195 hits, 95 runs, 110 RBI, a .352 OBP and an OPS of .789?
According to ESPN, only three outfielders in MLB are projected to reach or exceed 185 hits in 2012: Ryan Braun, Ichiro Suzuki and Jacoby Ellsbury.
To get to 95 runs, you're talking Michael Bourn/Andrew McCutchen/Alex Gordon numbers. Jose Bautista and Matt Kemp are in the 110 RBI range.
Carlos Gonzalez, Corey Hart and Michael Cuddyer are in the .289/.352 average/OBP category, and Hunter Pence, Carlos Lee and Melky Cabrera are projected to be in that OPS/OBP range.
What if I told you you could get that production for two end-of-the-draft bench players in a snake draft, and for a $2 investment in an auction draft?
The way to do it is to draft both erstwhile right fielders for the 2012 Boston Red Sox, Cody Ross and Ryan Sweeney.
Yes, it would take extra work every week to play the matchups, and it might not make sense if you're in a league with a very short bench and limited acquisitions, but for everyone else it could be a brilliant strategy.
This approach would allow you to strengthen your lineup elsewhere while losing nothing (except extra bench slots that you probably won't use anyway).
Drafting these two players makes even more sense when you consider that Sweeney is eligible to play all three outfield positions in ESPN leagues, and Ross is eligible in both CF and LF. This could be especially helpful in leagues that require you to have a LF, CF and RF.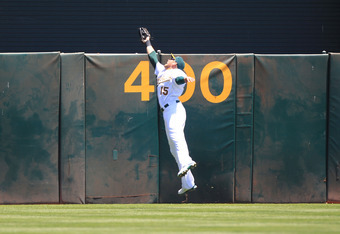 Jed Jacobsohn/Getty Images
First, a little background. 
Sweeney came to Boston from Oakland, along with Andrew Bailey, in the Josh Reddick trade. Given his high average and OBP he has value—but only to the extent that he gets at-bats.
As Matt Sullivan of YardBarker.com points out, Sweeney is a very selective hitter; he has swung at just 25.2 percent of pitches out of the zone in his career. He has good walk rates (11 percent last season and 8.3 percent career) and he rarely strikes out (14 percent career).
More importantly, he has hit right-handers at a .296 clip with a .352 OBP throughout his career, and 13 of his 14 career home runs have come against right-handers.
Against southpaws, Sweeney has struggled, managing only a .233 BA and an anemic .306 OBP.
Enter Cody Ross.
Signed as a free agent, the former San Francisco Giants postseason hero hits left-handed pitching at a .282 rate with a .349 OBP and an outstanding .912 OPS. That OPS is a Ryan Braun number.
See where I'm going with this?
ESPN's fantasy outlook describes Ross as a "fly ball generating, pull-power hitter, perfect for Fenway Park; 42 of his 52 home runs the past three seasons combined, and 12-of-14 in 2011, went to left field."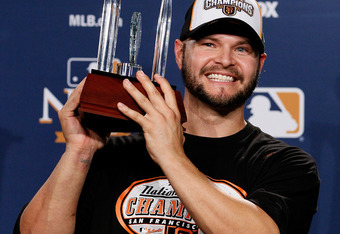 Pool/Getty Images
Recognizing the matchup potential, ESPN concludes, "He's especially valuable in leagues that allow daily transactions."
Now to the projections.
For 2012, ESPN pegged Sweeney to hit .303 with 104 hits, scoring 52 runs and driving in 42. He would post a respectable OBP of .366 and an OPS of .768.
Ross was projected for an OBP of .327, an OPS of .754 and an average of .259. He should get 114 hits and produce 61 RBI.
Nothing to write home about, right? Given Sweeney's average and OBP he would have fantasy value, but he doesn't play enough to make those numbers really count. Ross, on the other hand, has some pop and will produce more RBI. Once again, he won't get enough at-bats to make a real impact.
But what if you put them together as if they were one player on your fantasy team?
A key factor to consider is that projections for both players were apparently done in a vacuum. The ESPN projections (which have a lot to do with draft position) for Sweeney were based on 343 at-bats, while Ross was projected to get 441 at-bats. That's 784 at-bats, and all right field at-bats combined for the Red Sox added up to only 584 in 2011.
Some portion of the extra 200 at-bats can be accounted for by the fact that both players will be starters until Carl Crawford returns. On the other hand, Ryan Kalish is expected back mid-year, so he can be expected to take some plate appearances away from both Sweeney and Ross.
That still means that BOTH players have been underrated (and perhaps underrated a lot) for the fantasy scenario I am proposing. It is clear that ESPN did not consider a strict platoon, with Ross facing left-handers only and Sweeney starting only against right-handers. If they had, the projections would be considerably higher.
Granted, that doesn't happen in the real world, but in a fantasy world it can be more easily managed.
With those factors in mind, I started with the projected output from both players and combined their raw production numbers for hits, runs and RBI. I then reduced the totals by 15 percent to account for the reduced plate appearances both will end up with.
To be conservative, I dropped another 10 percent to reflect those times when (even in fantasy) Ross will be batting against a right-hander and Sweeney will hit against a left-hander.
The results are reflected in the opening sentence.
As of this writing, Sweeney is ranked 528th in ESPN drafts and a totally-off-the-charts 874 in Yahoo leagues. The average draft position for Ross is slightly higher: 375 in ESPN and 282 in Yahoo.
That means you will virtually always be able to get both players at the tail end of every draft, at virtually no cost to the rest of your lineup.
What's not to like about this scenario?