2012 NFL Mock Draft: Will Minnesota Vikings Pass on Matt Kalil?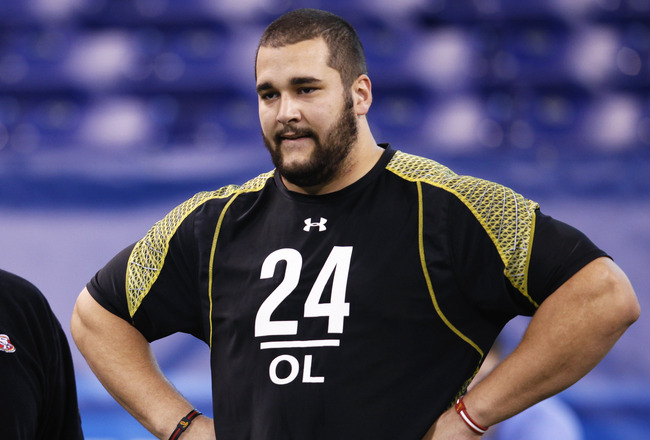 Joe Robbins/Getty Images
According to ESPN's Adam Schefter, the Minnesota Vikings may not select USC's Matt Kalil with the third overall pick in the 2012 NFL draft. Instead of going with one of the class's top prospects, Minnesota may take LSU's Morris Claiborne or just end up trading the selection away.
But is this just a smokescreen?
Since the front office has continuously expressed its interest in trading down, are the Vikings just trying to throw opposing general managers off?
All of the Kalil drama and more are addressed in my latest 2012 NFL mock draft.
1. Indianapolis Colts: Andrew Luck, QB, Stanford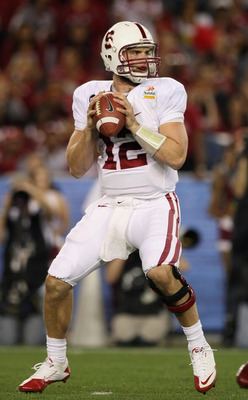 Donald Miralle/Getty Images
Whether you like it or not, the deed is finally done. Peyton Manning has been released by the Indianapolis Colts to make room for most anticipated draft prospect in years: Andrew Luck.
And despite the various back-and-forth debate between Luck and Robert Griffin III as the No. 1 selection, don't think for a second that Indianapolis is going to pass this guy up.
Colts owner Jim Irsay may have tipped his hand with this tweet shortly after meeting up with Stanford's Luck.
2. Washington Redskins (from St. Louis): Robert Griffin III, QB, Baylor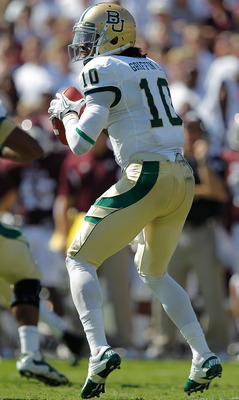 Sarah Glenn/Getty Images
How much do the Washington Redskins believe in Baylor's Robert Griffin III? Enough to trade away their next three first-round picks and their second-rounder from this year.
That may seem like a crazy move, but you cannot blame the front office for taking this leap of faith. The Redskins organization desperately needed to make some sort of deal for a franchise quarterback given their dreadful history of play-callers.
Mike Shanahan and crew now have to hope Griffin is actually worth all of the hoopla. He has ridiculous accuracy on his deep throws, can make plays with his feet and possesses the game-changing ability that'll keep opposing defenses extremely frustrating.
Last season, Griffin passed for 37 touchdowns and 4,293 yards and has thrown just six picks. He also displayed his explosive run game, rushing for 699 yards and 10 touchdowns. The quarterback's Heisman Trophy win was just a confirmation of exactly how dynamic he was in 2011.
3. Minnesota Vikings: Matt Kalil, OT, USC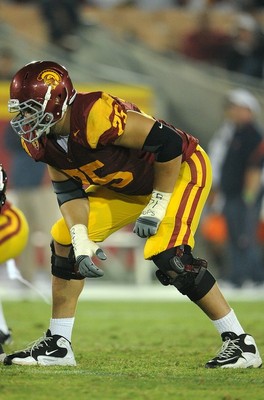 via nflsfuture.com
Now that Washington has made a move en route to snagging Griffin, the Minnesota Vikings will have one of the easiest picks in the entire draft.
Recent reports may indicate the team will look elsewhere, but I have a difficult time believing the Minnesota front office will pass up on Matt Kalil with the third overall selection.
The younger brother of Carolina's Ryan Kalil, Matt is another one of those sure-fire offensive lineman prospects. Kalil is 6'7", 275 lbs. and may the best player in this draft not named Andrew Luck.
Taking Kalil would help protect youngster Christian Ponder and provide some running space for Adrian Peterson. There is no doubt he can immediately help an offensive line that gave up the fifth-most sacks in 2011.
Unless Minnesota can strike a trade back with a team desperate for Ryan Tannehill, I would be surprised if Kalil weren't the pick here.
4. Cleveland Browns: Trent Richardson, RB, Alabama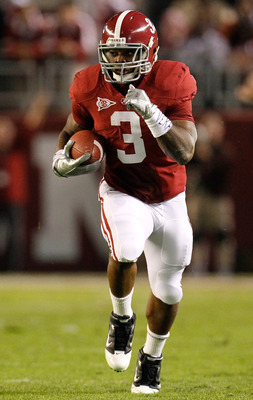 Kevin C. Cox/Getty Images
I'm going to give Mike Holmgren and company the benefit of the doubt here and say they pass on Texas A&M's Ryan Tannehill. Tannehill is perhaps the most intriguing quarterback prospect in the draft, but he certainly does not warrant the fourth overall selection, let alone a call in the first round.
Anyway, Cleveland gets the best available player here while addressing a need. There's no doubt the team is starving more for a wide receiver than a running back. Trent Richardson of Alabama, however, gives the Browns a much better ratio of talent-to-need than Justin Blackmon does.
Richardson is the undisputed champion when it comes to this year's crop of running backs and would most definitely give Colt McCoy and his offense some much-needed help. The 2011 Heisman candidate has nice vision, great speed and the hands to take some passes out of the backfield.
Cleveland's ultimate focus going into the 2012 season should be surrounding McCoy with some type of talent.
Given Peyton Hillis' foggy situation, as well as the team's lack of a playmaker on offense, Richardson would be a positive step forward.
5. Tampa Bay Buccaneers: Morris Claiborne, CB, LSU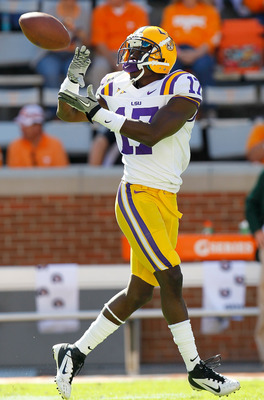 Kevin C. Cox/Getty Images
With Ronde Barber growing older and Aqib Talib most likely on his way out, the Bucs will be in the market for a new cornerback.
They did just throw away $37.5 million at Eric Wright, but that shouldn't stop them from scooping up the best cornerback prospect in the draft.
At 6'0" and 185 lbs., Morris Claiborne has been one of college football's best cornerbacks over the last two seasons. In fact, he may be the best defensive player coming out in 2012. He has good hands, exceptional speed and the ability to be an elite cover corner in the NFL.
Tampa taking Claiborne would be yet another no-brainer in this draft.
6. St. Louis Rams (from Washington): Fletcher Cox, DT, Mississippi State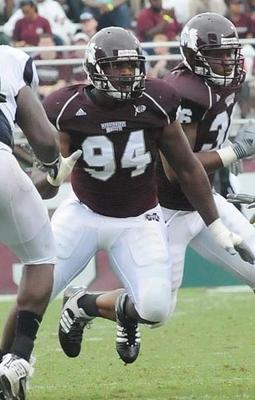 via Scout.com
Bam! Did you just feel that? That's right, it's the first surprise pick in this draft.
Sure, I'm not the first to mock Fletcher Cox to St. Louis, but I am in the minority. As many mockers have the Rams opting for wide receiver Justin Blackmon, I have them going for a much-needed presence on their weak defensive line.
Over the past few weeks, Cox has elevated himself into the No. 1 spot amongst the draft's defensive tackles. He does not have the upside of a Michael Brockers or a Dontari Poe but does present any team needy of a tackle with the surest talent at the position.
The 6'4", 298-pounder possesses good quickness, great power and ideal size to play in the NFL. Cox is also a high-effort player who constantly keeps his motor running. His effort should be appealing new head coach Jeff Fisher, who loves to build his teams around the line.
Cox finished his 2011 campaign with 56 total tackles, 14.5 tackles for a loss and five sacks.
I can see Fisher and crew pass up the up-and-down of Blackmon for a nice force on their defensive line.
7. Jacksonville Jaguars: Justin Blackmon, WR, Oklahoma State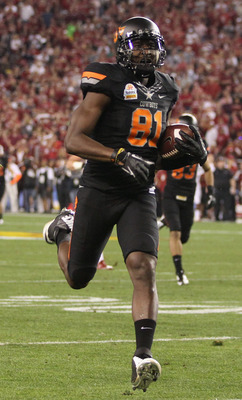 Christian Petersen/Getty Images
If St. Louis doesn't want Justin Blackmon, Jacksonville certainly will.
The two-time Biletnikoff winner would fall to the Jags as a product of the first six teams going for bigger needs and better talents. Recent reports have also indicated that Blackmon's lack of elite speed could see him drop down a few spots in the draft.
Blackmon is the top wide receiving prospect in the draft. He has the size, footwork and hands to become a great receiver in the NFL.
However, although Blackmon is widely regarded as the draft's top receiver, he is not considered to be in the same tier as the recent big time wideouts that have come out. The consensus is that Blackmon's less of a Calvin Johnson or A.J. Green and more of a Julio Jones or Dez Bryant.
The former Oklahoma State Cowboy has racked up at least 111 catches, 1,522 receiving yards and 18 touchdowns in each of the last two seasons.
Blackmon is the perfect fix for Jacksonville and will finally give Gabbert a No. 1 guy to connect with.
8. Miami Dolphins: Ryan Tannehill, QB, Texas A&M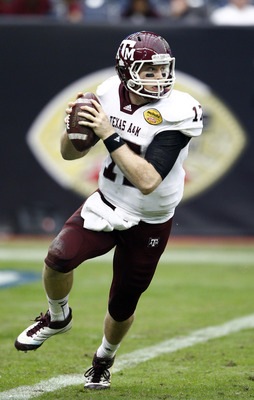 Bob Levey/Getty Images
This happens every draft. A team in need of a quarterback ignores the ol' big board and reaches for a potential play-caller.
The most recent instance of taking such a gamble came when Minnesota selected Christian Ponder with the 12th pick in last year's draft. Although he was considered by many as a second-round talent at best, Ponder did turn in an impressive rookie campaign with the Vikings.
Given Miami's need at the position, Ryan Tannehill could very well be this year's version of Ponder. Just like Ponder in 2011, the A&M product is not regarded as a first-round talent and could still be taken well ahead of his time.
Tannehill looks to be a pretty decent prospect as of now. He threw for 3,744 yards along with 29 touchdowns and 15 interceptions in 2011. Tannehill has a quick release, exhibits solid accuracy and is a very good athlete.
Some of his concerns lie in his ability to throw the deep ball as well as his inexperience at the quarterback position. However, with his former coach at Texas A&M, Mike Sherman, now in Miami, the Dolphins may jump on the most controversial player in this draft.
9. Carolina Panthers: Luke Kuechly, ILB, Boston College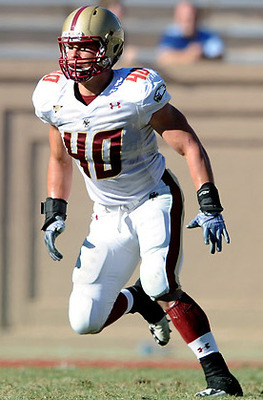 Conventional wisdom dictates the Carolina Panthers should be taking a defensive tackle such as Michael Brockers or Dontari Poe in this spot, but with so many questions surrounding the rawness of Brockers and on-field play of Poe, neither really ring in as a typical Marty Hurney selection.
Luke Kuechly, however, does. He fits a need, his value matches the pick and he is one of the most sure-fire prospects in this draft.
Plus, after seeing linebackers Jon Beason and Thomas Davis go down to devastating injuries in 2010, perhaps the front office will invest its pick on some depth at the position. Alongside Beason, Davis and James Anderson, the 2011 Bronko Nagurski winner can certainly help defend against the run.
Kuechly is a sound tackler, displays good mobility and is a very intelligent player. He also has good size and always seems to be in the middle of every play. In his 2011 campaign, the Boston College standout led the nation with a bulky 191 tackles, averaging just about 16 tackles per game.
As we edge closer to draft day, it seems as if the team is becoming more enamored with the potential selection.
10. Buffalo Bills: Michael Floyd, WR, Notre Dame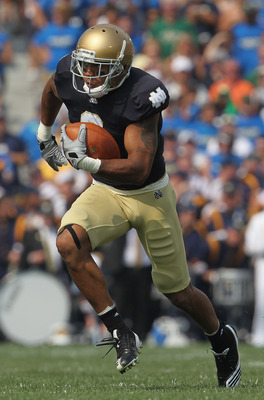 Jonathan Daniel/Getty Images
This pick can go either one of two ways.
Buffalo can opt for Iowa's Riley Reiff to fill a considerable need at left tackle or it can go with Notre Dame's Michael Floyd. After watching Floyd immensely increase his draft stock, I believe the team may go with the latter.
The 6'3" receiver has done nothing but dazzle during his collegiate years. In his four seasons at South Bend, Floyd never failed to put up less than 700 yards receiving and catch at least seven touchdowns. He raked in a bulky 95 passes this season—eight of them in the end zone.
And although Floyd does carry some off-field baggage, that could be overlooked given his immense talent.
The team seems pretty invested in their quarterback Ryan Fitzpatrick. Although Reiff would give him some protection, Fitzpatrick may benefit more with another legit option opposite Stevie Johnson.
11. Kansas City Chiefs: David DeCastro, G, Stanford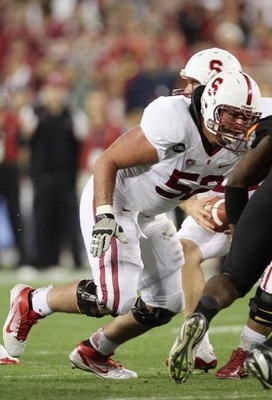 Even though many guards aren't exactly coveted in drafts, this man is much different.
David DeCastro is easily the best guard prospect in years, perhaps more impressive than the great Steve Hutchinson.
He plays with a consistent mean streak and never takes a play off. He is also very athletic, exhibits nice footwork and is quite intelligent at his position.
DeCastro would be a nice investment as current guard Casey Wiegmann turns 39 years old in July.
He'll clear up some room for their dynamic rushing game and provide adequate protection for whoever is under snap for Kansas City in 2012.
12. Seattle Seahawks: Melvin Ingram, DE/OLB, South Carolina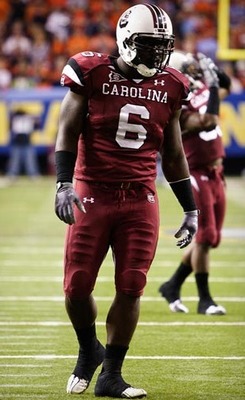 Seattle ranked just 19th in sacks this past season and could use a more talented presence in their pass rush. Luckily for the 'Hawks, Melvin Ingram may be waiting for them at the 12th spot in the draft.
Ingram is incredibly athletic, has a good first step and is one of the draft's best pass-rushers. He chalked up 8.5 sacks in 2011 and could help the Bills increase their chances of getting to opposing quarterbacks.
The South Carolina product is gaining more steam as we head into the draft and will fit rather nicely into the defensive scheme over in Seattle.
13. Arizona Cardinals: Riley Reiff, OT, Iowa
If the Arizona Cardinals believe Kevin Kolb is their guy, they need to give him some help. Whether it be another target to sit opposite Larry Fitzgerald or a big lineman, the Cards have to build around Kolb.
Since the top wide receiver is already off the board, the next logical choice would be Iowa's Riley Reiff.
Reiff has certainly emerged as one of college football's best players as a result of his impressive 2011 season. He's 6'6"and 300 pounds and has been praised for his great fundamentals. Reiff has great footwork, bends very well and has already played in a pro-style offense.
14. Dallas Cowboys: Mark Barron, S, Alabama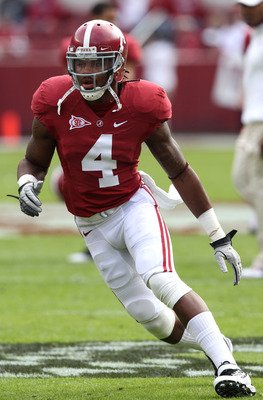 Mike Zarrilli/Getty Images
The Dallas Cowboys shored up their secondary this offseason with the signings of Brandon Carr and Brodney Pool, but that doesn't mean they're finished.
The two biggest needs for Dallas sit in its secondary and in its pass rush. So with Alabama's Mark Barron being the top prospect at either spot, Jerry Jones and would be wise to invest his first-rounder in this Alabama standout.
Barron is easily one of the draft's best players. A member of the great 2011-12 Alabama defense, Barron brings a number of tools to the table. He's solid against the pass, very good at stopping the run and is a sure tackler. Barron also has some nice size at 6'2", 218 lbs.
The Cowboys can draft the best available talent in Barron here and opt for a pass-rusher in the next round.
15. Philadelphia Eagles: Dontari Poe, DT, Memphis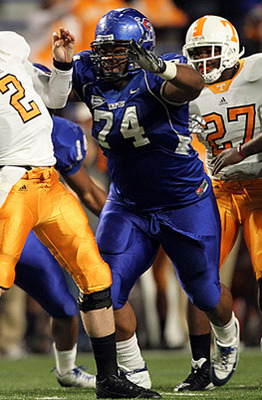 Even though Philadelphia has Mike Patterson and re-signed Derek Landri, they still need a more talented presence in the middle of their defensive line.
If that is what they'll be looking for, Memphis' Dontari Poe should be right in the middle of their conversations in the war room.
Poe was the biggest winner at this year's combine. The defensive tackle put up 44 reps, the most of the event, and ran the 40 in a ridiculous 4.98 seconds. The 6'4", 346-pounder catapulted up everyone's—and I mean everyone's—board after that display.
Philadelphia must be willing to push away his lack of on-field production in college in favor of his tremendous upside.
16. New York Jets: Courtney Upshaw, DE/OLB, Alabama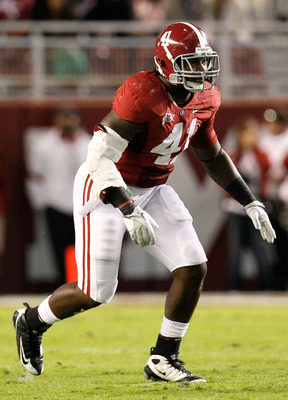 Kevin C. Cox/Getty Images
The Jets must upgrade their pass rush as well as their run defense in order to regain their spot amongst the league's best defenses.
Rex Ryan's crew ranked 13th against the run and 17th in sacks, lower than their top-10 positioning from the previous two seasons. They need a legitimate threat to rush the quarterback so that Ryan doesn't have to use the blitz so much.
Courtney Upshaw, the linebacker from Alabama, would give them an immediate boost. Upshaw has tremendous versatility in terms of positioning on defense. He has good speed and strength and is very quick off the ball.
Upshaw is also acquainted with 3-4 defense, something Ryan will definitely like.
17. Cincinnati Bengals (from Oakland): Stephon Gilmore, CB, South Carolina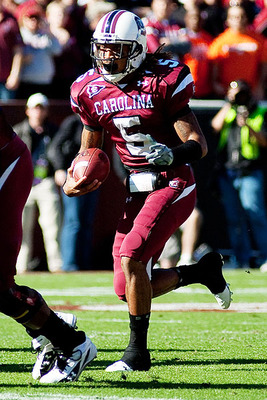 Jeremy Brevard/Icon SMI
With Dre Kirkpatrick and Janoris Jenkins continuing to slip, it may be safe to say South Carolina's Stephon Gilmore has become the draft's second-best cornerback prospect.
Gilmore has nice size and good ball skills and is an intelligent player. He's just another one of those very good corner prospects this deep draft has to offer.
Cincinnati can use this first-rounder to clamp down on its secondary with a promising talent in Gilmore and focus on another area of need with its other.
18. San Diego Chargers: Nick Perry, DE/OLB, USC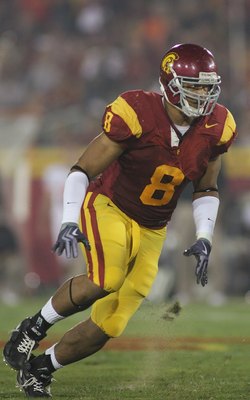 Jeff Golden/Getty Images
If the Chargers cannot draft an offensive lineman who will be worth their while, they should be looking to upgrade their weak pass rush. San Diego ranked 23rd in sacks and its inability to consistently get to opposing quarterbacks played a huge factor in its disappointing defense in 2011.
Although he is rarely spoken of, Nick Perry of USC is easily one of the draft's top pass-rushers. Perry exhibits elite speed and great athleticism, uses his hands very well and is extremely versatile.
Bleacher Report's lead NFL writer Matt Miller has expressed his love for the very potent Perry.
19. Chicago Bears: Quinton Coples, DE, North Carolina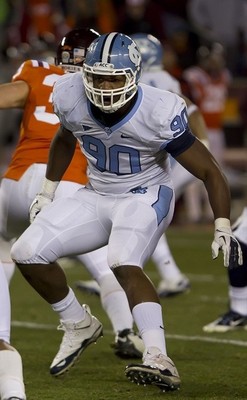 Lee Coleman/Icon SMI
There's always a free-faller in the NFL draft. This year's victim could be North Carolina's Quinton Coples.
Although he is widely regarded as the draft's top pass-rusher, Coples has not been exactly praised as the total package worthy of a top-10 selection. Experts such as Bleacher Report's Matt Miller and NFL.com's Mike Mayock have questioned Coples' motor and interest while on the field.
The 6'6", 275-lb. defensive lineman racked up 15.5 sacks in the interior of the Tar Heels' line in 2010. However, after he switched to the end as a senior in 2011, Coples saw his production dip to 7.5 sacks with just 10 tackles for loss.
If he drops here, Chicago will have no problem taking him. The Bears have been seeking a presence opposite Julius Peppers, and Coples could be the perfect fix.
20. Tennessee Titans: Michael Brockers, DT, LSU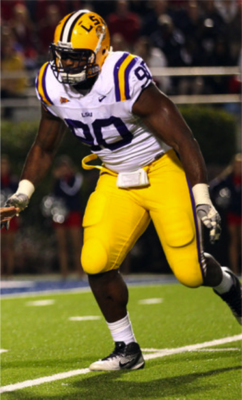 The Tennessee Titans are another team desperate for a big time presence on defense. Two of their bigger needs on defense sit in their secondary and on the interior of their line.
If LSU's Michael Brockers is available, they should opt for some defensive line help.
He displays great quickness, has very powerful legs and is an overall freakish athlete. All you'll hear about Brockers going into the draft is his tremendous upside, as he stands at a ridiculous 6'6", 306 lbs.
Brockers will definitely be looked at as the best defensive tackle prospect in this draft if he can hone his skills.
21. Cincinnati Bengals: Stephen Hill, WR, Georgia Tech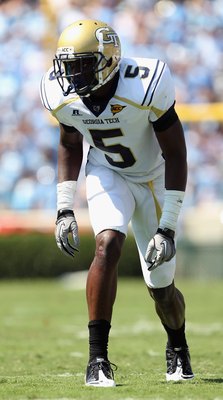 Streeter Lecka/Getty Images
Can you imagine this? Pairing up A.J. Green with Georgia Tech's Stephen Hill?
Although Hill only caught 28 passes during his 2011 campaign, everything about this kid screams upside. He's got the size, the speed and the big-play ability. He does, however, need to improve his route running order to bring his game to the next level.
If the Bengals grab Hill, the only person that'll have a bigger smile than all Cincinnati fans will be Andy Dalton.
22. Cleveland Browns (from Atlanta): Jonathan Martin, OT, Stanford
US Presswire
After grabbing Trent Richardson at No. 4, the Browns could continue to stock up on offense weapons by taking a wide receiver. However, since Mike Holmgren isn't too fond of drafting receivers in the first round, they could look to improve their offensive line.
Luckily, Stanford's Martin could be available come April. Martin is flat-out huge, standing at 6'6", 305 lbs. He has good footwork, great mobility and is a very smart player.
23. Detroit Lions: Dre Kirkpatrick, CB, Alabama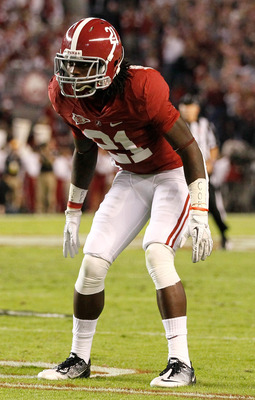 Kevin C. Cox/Getty Images
After watching the Saints and Packers completely dismantle the Lions' secondary in their last two games, the Lions definitely need to upgrade their secondary in the draft.
If the Lions want to surpass Green Bay in the NFC North, they must stop their aerial assault. Alabama's Dre Kirkpatrick would be an ideal pickup if available.
At 6'3", Kirkpatrick is a considerably tall cornerback. He has great speed, elite size and a knack for making big plays. He is also extremely effective against the run thanks to his anticipation and that speed.
24. Pittsburgh Steelers: Cordy Glenn, G, Georgia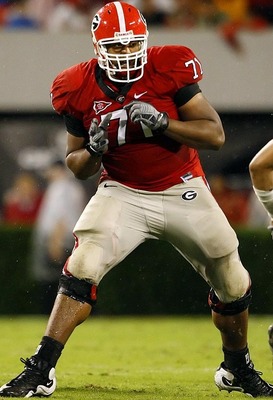 Team president Art Rooney II has stated he wants the "old" Steelers offense. By "old," Rooney wants a run-heavy, grind-it-out offense.
Nothing says "grind it out" more than a 6'5", 348-pound monster. Cordy Glenn would be a great match if Pittsburgh wants to emphasize its run game. He's relatively nimble for a man his size and is very good in opening up holes for the run game.
I'm sure he'll be much appreciated by Rashard Mendenhall (if he plays in 2012) as well as Ben Roethlisberger when he's throwing his huge body around in the trenches.
25. Denver Broncos: Jerel Worthy, DT, Michigan State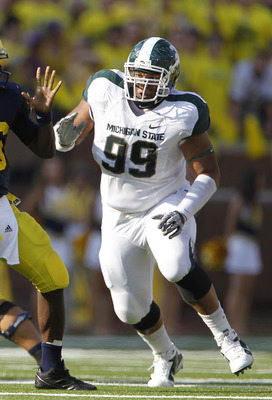 Leon Halip/Getty Images
The Denver Broncos just lost Brodrick Bunkley to New Orleans and are now in need of a defensive tackle.
Jerel Worthy of Michigan State has improved his stock of late, making him a viable option for Denver here. Worthy stands at 6'3" and 310 lbs. and has tremendous upside. He has a quick first step and can change direction very well. Worthy finished the 2011 season with 3.5 sacks and nine tackles for loss.
26. Houston Texans: Kendall Wright, WR, Baylor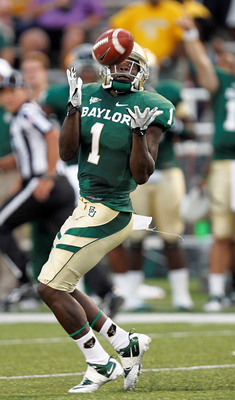 The Houston Texans were a very good football team in 2011. In fact, they may have competed for the Lombardi Trophy had Matt Schaub stayed healthy. However, the team can't look back on a season that could have been and instead must look forward to improving in 2012.
One position where the team needs some more depth is wide receiver. After Andre Johnson, the Houston wideouts get a little foggy. The Texans need a real No. 2 to detract some attention from Johnson.
So Baylor's Kendall Wright would be a no-brainer pick. He has great hands, killer speed and the ability to break off big plays.
Although I have him as the fourth-best receiver in this draft, many others think of him as perhaps the third or even second alternative to Justin Blackmon.
27. New England Patriots (from New Orleans): Whitney Mercilus, DE/OLB, Illinois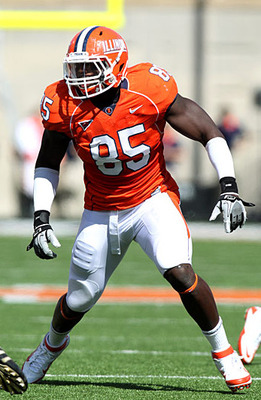 Brad Schloss/Icon SMI
With the first of their two picks in the round, the Patriots should be looking for some type of pass rush.
If so, Whitney Mercilus is the clear-cut choice here. Mercilus would be the best available player at this point and could help increase the team's sack total as no defensive end in college football was better in 2011 than Mercilus. He racked up a gaudy 14.5 sacks in 2011, slating his name right into the thick of the first round.
28. Green Bay Packers: Shea McClellin, DE/OLB, Boise State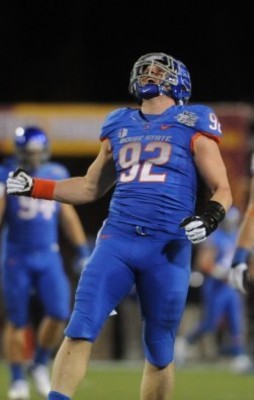 Here's a relatively new name. Shea McClellin of Boise State may have just pass-rushed his way right into late first round.
McClellin possesses great athleticism, good quickness, nice footwork and a drive for the game. He's extremely aggressive and never lets his motor stop running.
The Packers' defense was extremely unstable this season. It relinquished the most yards per game and only got to the quarterback 29 times, the fifth-lowest total in the NFL. Green Bay must add a pass-rusher opposite Clay Matthews to solidify that shaky defense.
29. Baltimore Ravens: Dont'a Hightower, ILB, Alabama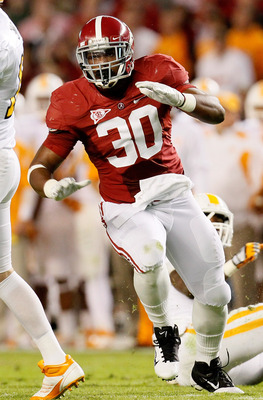 Kevin C. Cox/Getty Images
Although Ray Lewis is one of the greatest players ever to step on the gridiron, he's not going to last forever.
With that in mind, Baltimore should look for his successor this offseason. It'll give Lewis time to mentor whoever that may be and ease him into the defense once he's gone.
Alabama's Dont'a Hightower could very well be that guy for the Ravens. Hightower has great size and speed and is very effective against the run.
30. San Francisco 49ers: Coby Fleener, TE, Stanford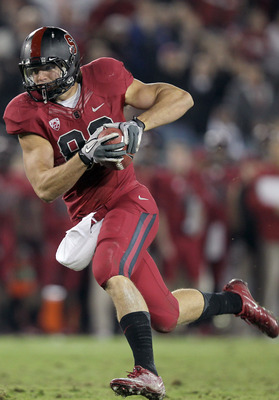 Ezra Shaw/Getty Images
After his surprising yet pleasant 2011 campaign, Alex Smith finally seems to be the player San Francisco drafted first overall back in 2005. He threw for more than 3,000 yards, gave up only five interceptions and led the Niners to a 13-3 regular season.
If they want to keep Smith going, the front office must provide him with more weapons. They have added Randy Moss and Mario Manningham but still need a upgrade at tight end opposite Vernon Davis.
So Stanford's Coby Fleener could reunite with his former coach Jim Harbaugh in the Bay. Fleener, at 6'6" and 244 lbs., would be a nice complement opposite Davis. He caught 10 touchdowns for Stanford in 2011 and is the best wideout or tight end remaining.
31. New England Patriots: Devon Still, DT, Penn State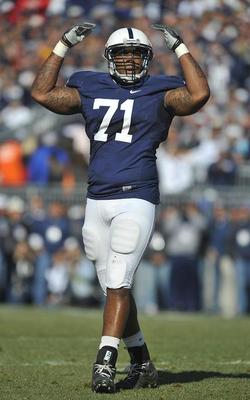 New England's search for a better pass rush may not end with Mercilus. If Penn State's Devon Still is available, he'll be a nice addition to the interior of the line.
The big defensive tackle fills a need and would easily be one of the best players remaining. At 6'5" and 307 lbs., Still is a very physical player. He has a strong upper body and uses his bull rush well enough to get to opposing backfields.
32. New York Giants: Doug Martin, RB, Boise State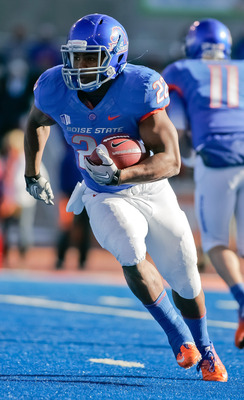 Otto Kitsinger III/Getty Images
Although they rode the strength of an explosive offense right into the Super Bowl, the New York Giants must improve their running game for the 2012 season.
They ranked dead last in the NFL with 89.2 rushing yards per game, an alarming stat for a team that was very successful on ground in previous years.
So with Brandon Jacobs gone and Ahmad Bradshaw being so injury prone, the champs could look to Boise State's Doug Martin with the last pick in the first round.
Martin rushed for 1299 yards and 16 touchdowns during his 2011 campaign. He moves very well and can effectively fight for yards after contact.
Keep Reading