March Madness 2012: Who Would Come out as the Top Prospect in Baseball?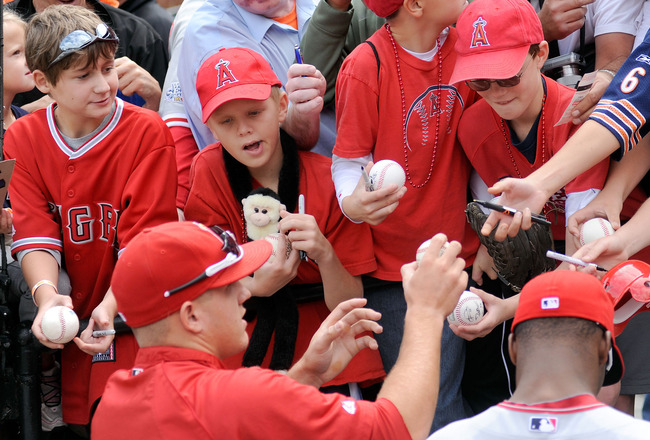 Los Angeles' uber-prospect Mike Trout will do his best to dethrone the top overall seed, Bryce Harper.
Steve Ruark/Getty Images
Madness is in the air.
MLB prospect madness that is.
Here's the deal. Any schmuck can rank the top 64 prospects in baseball, but it takes a real genius to pit them up against each other, NCAA tournament style, to see who comes out on top.
The premise is simple. Take the top 16 prospects at each position (right-handed pitcher, left-handed pitcher, infielder and outfielder), seed them one through 16 and then shuffle up the seeds (ones, twos, threes, etc) in order to randomize the matchups.
The goal? To find not only the top prospect in baseball, but the one with the greatest shot at becoming a bona-fide superstar.
What we're left with is one of the most intriguing, exciting, explosive tournaments in sports.
So, without further ado, let's get to it, and see who comes out on top of the first ever March Prospect Madness tournament.
The Seeds
A former Little League star, Jurickson Profar earns a spot atop the infielder rankings, and therefore, a number one seed.
Christian Petersen/Getty Images
| | | | | |
| --- | --- | --- | --- | --- |
| Seed | Outfielders | Infielders | Right-Handers | Left-Handers |
| 1 | Bryce Harper, WAS | Jurickson Profar, TEX | Julio Teheran, ATL | Matt Moore, TB |
| 2 | Mike Trout, LAA | Jesus Montero, SEA | Yu Darvish, TEX | Tyler Skaggs, ARI |
| 3 | Bubba Starling, KC | Manny Machado, BAL | Dylan Bundy, BAL | Danny Hultzen, ARI |
| 4 | Yoenis Cespedes, OAK | Devin Mesoraco, CIN | Gerrit Cole, PIT | Mike Montgomery, KC |
| 5 | Wil Myers, KC | Miguel Sano, MIN | Shelby Miller, STL | Manny Banuelos, NYY |
| 6 | Christian Yelich, MIA | Anthony Rendon, WAS | Trevor Bauer, ARI | Martin Perez, TEX |
| 7 | Anthony Gose, TOR | Travis d'Arnaud, TOR | Jameson Taillon, PIT | James Paxton, SEA |
| 8 | Brett Jackson, CHC | Nolan Arenado, COL | Jacob Turner, DET | Daniel Norris, TOR |
| 9 | Gary Brown, SF | Yonder Alonso, SD | Carlos Martinez, STL | Jed Bradley, MIL |
| 10 | George Springer, HOU | Nick Castellanos, DET | Archie Bradley, ARI | John Lamb, KC |
| 11 | Rymer Liriano, SD | Francisco Lindor, CLE | Jarrod Parker, OAK | Sean Gilmartin, ATL |
| 12 | Jake Marisnick, TOR | Jonathan Singleton, HOU | Taijuan Walker, SEA | Justin Nicolino, TOR |
| 13 | Josh Bell, PIT | Will Middlebrooks, BOS | Zack Wheeler, NYM | Matt Purke, WAS |
| 14 | Matt Szczur, CHC | Xander Bogaerts, BOS | Arodys Vizcaino, ATL | Enny Romero, TB |
| 15 | Starling Marte, PIT | Yasmani Grandal, SD | Wily Peralta, MIL | Robbie Erlin, SD |
| 16 | Michael Choice, OAK | Hak-Ju Lee, TB | Taylor Jungmann, MIL | Alex Torres, TB |
Bryce Harper Region- Round 1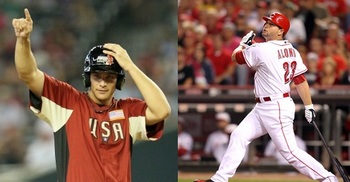 The most exciting matchup of round-one in the Harper region is Arenado-Alonso.
(1) Bryce Harper vs (16) Hak-Ju Lee
Harper has seemingly done the impossible and lived up to all of the hype that has followed him since turning pro. One could even say that he's surpassed it all.
He slugged 17 home runs, splitting time between Low-A and Double-A—as an 18-year old.
He has it all. Power, speed, and a cannon arm.
While Harper is arguably the best prospect in baseball, Lee is one of the most exciting. He plays with speed everywhere, on the basepaths and in the field. He's an above-average hitter who's also a great defender.
Winner: Harper
(8) Nolan Arenado vs (9) Yonder Alonso
Arenado was the true breakout star of 2011, leading the minors in RBI before winning Arizona League MVP honors.
He was considered the heir apparent to Todd Helton at first base, but improved his conditioning and his defensive play last year. He seems a lock to stay at third now.
Alonso has been waiting years for his chance, but in Cincinnati he was blocked by Joey Votto. Now a Padre, Alonso should be given the chance to play every day. At his best, he's a hitter who's going to challenge for batting titles, while hitting 20-25 homers per season.
Winner: Alonso
(5) Wil Myers vs (12) Jake Marisnick
Myers was the true breakout star of 2010, hitting a combined .315 with 14 homers and 83 RBI between Low-A and High-A. He wasn't nearly the same hitter last year, witnessing a decline in every offensive category while struggling to hit above .250 at Double-A Northwest Arkansas.
What is encouraging is the fact that he's already reached the level as a 20-year old.
Marisnick had all the tools, but 2011 was the first time he put everything together. He was rewarded with a career-year (.320, 14 HR, 37 SB). He's a year older than Myers, but played a level behind in 2011.
Winner: Myers
(4) Gerrit Cole vs (13) Will Middlebrooks
Cole has one of the most impressive fastballs in baseball, rivaling even that of Stephen Strasburg. He'll touch triple digits at least a handful of times each game, and he combines his blazing fastball with a couple of tough-to-hit breaking balls. He won't spend too much time in the minors, and could be leading the Pirates rotation come 2013.
Middlebrooks has had a solid career, and 2011 was arguably his finest season (.285, 23 HR, 94 RBI). In addition to his production at the plate, he's also been a capable defender.
Winner: Cole
(6) Martin Perez vs (11) Sean Gilmartin
Two of the top lefties in the game, Perez and Gilmartin come from entirely different backgrounds.
Perez was discovered by the Rangers back in Venezuela in 2007. Gilmartin had a stellar two-way career at Florida State before being plucked by the Braves in the first-round last year.
Perez gets the edge when it comes to higher ceiling, but he's never been one to put up incredible stats. That hasn't stopped him from earning rave reviews for his stuff. Gilmartin is much more polished, but survives on having control of inferior stuff.
Winner: Perez
(3) Manny Machado vs (14) Arodys Vizcaino
Next to Jurickson Profar, Machado is the top shortstop prospect in the game. His tools are a bit less impressive, but he should be a .300 hitter with 20 home runs annually. Defensively, he should be able to stick at shortstop, although if there's a trade off (moving to third for more power), the O's would happily take it.
Vizcaino, on the other hand has a less defined role. He's started in the minors, but with the Braves rotation being as crowded as it is, it might be easier for him to succeed in winning a relief role.
Winner: Machado
(7) Anthony Gose vs (10) Nick Castellanos
Gose is probably the top prospect in baseball that doesn't get enough attention. Speed has always been his trademark. He stole 76 bases in 2009 and racked up another 70 last season. Last year he also added some power to his repertoire, slugging 16 long-balls.
Strikeouts have been a problem for Gose, but that hasn't stopped him from reaching Triple-A in his fifth season.
Castellanos earned kudos as the top pure hitter in the 2010 high school draft class. He justified that belief with a strong 2011 (.312, 36 2B, 76 RBI) and earned his first trip to spring training this year. The Tigers confidence in Castellanos allowed them to move their other third baseman, Francisco Martinez, late last season.
Winner: Gose
(2) Tyler Skaggs vs (15) Starling Marte
One could make the argument for Skaggs as the second-best lefty prospect in baseball. He was the darling of the Arizona system before Trevor Bauer came along. His 2011 season (9-6, 2.96 ERA) was good enough to earn him the starting nod at the Futures Game.
He was at his best in Double-A, winning four of his ten starts, while striking out 73 in 57.2 innings.
Marte also made an appearance in the Futures Game. He enjoyed a breakout season (.332, 12 HR, 24 SB) and showed flashes of being an above-average everyday player in the majors. He's a sterling defender who could push Andrew McCutchen to a corner outfield spot.
Winner: Skaggs
Matt Moore Region- Round 1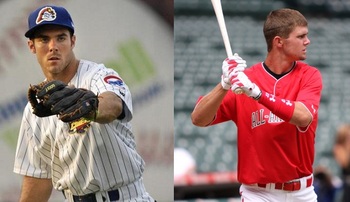 Two of the better athletes in the minors, Matt Szczur and Bubba Starling, compete in a matchup that is much closer than expected.
(1) Matt Moore vs (16) Taylor Jungmann
Moore is the established minor league ace, while Jungmann carries strong lineage as one of the best pitchers to ever come out of the University of Texas program. Moore is the obvious choice and could skate through most of the early rounds due to his late-season dominance in the majors.
He pitched brilliantly in his debut against New York, and then shut out the Rangers for seven-innings in game one of the ALDS. Nothing on Jungmann's resume can compete with that.
Winner: Moore
(8) Brett Jackson vs (9) Jed Bradley
Jackson is just a step below elite talent. He has many above-average tools, including hitting, fielding and speed, but he doesn't do one thing incredibly well.
Bradley was undrafted out of high-school and then put together a magnificent career at Georgia Tech. His incredible story continued when the Brewers popped him in the first round last year. Jackson is the safer pick, and therefore sneaks through round one.
Winner: Jackson
(5) Shelby Miller vs (12) Jonathan Singleton
Miller and Singleton are now division rivals, and both should arrive in the majors around the same time.
Miller has long been touted as one of the most polished arms in the minors. He likely could have pitched out of the Cardinals rotation last year. He won't start the season on the active roster, but he'll end it there.
Singleton is a sensational hitter with amazing plate discipline. He's also shown flashes of power. He was stuck behind Ryan Howard in Philly, and he should find his obstacle in Houston (Brett Wallace) much less intimidating. Miller has ace potential, and thus, is the victor.
Winner: Miller
(4) Devin Mesoraco vs (13) Zack Wheeler
This one is almost too close to call.
Mesoraco was nearly classified a first-round bust before breaking off two incredible campaigns. Now he's expected to be behind the plate in Cincinnati on opening day. His defense is solid, but has regressed since he's become more of an offensive threat.
Wheeler was lost in the shuffle in San Fran, but he should blossom in New York. He has ace potential, and should arrive in the Big Apple ahead of schedule. Mesoraco gets the nod based on the fact that there are very few catchers in the big-leagues right now with his power.
Winner: Mesoraco
(6) Anthony Rendon vs (11) Rymer Liriano
A total mismatch.
Liriano is still a relatively unproven commodity, while Rendon is about as proven as a prospect with no minor league at-bats can be. Rendon can do it all. He is patient at the plate, is an extra-base hit machine and has great power.
In the field, he has Gold Glove ability. He's destined for another position in Washington with $100 million-man Ryan Zimmerman holding down the hot corner.
Liriano put up some massively impressive numbers (.298, 12 HR, 66 SB) in 2011, but it took him four seasons to have that kind of success in Low-A ball. Rendon is the easy winner.
Winner: Rendon
(3) Bubba Starling vs (14) Matt Szczur
This matchup is much closer than anyone would think.
Yes, Starling has as high a ceiling as any player in the minors, but he's also relatively raw, and so much will be expected of him, and quickly. It's going to be hard to live up to all those expectations.
Szczur, on the other hand, put together a fine debut season (.293, 10 HR, 24 SB) that was all the more impressive considering 2011 was the first time he was able to concentrate solely on baseball—ever.
Starling's higher ceiling and eye-popping tools win out in the end, however.
Winner: Starling
(7) James Paxton vs (10) Archie Bradley
Paxton is another player who you don't hear too much about, but who could emerge as a top-15 prospect with a strong season. His debut season (6-3, 2.37 ERA, 131 K in 95 IP) was phenomenal and he reached Double-A with ease.
Bradley was largely overshadowed by fellow Oklahoman, Dylan Bundy, during his senior season of high-school, but that didn't stop him from topping 100 mph in the state championship game, which his team, and not Bundy's, won.
In addition to elite velocity, Bradley throws a couple of breaking balls that should allow him to blow through the minors.
Winner: Bradley
(2) Jesus Montero vs (15) Wily Peralta
Don't get me wrong, Peralta is a very good pitcher, and might even have a shot at unseating Clint Narveson as the Brewers fifth starter this spring, but he's likely a number three or four starter at best.
Montero has arguably the best bat in the minors, better than Harper or Trout. His average/power combination should make him a perennial All-Star, despite the fact that he's a lost cause behind the plate.
Winner: Montero
Julio Teheran Region- Round 1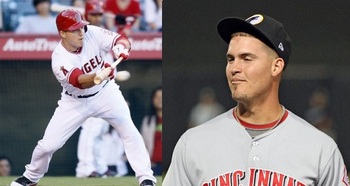 Against anyone not named Mike Trout, Yasmani Grandal would have been a major upset pick.
(1) Julio Teheran vs (16) Alex Torres
Teheran has the potential to unseat Tommy Hanson as Atlanta's staff ace. He tore through the minors and had his best year yet (15-3, 2.55 ERA) at Triple-A in 2011. He might not start the season in the big-leagues, but he'll be there winning games by season's end.
Torres is one of the most underrated arms in the game. His domination at Triple-A (3.08 ERA, 156 K in 146.1 IP) was overshadowed by Matt Moore. Despite his talent, he's going to have a hard time breaking into the Rays rotation.
Winner: Teheran
(8) Jacob Turner vs (9) Carlos Martinez
Two studies in pitching.
Turner is controlled, poised and selective. Martinez is often erratic, but blessed with a blazing fastball and a knee-buckling breaking ball. Both have showed the ability to dominate in the minors, but Turner is the safer bet to reach (and stay in) the big-leagues.
Winner: Turner
(5) Manny Banuelos vs (12) Justin Nicolino
Two of the top lefties in the American League East.
Banuelos gets all the attention, and deservedly so, after holding his own in Double-A (3.59 ERA, 94 K in 95.1 IP) as a 20-year old. He reached Triple-A and looked even sharper. He will look to turn that momentum into a rotation spot in New York at some point in 2012.
Nicolino quietly dominated (6-2, 1.33, 73 K in 61 IP) in his pro debut. Batters hit a mere .181 and zero home runs off him.
Winner: Banuelos
(4) Yoenis Cespedes vs (13) Matt Purke
Two relatively unknown quantities.
Cespedes has earned rave reviews for his numerous tools. He was a stud in Cuba, slugging 33 home runs in just 99 games, all-the-while playing stellar defense at shortstop. He'll enter spring training with Oakland as an outfielder.
Purke was a potential top overall pick heading into 2011, but endured multiple injuries that shelved him for most of the year. The Nats scooped him up in the third-round. If he can return to his healthy ways, he's a top 20 prospect.
Winner: Cespedes
(6) Christian Yelich vs (11) Francisco Lindor
Yelich (.312, 15 HR, 32 SB) had a true breakout season in 2011 and has established himself as one of the top outfield prospects in baseball. A first baseman in high school, he wowed the organization with his play in centerfield. He could be a prototypical lead-off hitter, but should wind up in an outfield corner and as a hitter who utilizes his power more than his speed.
Lindor wowed scouts with above-average defense prior to the draft, and combined with his switch-hitting ability, he's one of the top all-around position prospects in the game. He's earned comparisons to Jurickson Profar.
Winner: Yelich
(3) Dylan Bundy vs (14) Enny Romero
Bundy was considered an equal of Danny Hultzen and Gerrit Cole in the 2011 draft pool, amazing considering he came fresh out of high-school. His fastball rivaled Cole's as the best in the draft, and touched 100-mph numerous times during his senior year.
He shouldn't need more than two years in the minors.
Romero had a strong year, but is already 21-years old and has yet to pitch above Low-A ball. It took him three seasons to reach full-season ball.
Winner: Bundy
(7) Jameson Taillon vs (10) George Springer
Taillon was the consensus number two pick in the 2010 draft for everyone except the Pirates, who preferred him over Bryce Harper. In the right-hander, they have a pitcher very similar to Cole: mid-to-high 90s fastball, multiple off-speed pitches, inning eater.
Taillon was on an inning-restriction in 2011, but the leash is off in 2012. He could have a huge year.
Springer was a five-tool stud at UConn. His best tool is power, and he has 30-HR potential down the road. For now, he's a threat to hit 20 homers and steal 30 bases in the minors.
Winner: Taillon
(2) Mike Trout vs (15) Yasmani Grandal
It's hard to respect a format that gives Trout a number two seed. He's arguably the top prospect in the game. He's just 20-years old and he already has significant big-league experience. That will serve him well in 2012, as he likely starts back in the minors.
Trout has the ability to hit for a high average, blazing speed, incredible defensive ability, and sneaky power.
Grandal is one of the most underrated catchers in the minors. He's a great hitter, oozes with raw power and is no slouch behind the plate. Against anyone else, he'd have a chance at the upset.
Winner: Trout
Jurickson Profar Region- Round 1

A former Arizona prospect and a current D-Back face off in the most intriguing round-one matchup of the Profar region.
(1) Jurickson Profar vs (16) Michael Choice
You'd be hard-pressed to find two more different players.
Profar is young (19), scrawny (5'11'' and 165) and has seemingly limitless talent. Choice is older (22), bulky (6'0'' and 215) and basically a one-trick pony.
Luckily for him that trick happens to be light-tower power.
Both offer incredible plate discipline and above-average defense, although Choice's bulk will likely force him to a corner outfield spot, while Profar seems destined to force current Rangers shortstop Elvis Andrus over to second base.
Winner: Profar
(8) Daniel Norris vs (9) Gary Brown
Norris was the top lefty pitcher available in 2011 and the Jays were lucky to get him to forego college. He hasn't thrown a pitch yet, making him a viable upset target.
Brown put up Mike Trout-like numbers (.336, 14 HR, 53 SB) last year, although his stat-line was padded from playing in the hitter-friendly California League. He's likely a diet Trout, who also happens to offer sensational defensive value.
Winner: Brown
(5) Miguel Sano vs (12) Taijuan Walker
Two relatively raw prospects, both Sano and Walker have tasted early success in the minors. Sano belted 20 homers in just 66 games last season, while Walker posted a 2.89 ERA and struck out 113 batters in 96.2 innings.
Both have weaknesses. Sano's prone to the strikeout (77 in 267 AB) and Walker's mostly a fastball pitcher.
Make no mistake, though, both have incredibly high ceilings.
Winner: Sano
(4) Mike Montgomery vs (13) Josh Bell
Montgomery (5-11, 5.32 ERA) had a terrible 2011 campaign at Triple-A Omaha, but remains one of the top lefties in the minors. He should arrive in K.C. at some point in 2012 and has number two starter potential.
Bell stunned the baseball world by signing with Pittsburgh late last summer after proclaiming he didn't wish to be drafted. He earned comparisons to a young Ken Griffey Jr. prior to the draft.
Winner: Montgomery
(6) Trevor Bauer vs (11) Jarrod Parker
A newly minted Diamondback versus a former Arizona farm-hand.
Bauer has electric stuff and an eclectic view on pitching mechanics. Great mechanics are what brought Parker back so soon after having Tommy John surgery. Both pitchers should spend a decent chunk of the season in the big-leagues, Bauer with Arizona and Parker with Oakland.
Winner: Bauer
(3) Danny Hultzen vs (14) Xander Bogaerts
Hultzen (12-3, 1.37 ERA) was a breakout college star in 2011, while Bogaerts (.260, 16 HR in 72 G) arrived in the minors.
Hultzen has all the tools to be a staff ace and could earn a rotation spot out of spring training. He'll easily fill the hole lefty by Michael Pineda.
Bogaerts oozes power and athleticism, but needs at least three years of minor league seasoning before getting to Boston.
Winner: Hultzen
(7) Travis d'Arnaud vs (10) John Lamb
d'Arnaud is arguably the top catcher in the minors, and offers the top all-around package of hitting for average and power, and providing good defense.
Lamb gets dinged a bit due to an injury that forced him to miss the entire 2011 campaign. Before the surgery, he rivaled Matt Moore as the top lefty prospect.
Winner: d'Arnaud
(2) Yu Darvish vs (15) Robbie Erlin
This is a current Ranger versus former Ranger matchup.
Darvish appears to be enjoying the spotlight here in America. We'll see how he reacts when he's in the crosshairs of some of MLB's toughest hitters.
Erlin is a control specialist who's walked just 33 batters in his entire career. Darvish has, by far, the more varied repertoire.
Winner: Darvish
Bryce Harper Region- Round 2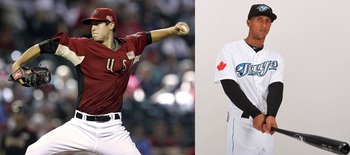 Anthony Gose is one of the most underrated prospects in the game, and is more than capable of giving Tyler Skaggs a run for his money.
(1) Bryce Harper vs (9) Yonder Alonso
Harper and Alonso are both heavy hitters. Harper's forte is power, while Alonso has made his mark as a hitter for average. Both will likely spend significant time in the majors in 2012. Harper's defense sets him apart.
Winner: Harper
(5) Wil Myers vs (4) Gerrit Cole
Myers has made great strides in his pro career, but he has enough holes in his game to raise some eyebrows. Cole has premium velocity, which should allow him to survive in a relief role, even if he doesn't become the ace of Pittsburgh's rotation for years to come.
Winner: Cole
(6) Martin Perez vs (3) Manny Machado
Perez seemingly has all the talent in the world, including a mid 90s fastball, and two impressive breaking balls. His stat-line hasn't reflected his tools—yet. Machado has looked advanced early on, especially in his MVP winning turn in the Carolina League playoffs.
Winner: Machado
(7) Anthony Gose vs (2) Tyler Skaggs
Gose has impressive tools, but who knows if his homer-happy swing last year was a fluke. His problem with strikeouts could become a major hindrance in the majors.
Skaggs has fewer holes, and his tendency for strikeouts is actually a good thing. Because of the additions of Bauer and Bradley, it's easy to forget just how good Skaggs was, and is.
Winner: Skaggs
Matt Moore Region- Round 2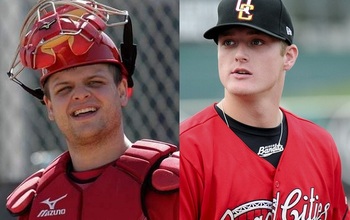 Mesoraco and Miller will be seeing plenty of each other over the next few years.
(1) Matt Moore vs (8) Brett Jackson
Until he runs up against a player who ranks inside the top five at his position, it's going to be hard to pick against the Rays ace. Jackson is good, but he isn't great.
Winner: Moore
(5) Shelby Miller vs (4) Devin Mesoraco
Division rivals, these two will be seeing plenty of each other down the road. While it's easy to go with the player who's in the lineup everyday (Mesoraco), it's the right call to pick the guy capable of leading a rotation for 5-10 years. That's what the Cardinals have in Miller.
Winner: Miller
(6) Anthony Rendon vs (3) Bubba Starling
Rendon is the kind of player that Starling could only hope to be if everything works out for him. Rendon is superior at the plate and in the field. The only areas Starling could give him a run is in the power department.
Rendon struggled with the new college bats, which were supposed to be a better gauge of big-league power. Something for Rendon to worry about, but not this early.
Winner: Rendon
(10) Archie Bradley vs (2) Jesus Montero
Bradley has all the glitz and glamour that accompany a guy capable of reaching triple digits. He should be really, really good, but Montero is on a whole other level.
He'll find instant success in Seattle this year and it wouldn't surprise me if he earns his first All-Star nod. How long will his sub-par (and that's putting it kindly) defensive ability sustain him?
Winner: Montero
Julio Teheran Region- Round 2
Round 2 in the Teheran region is awash in amazing matchups, including Taillon-Trout and Turner-Teheran.
(1) Julio Teheran vs (8) Jacob Turner
Turner gives Teheran a run for his money, but in the end the sheer talent that the Braves future ace possesses is too much.
Winner: Teheran
(5) Manny Banuelos vs (4) Yoenis Cespedes
Banuelos nearly earned a spot in the Yankees rotation last spring—as a 20-year old. He's back again this year, but will find the going much more tough due to increased competition. That will only serve to sharpen him.
Cespedes has the higher ceiling but is just too much of a question mark heading into his first professional season in the States.
Winner: Banuelos
(6) Christian Yelich vs (3) Dylan Bundy
If both of these players reach their ceiling, it's going to be a toss-up. Yelich is a rawer prospect, which gives the edge to Bundy, who could reach the majors by 2014.
Winner: Bundy
(7) Jameson Taillon vs (2) Mike Trout
Taillon is another player who could be primed for an upset run if only he wasn't matched up against Trout. Trout has it all and is going to be incredibly tough to take down in this one-on-one tournament.
Winner: Trout
Jurickson Profar Region- Round 2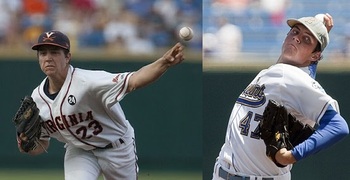 Hultzen-Bauer pits the top two performing college pitchers from 2011 against each other.
(1) Jurickson Profar vs (9) Gary Brown
Brown is the more likely bet to reach the majors and be an everyday player, but Profar's ceiling is just too high to ignore. Two standout defensive players with Gold Glove potential.
Winner: Profar
(5) Miguel Sano vs (4) Mike Montgomery
Sano is getting ready to tackle full-season ball for the first time while Montgomery is nearing a big-league call-up. They are about as far away from each other in terms of development as could be. Sano's strikeout troubles drown him in the second round.
Winner: Montgomery
(6) Trevor Bauer vs (3) Danny Hultzen
Hultzen is the safer bet, but Bauer has Cy Young potential and could be another Tim Lincecum. He may reach the big-leagues after Hultzen, but Bauer has staying power.
Winner: Bauer
(7) Travis d'Arnaud vs (2) Yu Darvish
It's hard to pick a winner when we haven't see what Darvish is capable of in regular season play. Still, his high ceiling as a staff ace wins out over d'Arnaud, who has several slightly above-average tools, but none that stand out.
Winner: Darvish
Bryce Harper Region- Semi-Finals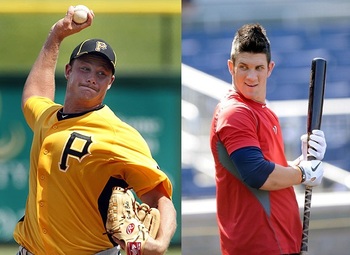 In Harper-Cole, the two most recent number one draft picks square off. Can Harper catch up to Cole's 100-mph heat?
(1) Bryce Harper vs (4) Gerrit Cole
You could make the case that Harper and Cole have the highest ceilings in the minor leagues. Harper should be a .280 hitter who averages 40 homers per season. Cole should average at least 200 strikeouts per season, and has what it takes to return Pittsburgh to winning ways.
Harper will play every day though, and that makes him more valuable.
Winner: Harper
(3) Manny Machado vs (2) Tyler Skaggs
Machado gives the Orioles their first true shortstop prospect since Cal Ripken Jr., and believe it or not, Machado is probably the more complete prospect. Skaggs performance in 2011 allowed the D-Backs to feel comfortable parting with former top prospect Jarrod Parker.
Winner: Machado
Matt Moore Region- Semi-Finals

In a battle worthy of the championship round, Montero eeks out a victory over Rendon
(1) Matt Moore vs (5) Shelby Miller
In a legitimate battle between two future aces, Moore gets the edge.
For starters, he has better stuff. His fastball might actually be inferior to Miller's but the rest of his repertoire advances him. For the most part, Miller thrives off his fastball alone, while Moore employs four and sometimes five different offerings.
Winner: Moore
(6) Anthony Rendon vs (2) Jesus Montero
A battle between two of the better all-around hitting prospects in baseball, Rendon has yet to prove himself in the minors. When he gets the chance, his numbers could closely resemble Montero's. The new Mariner gets the edge due to his age. Just six months older than Rendon, he's already proven himself in the big-leagues.
Winner: Montero
Julio Teheran Region- Semi-Finals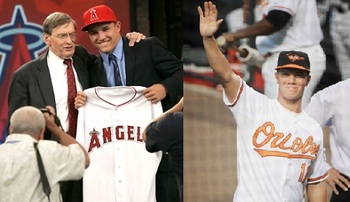 Baltimore's Bundy had an easy road to the finals (besting Enny Romero and Christian Yelich), before running into a massive Trout.
(1) Julio Teheran vs (5) Manny Banuelos
Teheran could be the Braves ace by the end of the 2012 season. Banuelos, if he ever manages to win a spot in the Yankees rotation, will still play third fiddle, behind Sabathia and Pineda. Enough said.
Winner: Teheran
(3) Dylan Bundy vs (2) Mike Trout
A matchup for the ages, the top 20-and-under pitcher against the top 20-and-under hitter. One day we're likely to see these two go head-to-head in an American League game. Bundy's arsenal and legendary work ethic is almost too much, but in the end, not even he can stand up to the power-speed combo of Trout.
Winner: Trout
Jurickson Profar Region- Semi-Finals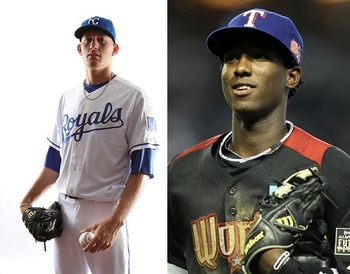 Profar's toughest test comes in the semis against Kansas City lefty Mike Montgomery.
(1) Jurickson Profar vs (4) Mike Montgomery
Comparing the two is like apples-to-oranges. Profar is a slick-fielding switch-hitter with one of the highest ceilings in baseball. Montgomery is a control-challenged lefty with ace potential.
Profar's plate discipline (65-to-63 BB:K ratio in 2011) puts him over the top in this American League battle.
Winner: Profar
(6) Trevor Bauer vs (2) Yu Darvish
As one of the two probable candidates for rookie of the year honors in each league, Bauer is one of the most exciting pitchers to watch, in the minors or majors.
His varied repertoire and off-kilter delivery will make him incredibly hard to hit. The same goes for Darvish, who will be looking to repeat the rookie year success of the Asian pitchers who preceded him (Hideo Nomo, Daisuke Matsuzaka).
Darvish might make the bigger splash in 2012, and might even help the Rangers get over the hump, but Bauer has the looks of a big-league ace.
Winner: Bauer
Bryce Harper Region- Finals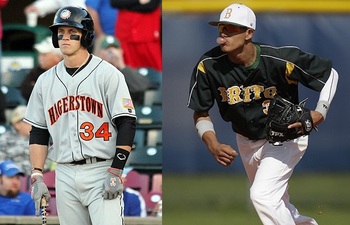 Harper's reward for taking down his successor as number one pick in the draft (Gerrit Cole) is a date with the man selected two picks after him in 2010.
(1) Bryce Harper vs (3) Manny Machado
Harper has arguably the toughest road, having to go through 2011 number one pick Gerrit Cole, only to wind up facing the player who was selected two picks after himself in 2010.
Machado was seen as a consolation prize back then, but he's going to put up a fight in this one.
For the first month of their first professional season, before Machado got injured, the O's shortstop actually out-performed Harper. Unfortunately, Harper's tools are so loud, so explosive, that it's going to take somebody better, even than Machado, to take him down.
Winner: Harper
Matt Moore Region- Finals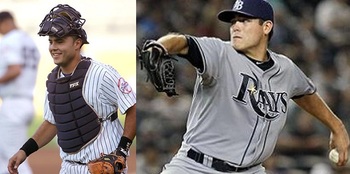 The Yankees deprived us all of getting to see Montero and Moore battle multiple times per year when they dealt him to Seattle.
(1) Matt Moore vs (2) Jesus Montero
Moore has everything you look for in an ace, and as an added bonus he's a lefty. He's already shown he can compete with the best in the majors and should have little problem earning a spot in the Rays rotation this spring.
Montero, however, has developed into one of the finest young hitters in baseball, not just the minors. Despite having little potential defensively, he's going to be a threat for both batting titles and home run crowns.
In the end, Montero gets the nod in a minor upset. Montero is a classic case of prospect fatigue, a player who has been around for what seems like an eternity, and that is clouding the fact that he's likely a better player than Moore.
Winner: Montero
Julio Teheran Region- Finals

Two future superstars. Can't really go wrong with either.
(1) Julio Teheran vs (2) Mike Trout
Another battle for the ages, the top right-handed pitcher in the minors versus the top hitter (arguably).
Both players fared poorly in their brief exposure to the big-leagues last season. Both are likely also ticketed for Triple-A. It's a coin-toss as to who gets the call first.
Teheran will have a harder time establishing himself in a rotation that includes several other impressive young pitchers, including Jair Jurrgens, Brandon Beachy and Tommy Hanson.
Trout will likely get the call whenever an Angels outfielder goes down with an injury—or once he's granted an extra year under team control, whichever comes first. Either way, he'll fit more seamlessly into his big-league squad.
Winner: Trout
Jurickson Profar Region- Finals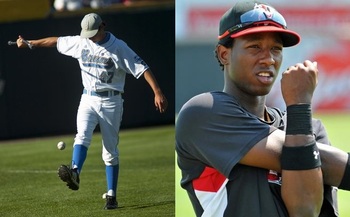 Bauer's quirky exercises put Profar's calisthenics to shame.
(1) Jurickson Profar vs (6) Trevor Bauer
Profar has fought off some tough challenges to get to the regional final, and his reward is a matchup against arguably the toughest pitcher to face in baseball.
Bauer throws more pitches than any other starting pitcher, in the minors or majors. Profar has some of the best plate discipline of any player his age, but not even he would be able to hold up against Bauer's varied repertoire.
Bauer has Tim Lincecum-like potential, which trumps Profar's Asdrubal Cabrera-like potential.
Winner: Bauer
Harper-Moore Regional Championship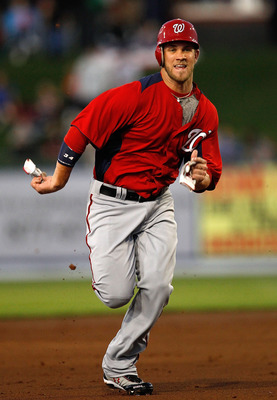 Harper sprints to a relatively easy victory over Montero.
Sarah Glenn/Getty Images
(1) Bryce Harper vs (2) Jesus Montero
These are two of the top hitters to come through the minors in quite some time. The edge in power goes to Harper, who could hit 40 homers per season. Montero offers 30-homer potential, which doesn't quite compete with the Nationals' slugger.
He does, however, feature the better bat at hitting for average. He should have no problem reaching .300 on an annual basis, while Harper will likely struggle to maintain a .280 average, due to an aggressive approach at the plate, which will lead to higher strikeout totals.
Defensively, it's no question who comes out on top. Harper is the prototypical right-fielder, with great instincts and a rocket arm. Montero's best defensive position, as a 22-year old, is likely DH.
In terms of pure leadership, Harper also gets the edge. He's going to have no problem motivating his teammates, while Montero is more of a quiet leader.
That's three mini-victories (power, defense, leadership) to one (hitting for average) for Harper, the winner of the Harper-Moore crown.
Winner: Harper
Teheran-Profar Regional Championship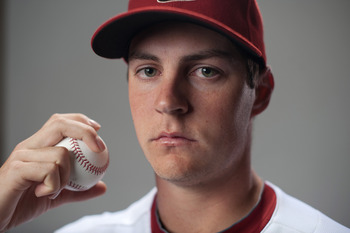 Bauer shocks Trout, and to a lesser extent, the baseball world.
Rob Tringali/Getty Images
(2) Mike Trout vs (6) Trevor Bauer
Trout is widely viewed as the number two prospect in baseball, second only to Harper. It's only fitting then, that he competes for a spot in the championship against him. First, though, he has to get through 2011 third-overall pick Trevor Bauer.
Trout's tools are many, and they are impressive.
He has the ability to hit .300, with 30+ doubles, 10+ triples, 15+ homers and 50+ steals on an annual basis. He's also a fantastic fielder, although incumbent center fielder, Peter Bourjos, is better and will likely force Trout to a corner spot.
Bauer is similarly blessed, not only with a wide array of pitches, but also with an incredible work ethic and eclectic personality that is always up for trying new things to help him improve.
His fastball is sensational, and he can throw it numerous ways. His slider and reverse slider give him two devastating weapons to attack hitters with and his changeup has the makings of an above-average pitch.
Toss in the fact that he's one of the most intense competitors that I've ever seen, and Bauer pulls the upset.
Winner: Bauer
March Madness Prospect Championship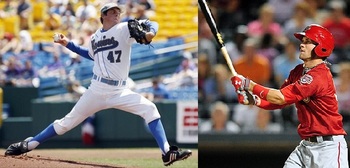 Bauer serves up a wicked reverse slider...but can Harper take him deep and take home top prospect honors?
(1) Bryce Harper vs (6) Trevor Bauer
Nearly everyone expected Harper to be here, but for Bauer it's quite a shock. He's playing with house money against Harper, who despite having less than 150 at-bats above High-A ball is the odds-on favorite of many to take home National League Rookie of the Year honors.
Bauer could compete against him in that race, especially if 2011 breakout star Josh Collmenter proves to be a one-year wonder. Bauer could slide into the fifth spot by the All-Star break and could be the team's best pitcher by September.
In the end, it comes down to gut instinct. Which guy just has the look and attitude of a big-league superstar. Both players seem to have that swagger, but this is a tournament, and not the BCS, which means there can only be one winner. And that player is...
Champion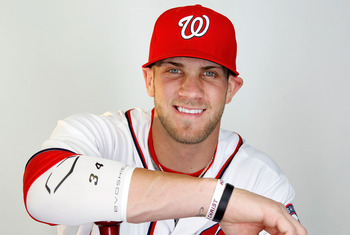 Mike Ehrmann/Getty Images
Really? Was there any doubt?
There's a realistic chance that we've never seen a player of Harper's caliber. He could be Adam Dunn, but he could also be Mickey Mantle re-incarnate.
Only time will tell how successful he'll be, but for the time being he can soothe himself to sleep knowing he's the Bleacher Report Prospect Madness Champion.
Kudos Bryce!
Keep Reading