Aaron Curry: Can the Revitalized Linebacker Adapt to a 3-4 Defense?
March 10, 2012

Thearon W. Henderson/Getty Images
Throughout the day, the Raiders have been working ferociously to get the salary cap situated.  They fixed the "out of whack" deals of Richard Seymour, Michael Huff and Carson Palmer.  Following those moves, the Raiders released Chris Johnson and Hiram Eugene.
Now, the Raiders can add to the growing list of players who are willing to restructure their deals for the better of the team.
After a long day of negotiations, Aaron Curry tweeted out that he and the Raiders restructured his deal.  Before the deal, Curry was set to make $5.8 million.  Details about the new deal has not been released yet, but I'm predicting a long-term extension.  Curry wanted to be a Raider, and the Raiders wanted him.
But now that we know Curry will be a Raider in 2012, we have to start looking towards the future.  While there still is no report whether the Raiders will play in a 3-4, it's largely speculated.  That raises the big question; can Aaron Curry be effective in a 3-4 defense?
Aaron Curry is definitely an interesting player.  Curry is a good run defender, but can be a liability in the passing game.  He isn't especially skilled at rushing the passer, either, which is important for an outside linebacker in a 3-4 defense.  If the Raiders execute the change, they must see some potential in Curry to adapt to the 3-4.  
Curry is not built to be a 3-4 pass rushing linebacker, however.  He definitely has the speed to do so, and is strong as well.  If you watch the Chargers game on Thursday Night Football, you can see just how strong Curry is.  
He single-handedly took Marcus McNeill out for the season by running through him as if McNeill was an elementary student.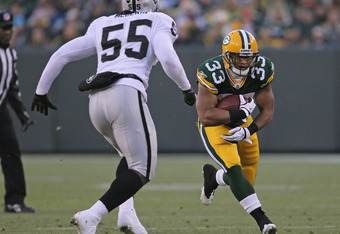 Jonathan Daniel/Getty Images
But strength and speed are surprisingly not enough to be a good pass rusher.  In my time watching Curry, I have never seen exceptional pass rush moves from him.  
He has flashes, but I do not see him having immediate success.  Obviously, if he can't play outside, that means he has to kick inside and play inside linebacker.  If he isn't built to play outside, can he play inside?
I say yes, without a question.  What you want from your inside linebackers is a physical run stopper. Curry is exactly that.  
I was skeptical to see Curry when he was first traded because of his lack of production in Seattle, but when he put on that Silver and Black, I was surprised to see him play so well against the run.  He was physical, fast and smart.  On pass defense, well, that's another story. 
If Curry plays at inside linebacker, he could vastly improve the Raiders run defense.  With less playing time than Kamerion Wimbley and McClain, he showed he was the best run defender of the three.  
With Curry inside, the Raiders have a much better defense with an inside backer who is strong against the run and another strong against the pass.  
Yes, I'm talking about Rolando McClain.  There are times where he looked lost and even gave up touchdowns late in the season, but he was overall the best cover linebacker.  
Coming out of Alabama, McClain was praised for his awareness and instincts in the passing game.  As a rookie, McClain was strong against the pass, but regressed in his sophomore year.  
Like many, I believe this is largely due to his lack of motivation, playing slower than he did as a rookie. If you play slow, you're going to get burned and that's exactly what happened.  
Facing the draft bust label, look for McClain to step up his game again.  He truly has the potential to be the next Brian Urlacher. 
If the two continue their progress against their weaknesses, they can really rival the top 3-4 inside linebacker corps of the NFL.  
If the Raiders don't switch to the 3-4, however, they really have nothing to worry about.  Curry will still be effective as the weak-side outside linebacker.  Look for Curry to have a big season in 2012.