Big East Tournament Schedule and Bracket 2012: Favorites Won't Derail Cincinnati
March 10, 2012

Chris Trotman/Getty Images
After taking down the heavily favored No. 2 Syracuse Orange in the semifinals of the Big East tournament, the Cincinnati Bearcats proved to the nation that they won't be held back while playing the underdog role.
That is a good thing to know with March Madness just around the corner, as the Bearcats are looking like a team with the potential to shock many squads this March.
The win over the Orange was the team's fourth straight win, which included a double-overtime victory against the Georgetown Hoyas in the previous round.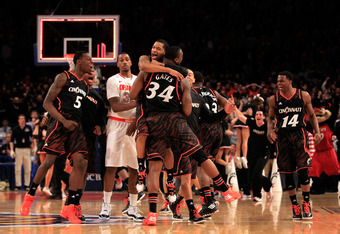 Chris Trotman/Getty Images
With another big game from guard Sean Kilpatrick and forward Yancy Gates, 18 points each, the Bearcats continued to fight against the odds to make their way into the Big East final.
That is a pretty big accomplishment, as this conference currently stands to be the best overall with the most teams likely going to make the Big Dance.
It will remain to be seen if this win will propel the Bearcats into a higher seeding, but of course taking home the conference title should help them move into that direction.
This schedule hasn't been easy for the Bearcats, as they had to first get through Georgetown and now the Orange. 
Before the tourney even got underway, the team defeated the No. 7 Marquette Golden Eagles, as well as taking down the Villanova Wildcats on the road.
With still a much longer road to travel, the Bearcats have done the best job they can up to this point to prove that they are a team to reckon with.
If they can carry this style of play into the final, as well as the tourney, who knows how much this team could actually accomplish.
Jeff Chase is a Featured Columnist for the Chicago Cubs and Arizona State football.