Why Peyton Manning and the Denver Broncos Are a Match Made in Heaven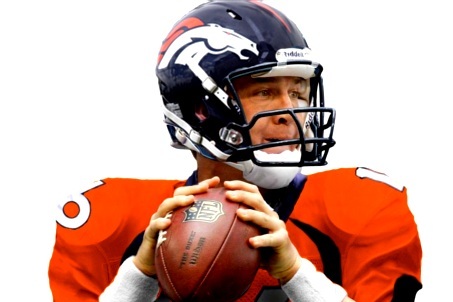 Perhaps a view of the not-so-distant future
The rumors surrounding Peyton Manning's free agency are as numerous as any NFL rumors have ever been.
Since being officially released by the Indianapolis Colts on Wednesday, as many as 12 teams have reported a considerable interest in Manning.
But perhaps none of these teams match up with Manning as well as Denver, and here's why.
Begin Slideshow

»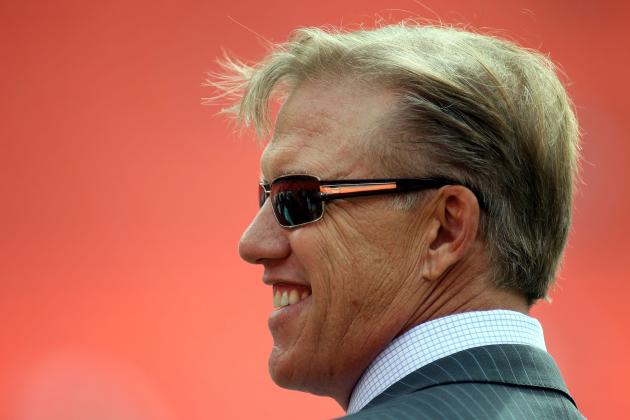 Marc Serota/Getty Images
The man in charge of bringing Manning to Denver
Without a doubt, the one thing that Denver can offer Manning that no other team can is John Elway's insight, experience and support. There are so many parallels between Elway and Manning, it's ridiculous.
First and foremost, both will be Hall of Fame quarterbacks when all is said and done. Both were drafted by the Colts. And while Elway elected to leave the Colts for Denver immediately, he may ultimately be responsible for bringing Manning, the man that the Colts drafted to be the quarterback they wish that Elway had been, to Denver with him.
It's important to remember that Elway won his Super Bowls when he was 38 and 39 years old. Manning will turn 36 in just a couple of weeks. Elway knows what Manning is trying to do, because he's already done it. He knows what is required from his end to make sure that Manning is put in a place to succeed. There's no doubt that Manning will have the unquestioned support of John Elway.
Because of all of this and more, John Elway and Peyton Manning are capable of having a very significant conversation, and that's a conversation that very, very few people in this world have earned the right to take part in.
No one in the Miami or Arizona camp can bring what Elway brings to the table. Don't discount Elway's ability to sell the Broncos to Manning.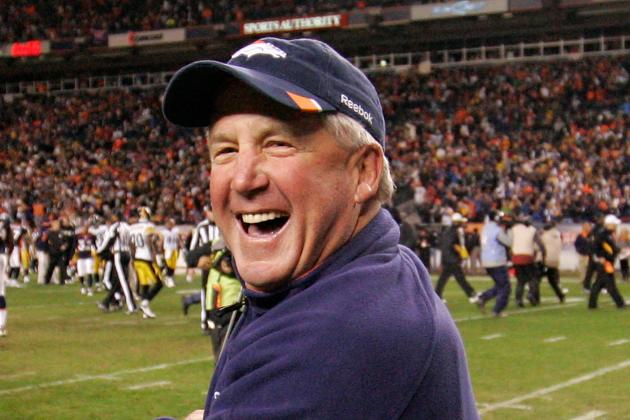 Justin Edmonds/Getty Images
Head Coach John Fox
Remember when the Broncos made the transition from Orton to Tebow? They basically trashed their entire offense and started from scratch to tailor an offense that would allow Tim Tebow to succeed. With that move, the entire coaching staff showed that they were committed to winning, no matter how inconvenient or unconventional it made things.
Many speculate about whether Manning's next coach or offensive coordinator would be willing to implement the offense that Manning has run for his entire career. With Denver, that's a non-issue.
Broncos Offensive Coordinator Mike McCoy threw out his pro-style passing offense last year and implemented an option offense that had Tebow throwing as few as nine passes per game. If Manning were to sign with Denver, McCoy would gladly run the offense that Peyton has thrived in for the duration of his NFL career.
Head Coach John Fox is by all accounts a "defensive guy," so he would have no interest in interfering with McCoy and Manning's plans. And Manning is familiar with new Broncos Defensive Coordinator Jack Del Rio, having played against Del Rio numerous times during his stint as the Jacksonville Jaguars head coach.
It remains to be seen whether Joe Philbin will succeed as a head coach in the NFL, or if the Arizona coaching staff will be as accommodating to Manning as the Broncos will be.
Thearon W. Henderson/Getty Images
Von and Doom
Although the Broncos defense doesn't look great on paper when you compare the team statistics from last year's season, the truth is that they played well. You could make the argument that they played great when you consider what they were asked to do.
Countless times, the offensive possessions would result in three-and-outs, evidenced by the fact that the defense played the sixth most snaps of any unit in the NFL. And in many, if not all, of the games when Tim Tebow led the Broncos to a heroic come-from-behind victory in the waning seconds of the game, the defense was just as responsible, if not more, for the victory than the offense.
With Elvis Dumervil and Von Miller rushing the passer, Champ Bailey locking down half the field and the expectation of adding a defensive tackle, defensive backs and linebackers through free agency and the draft, this unit could be a vastly improved one with Manning under center in Denver.
Arizona, Miami and Denver all come out pretty evenly in terms of defensive stats and success, but Denver stands to add the most to their defense because of their low cap number and the fact that they'll target defensive players almost exclusively (besides a running back and offensive lineman) in the draft, whereas Miami and Arizona could use upgrades at multiple positions on their offensive lines and at other offensive positions, as well as on defense.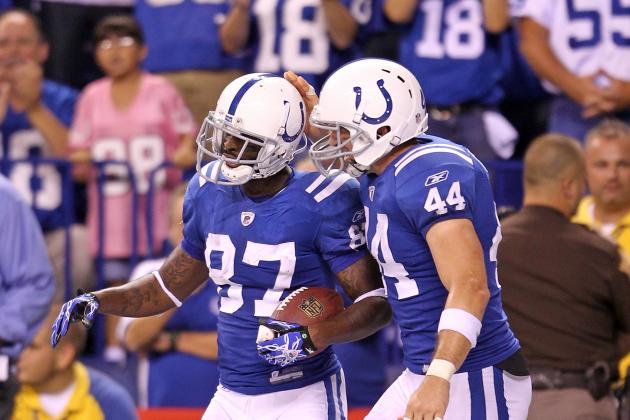 Andy Lyons/Getty Images
Mile High Air Show? We sure hope so.
The Broncos find themselves in a very enviable position at the start of free agency, being nearly $50 million under the salary cap. If the Broncos are able to land Manning, they'll be able to add several other free agents (with Peyton's help) to further bolster the roster.
Reggie Wayne has already said that he'd love to follow Manning to his next team. With the Colts releasing Dallas Clark today, it's not out of the question that he'll join Wayne and Manning in Denver, especially considering that Denver could use an upgrade over Daniel Fells or Julius Thomas at the tight end position.
Considering that Manning, Wayne and Clark are all on the downsides of very successful NFL careers, they will be more concerned with winning than commanding as much money as possible. If they're willing to take less money, it allows Denver to sign one or two big name defensive free agents to deals.
If they're not willing to take less money, Denver might still be able to sign a big name defensive player (like Mario Williams) and perhaps a second-tier defensive back (Rashean Mathis, Richard Marshall, Brandon Meriweather, Reggie Nelson, etc) if they back-load their contracts.
Neither Miami nor Arizona has the cap room to make the moves that Denver can make.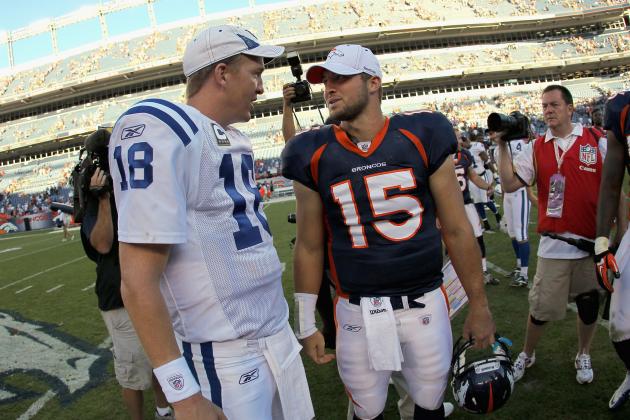 Doug Pensinger/Getty Images
Will Manning replace Tebow?
Where do you even start with Tim Tebow? Easily one of the most complex and perplexing athletes of all-time. He's absolutely great at times and borderline inept at others. But, at the end of the day, he's logged his fair share of wins while running the show, often in dramatic fashion.
If the Broncos were to land a healthy Manning, what would they do with Tebow? Well, barring dramatic, never-before-seen improvements by Tebow during the span of one offseason, Manning is clearly better equipped to lead the Broncos to victory than is Tebow.
So what do you do with Tebow? There are two options and neither of them is really bad. The first is to keep Tebow, use him in special packages and hope that he can watch and learn from Manning. It's no secret that Manning enjoys taking the lion's share of reps in practice, and they'll run a different offense for Manning than Tebow, so signing Manning could stunt Tebow's development if you choose to keep Tebow on roster.
The other option is to move Tebow. Tebow was a late first-round pick, so if Broncos GM Brian Xanders could get a late pick in the first round for Tebow straight up, maybe he'd pull the trigger on that move. Or he could try to send him to Jacksonville.
Blaine Gabbert looked downright awful as a rookie last year, and Tebow's following in Florida would be even more substantial than it has been in Denver. Perhaps Denver could package Tebow, Denver's 25th overall pick, their 87th overall pick and a second- or third-round pick next year to Jacksonville for their seventh overall pick this year (and keep their fingers crossed that Trent Richardson or Morris Claiborne is still around at seven).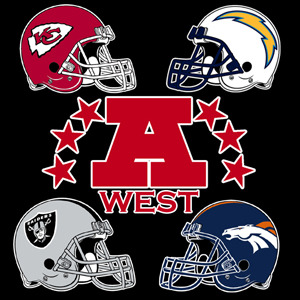 The AFC West is Wiiiide Open
The AFC West offers Manning the best chance to make the postseason immediately. The other teams that are in contention for Manning's services all have considerable downsides: If he chooses Miami (or the Jets), he'll have to play the Patriots and the Jets (or Dolphins) twice a year and compete directly with Tom Brady for a playoff spot.
The Redskins require him to compete directly with Eli. Choosing Arizona would mean Manning would leave the AFC to play for an NFC West team, and he'd have to play San Francisco's defense twice a year.
By comparison, the AFC West is less problematic. Neither the Chargers, the Raiders nor the Chiefs serves as a direct and significant threat to Manning's instant success in Denver. Denver went 3-3 in divisional games last year, with losses to the Chargers and Raiders coming before Tebow was the starter. There is no consistently high-powered offense he'd have to compete with (like New England) or dominant defenses he'd have to worry about (San Fran, maybe NYJ).
Additionally, of the three teams that Manning already has visits scheduled to, Miami finished 6-10, Arizona finished 8-8 and missed the playoffs. Denver won their division and made it to the second round of the playoffs. Adding Manning to Denver would build on their success from the previous season and create solid momentum heading into 2012.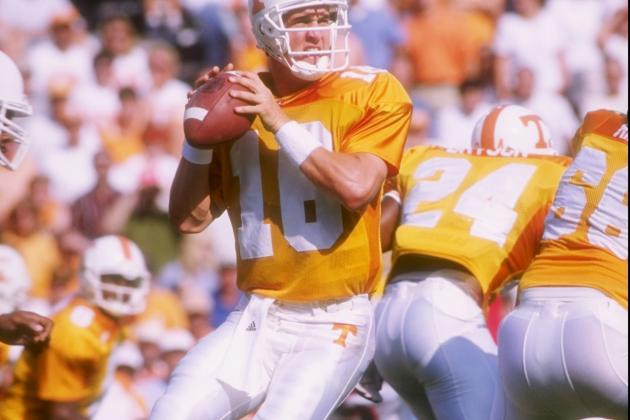 Craig Jones/Getty Images
B-E-A-utiful.
Manning looks fantastic in orange. The 2012-2013 NFL season will be the first time that the Denver Broncos will wear orange uniforms at home, instead of the blue they've used since 1996-1997. Coincidentally, when the Broncos changed their uniforms, John Elway won a Super Bowl. If Peyton signs in Denver, with the franchise set to change uniforms again, maybe he'll be able to follow in Elway's footsteps.
For the record, Manning probably looks awful in Cardinal red or the seafoam green that the Dolphins wear.