NBA Trade Rumors: Why the Milwaukee Bucks Must Trade Andrew Bogut
March 10, 2012

Mike Ehrmann/Getty Images
The Milwaukee Bucks are a franchise that is floundering. That is why trading their best player, Andrew Bogut, would be a smart move so that they can rebuild the team. 
The Bucks have an outside chance at making the playoffs as the eighth seed in the Eastern Conference. However, they are chasing a surging New York Knicks who have won 10 of their last 16 games. 
The Bucks, at 15-24, losers of 11 of their last 16 games, will find it hard if not impossible to erase a three-game deficit with this current roster. 
According to the Bucks blog on jsonline.com, the Bucks have been taking phone calls from NBA general managers about the willingness of the club to move their former overall No. 1 draft pick saying:
Bogut's agent, David Bauman, acknowledged Friday there was interest in the league regarding the 7-foot Bucks center.

"There's a lot of teams interested in calling John," Bauman said of Bucks general manager John Hammond. "I don't know what they (the Bucks) will end up doing."
However, as pointed out in the Bucks blog, Bogut has been out since January 25th with a broken ankle to go with a number of other injuries that have plagued his young career saying:
The 27-year-old Bogut is currently out of the lineup after fracturing his left ankle on Jan. 25 in Houston. It's uncertain if he will be able to play again this season.

The No. 1 overall pick in the 2005 draft, Bogut has suffered a series of injuries in Milwaukee, including a devastating blow to his right hand and right elbow in a crash to the Bradley Center floor on April 3, 2010 against Phoenix. Bogut returned last season but was not able to shoot with his right hand due to the injury.

He underwent surgery in April 2011 to remove a bone chip from the elbow and returned in good shape for the current lockout-shortened season.

But he missed five games for personal reasons early in the season due to a family medical situation in his native Australia. He played in 12 games this season and the Bucks went 7-5 in those games, before he suffered the injury in Houston.

"The irony is he's sitting out with a broken ankle and is still recognized as one of the best centers in the league," Bauman said. "That's gratifying for him."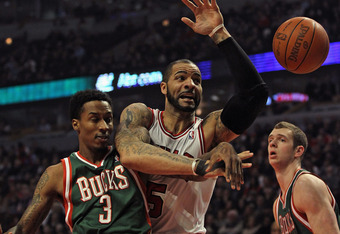 Jonathan Daniel/Getty Images
The Bucks should make the smart decision by moving Bogut. Milwaukee is going to demand a good set of players in return and from the looks of it, they will get that. 
They can rebuild with the new players on their team plus a good point guard, Brandon Jennings. 
Bogut's time is up in Milwaukee and the fans who have came to enjoy watching him play have to realize that. Management should pull the trigger on a deal if one comes to them either before or at the March 15th trade deadline.