New Jersey Devils: Dainius Zubrus Still Has Lots of Hockey Left
March 9, 2012

Christian Petersen/Getty Images
Dainius Zubrus has played plenty of hockey in his NHL career, over 1,000 regular season games, to be more specific. The savvy veteran can look back with pride, but he prefers to look forward instead.
He is the first Lithuanian to reach the four-digit mark in NHL games played, an accomplishment not lost on the former 15th-overall selection in the 1996 Entry Draft.
But for the native of Elektrenai, a city of roughly 14,000 people, and also the hometown of former NHLPA member Darius Kasparaitis, his desire to keep playing is his driving force.
"If you had told me 20 years ago that I would play in 1,000 NHL games, I probably would have thought you were crazy," Zubrus told NHLPA.com, in a recent interview. "Ten years ago, though, I would have felt it was something I would hope to achieve. I am very happy to have played in that many games."
But…
"I am only 33-years-old and I feel I have plenty of hockey still left to play and that's what I want to do," said Zubrus, who made his NHL debut with Philadelphia in 1996. "I love this game and I love to go out and compete. In the end, it's more important that I helped the team win than the number of games I will have played."
Now in his 15th year, Zubrus, who plays centre and right wing, is looking to make an impact as a member of the New Jersey Devils. He's played for the Eastern Conference squad since 2007-08, signing a six-year, $20.4 million contract as a free agent in July of 2007.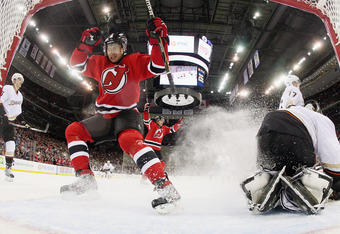 Bruce Bennett/Getty Images
Zubrus, who has appeared in 17 playoff games in New Jersey, is hoping the Devils can make a spirited Stanley Cup run, after missing out on the post-season in 2010-11.
He recalls two previous memorable playoff experiences, 1996-97 with the Flyers and 2006-07, with the Buffalo Sabres.
In 1996-97, after finishing just one point shy of a third-straight Atlantic Division title, Philadelphia was unstoppable through the first three rounds of the playoffs, overpowering Pittsburgh, Buffalo and the Rangers, all in five games, to claim the Eastern Conference crown and a date in the Stanley Cup Finals for the first time since 1986–87.
"My first season, it was a great experience," remembered Zubrus, of the campaign that ultimately saw the Flyers swept by Detroit in the Cup Final. "We had a very good team, very talented. A lot of guys helped me, guys like Joel Otto, Eric Lindros, John LeClair, Rod Brind'Amour, and many others. I learned a lot."
Zubrus also took a lot away from Buffalo's strong showing five years ago.
The Sabres reached the 50-win plateau for the second time in franchise history, hoisting the Presidents' Trophy for the first time, ensuring home ice advantage for their entire run in the 2007 Cup playoffs.
Buffalo eliminated the New York Islanders and the New York Rangers to reach the Eastern Conference Finals, but were ousted in five games by the Ottawa Senators.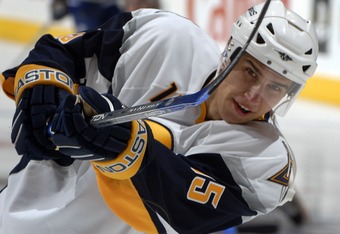 Dave Abel/Getty Images
"It was another good team, where we gelled and had a really good year," said Zubrus, who had eight points in 15 postseason games for the Sabres. "It's too bad we couldn't get it done."
The player with 68 games of NHL playoff experience is hoping to get another shot in 2011-12.
"We have a good group here, guys like one another and it's a very happy dressing room," offered Zubrus. "Hopefully, we can continue to get stronger heading towards the playoffs."
As for how long he'll play, Zubrus has never forgotten the words of a former Flyers teammate.
"I remember watching how Rod Brind'Amour would prepare for games, how he stayed in shape through his conditioning," remembered Zubrus. "I don't think I really did what he did early on, but a few years later, I tried to have the same approach. He said, 'Take care of your body and your body will take care of you.' That's what I've tried to do."
He's also focused on what the future holds.
"I'm proud to say I have played this long, but as I said, I truly feel as though I have more years ahead. I only want to help my team win."
Related Content
Video: Meet the World's Toughest Directors, Player's Playbook
CBC Hockey Night in Canada/NHLPA Player Poll Results