2012 NFL Free Agents: Peyton Hillis and Overrated Stars to Avoid
March 9, 2012

Rob Carr/Getty Images
Adding a veteran superstar can help turn an NFL team around. However, a player like Peyton Hillis will not turn a team into a great team, no matter who he signs with.
But Hillis is not the only player who will fail on his new team. These other players will play just as bad, despite earning a huge new contact. 
Peyton Hillis—Running Back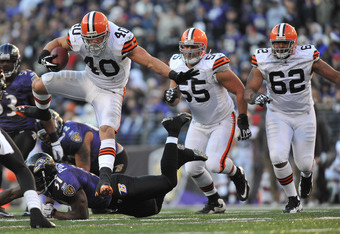 Larry French/Getty Images
Hillis, when healthy, proved to be a punishing running back who isn't afraid to make contact with defenders. However, in four professional seasons, Hillis has only one where he's carried the ball over 250 times and rushed for more than 1,000 yards. Plus, Hillis only had one season where he posted more than six touchdowns and one season where he caught more than 30 passes. 
He could be a good running back on a new team, but he only has a small sample size of good stats to back up a team trusting him to be their No. 1 running back. 
Hillis is a risky investment that should be brought onto a team as a second option or as a 1-B option with an already established running back. 
Matt Flynn—Quarterback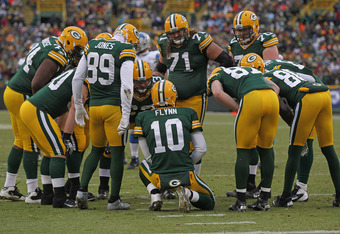 Jonathan Daniel/Getty Images
Flynn has made a name for himself playing in limited time. He played whenever Aaron Rodgers was hurt or resting. In only three career starts, Flynn has nine touchdown passes, 980 passing yards and three interceptions. However, six of those touchdowns, 480 of those yards and one of those interceptions came in one game last year against one of the worst passing defenses in the NFC, the Detroit Lions. 
The NFL is a quarterback-driven league, so there will be a team that will overpay to have him be their quarterback next year. With Flynn having such little experience, it is hard to trust that he will succeed in his new offense. 
Michael Bush—Running Back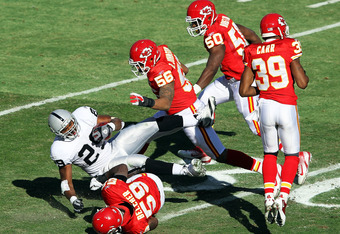 Jamie Squire/Getty Images
Bush has been a beneficiary of playing behind the injury-prone Darren McFadden. When McFadden would go down with an injury, Bush was able to come in for some starts and produce high numbers. However, when Bush had a chance to start a majority of the Raiders' games, as he did last season, he showed signs of slowing down. 
Bush had some great games, including four straight with over 95 rushing yards. But after that four-game stretch, he never rushed for over 80 yards.
Bush will get a big contract thrown his way from a team desperate for a No. 1 running back. However, it seems that when he is given the opportunity to start 10 or more games, he starts to wear down. 
Hopefully for you, your favorite team stays away from anyone of these players when NFL free agency starts.