Pac-12 Tournament 2012: Oregon State and Colorado Will Advance in Wacky Tourney
March 9, 2012

Stephen Dunn/Getty Images
The Pac-12 Tournament is already a mess with No. 1 Washington, and Oregon—arguably the hottest team in the conference—losing yesterday.
Here's a look at what to expect from the remaining semifinal games today.
Hint: Just like the rest of the tournament, it probably won't be what you expect. It's only fitting with the year this conference has had.
Oregon State vs Arizona
Arizona is obviously the favorite, as they are the No. 4 seed and Oregon State is just No. 9, but the Beavers are much better than their record indicates.
Of the Beavers' 11 losses, four have come by five points or less, and another one came against Arizona in overtime. They could have easily finished 11-7 or 12-6.
The Beavers have oodles of talent. Jared Cunningham—who would have won Player of the Year if the Beavers had a better record—is the obvious player to watch, but they have talent beyond him.
Eric Moreland and Devon Collier are incredibly gifted athletes, Ahmad Starks can light it up from long-range and Joe Burton is one of the most underrated big men in the nation. The Beavers are one of the most explosive and athletic teams in the conference, and if they are able to play their game, they can stick with anyone.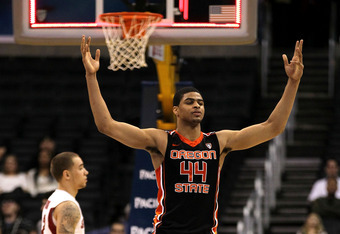 Stephen Dunn/Getty Images
Now that the Beavers have some momentum after beating No. 1 Washington, they'll be able to pull away from Arizona, who has been inconsistent, and is without freshman Josiah Turner.
OSU took Arizona to overtime in Tuscon earlier in the season, but lost. Expect the tides to turn the other way in this one.
Colorado vs California
The Buffaloes stumbled into the Pac-12 tourney with losses against Oregon and Oregon State, but they avenged one of those losses last night with a win over the Ducks.
Now Colorado lines up with two-seeded California, who they split the season series with.
Colorado has a very balanced scoring attack, as Carlon Brown, Andre Roberson, Austin Dufault and Spencer Dinwiddie all average double-digit points.
Roberson is easily the best player on this team and should be the difference-maker against the Bears.
California counters with Jorge Gutierrez, the controversial Player of the Year winner, but the Bears haven't looked good in the last two weeks. Look for them to fall victim to another Pac-12 upset.