Dallas Cowboys Mock Draft: Take a Look at Walter Football's Latest Predictions
Ronald Martinez/Getty Images
Easily among my favorite year-round football websites is WalterFootball.com. I'm not sure there is a more
well managed and current approach to information and opinions about the National Football League than this rather simple website.
WalterFootball.com is not as much a "breaking news" source as it is a crystal ball.
For example, if you're just curious as to who the first quarterback chosen in the 2013 NFL Draft might be, you'll get a decent projection here - right now.
Projections are a guessing game for anybody trying to predict where any player will be chosen, especially beyond the first two or three selections. But what a given franchise needs will often give clues as to what direction that team will go. This fuels debate and speculation for better than 90 days prior to the NFL Draft.

We're going to check out the most recent Dallas Cowboys mock draft over at WalterFootball.com and see exactly how close we are to getting a true glimpse at what America's Team might do beginning April 26, 2012 at Radio City Music Hall in New York City.
Round 1 (14): David DeCastro, G (Stanford)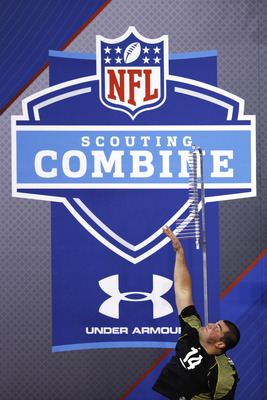 Joe Robbins/Getty Images
Prior to the NFL Scouting Combine last month, WalterFootball.com was projecting North Alabama corner back Janoris Jenkins as the first selection for Dallas.
As of now, top offensive guard prospect David DeCastro of Stanford is pegged to play in Dallas in this mock draft.
I think that DeCastro is a much more likely and beneficial projection for the Cowboys. I'll easily argue that DeCastro is a better guard prospect than Jenkins is at cornerback - and I think Jenkins could be pretty good in the NFL.

The problem for WaterFootball.com, and everybody else, is that Dallas could go in a direction that nobody expected.

Just a few days ago I really didn't feel that Dallas would franchise outside linebacker Anthony Spencer - but they did.

I do not believe that Jenkins is a good choice at the 14th selection. Shorter corner backs like Jenkins (5'10") just don't carry the same urgency as those who are taller, stronger and maybe even faster.

And for as good as DeCastro looks as a prospect, are the Cowboys really sure that choosing an offensive guard, not named Larry Allen, this high is a good idea?

This has nothing to do with DeCastro. This is just a matter of value and the fact is that there seems to be a great deal of talent in terms of defensive front players in this particular draft. It would seem that now is the time to bolster a defensive front that allows defensive coordinator Rob Ryan to earn his his paycheck.

Then again, we could see Dallas shock everybody by taking the best offensive tackle available to take over right tackle for last year's first-round pick Tyron Smith. Sounds a bit crazy, but this team needs to protect it's franchise quarterback, this has to happen now I'll add.

DeCastro could be the pick and he would fill a need for sure. I would have to consider trading down a few spots if he was the best guy on my board.

Grade: A-

Blood's Choice: Dontari Poe, DT (Memphis)
Round 2 (45): Andre Branch, DE/OLB (Clemson)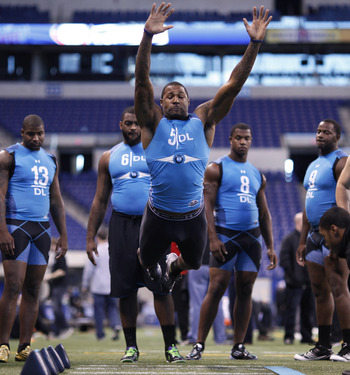 Joe Robbins/Getty Images
I do love this pick as far as the player is concerned. Andre Branch translates to outside linebacker about as well as Whitney Mercilus of Illinois does. Branch is an explosive athlete that has the frame to add as much as 10 more pounds of muscle which could really make him a big problem very soon in the NFL.

Branch to Dallas is a great idea and I think it has potential.

This really depends on what the Cowboys plan on doing with Anthony Spencer. This week's franchise designation placed on the five-year veteran means that he earns $8.8 million in 2012 only. There is no 2013 attached to that deal.

I think the Cowboys are committed to seeing Spencer finally blossom and I believe they could be right, but only if other areas of this defense are improved as well. I no longer see Dallas choosing a linebacker of any kind in the first or second round.

If Branch or another pass rushing "tweener" is selected this high then you can bet Spencer is no more than an overpriced annual rental.

Grade: C

Blood's Choice: Mike Adams, RT (Ohio State)
Round 3 (82): Tank Carder, ILB (TCU)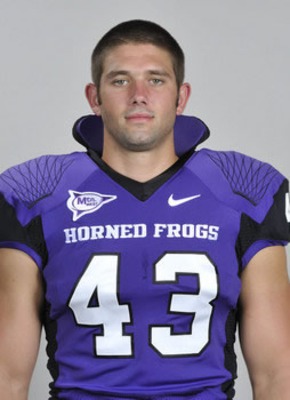 I probably could not agree more with this selection except I have to point out that no defensive backs have been taken as of yet.
I think this is fine, at least for now.
In linebacker Tank Carder the Cowboys would have a local product that fills an important need.
No, Carder likely wouldn't start but he would provide depth and a lot of college playing experience at a position that looks more unstable now than at any point over the previous several seasons. Veteran Bradie James is almost certainly done in Dallas and the Cowboys have to be right as far as his replacement.

The only sure thing the Cowboys have at inside linebacker is Sean Lee, a second-round selection in 2010.
Dallas chose Bruce Carter in the second round of last year's draft and he saw little playing time as he completed rehab for an injury sustained while still in school.
I believe that Carter will be a big surprise, especially if his resume at North Carolina means anything.
But what if all of those big plays with the Tar Heels don't translate early on? Could there be a setback with Carter's injury?
Better have a plan B in place.
Carder is a high character guy who's been a big part of the recent and dramatic turnaround at TCU. Carder not only provides depth and insurance at inside linebacker, but also special teams abilities.

Grade: A

Blood's Choice: Tank Carder, LB (TCU)
Round 4 (113): Tyrone Crawford, DE/DT (Boise State)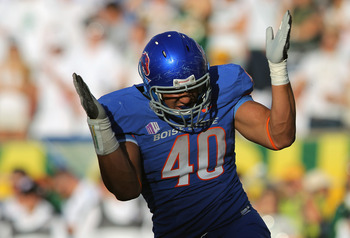 Doug Pensinger/Getty Images
My problem with this particular selection is that it is assumed that Dallas is hurting in an area in which they are really not. Taking another defensive lineman at this point is fine so long as the Cowboys are confident that he'll make a contribution sooner than later.

In looking closer at Crawford I see that his size is adequate but certainly not special. I think Crawford translates best to a 4-3 scheme where he could possibly choose between end and tackle. But I don't see a tremendous amount of upside in putting Crawford at defensive end in a 3-4 alignment.

Either way, between Marcus Spears, Jason Hatcher and Sean Lissemore it's safe to say that Dallas has bodies at defensive end. If you're like me in that you also believe Ratliff will be moved back to his natural position in 2012, then there's really not much need to draft more defensive linemen.

Addressing a secondary that needs some help would be wise here.

And keep in mind that strong safety is also an area of need in the secondary, not just corner back.

Grade: D

Blood's Choice: Jamell Fleming, CB (Oklahoma)
Round 5 (144): Janzen Jackson, S (McNeese State)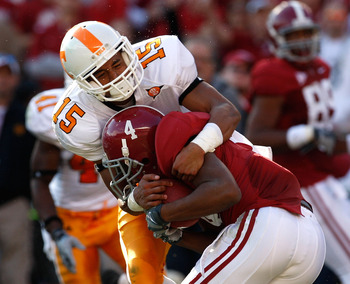 Kevin C. Cox/Getty Images
The position here is probably spot on but I don't like the player too much.

Not too long ago the Cowboys had the reputation of employing some very gifted safeties. Within the last 20 years we've seen the likes of Darren Woodson and Roy Williams as, up until the switch to the 3-4 alignment in 2005, this was a position historically well manned.

But things have obviously changed.

Gerald Sensabaugh will be in the fold for seasons to come, but I can't really decide what exactly he is, a strong safety or a free safety. I'm not sure that I expect Abram Elam to be a part of future plans and even if he is, Dallas needs youth and talent for the future.

Janzen Jackson is a talented safety who had issues in college that took him from Tennessee on down to McNeese State. In some ways similar to Janoris Jenkins, the North Alabama corner some believe Dallas will choose in the first round, Jackson went from a high profile program to an invisible one primarily because of personal stuff.

As far as talent is concerned this is probably a good pick, but I think there is other prospects that certainly deserve consideration. My choice below basically offers a bigger, stronger and faster version of Jackson.

Grade: C+

Blood's Choice: Sean Richardson, SS (Vanderbilt)
Keep Reading

Dallas Cowboys: Like this team?