Spring Training: Johan Santana, the New York Mets and a Dose of Realism
March 10, 2012

Marc Serota/Getty Images
Throughout the long history of baseball, the words "spring training" have elicited feelings of optimism and hope.  For Mets fans, spring training is the highlight of our season.  Okay, maybe that's a bit harsh and shortsighted, but ever since we came this close to reaching the World Series in 2006, being a Mets fan has been a painful existence.
Alas, it's March and I'm trying to force a smile while dreaming about the inevitable, impending Cinderella story for the ages.  That's probably a bit overly optimistic, but even a doomsday pessimist needs to dream every now and then.
Either way, I've found that stone-cold realism is the best approach in maintaining an even keel as a Mets fan. 
One thing I truly want to get excited about in 2012 is the return of our ace, Johan Santana.  I remember quite vividly the trade that brought the two-time Cy Young Award winner to New York.
It was Feb. 2, 2008; I was a junior at Wake Forest and heard the news on my way to club baseball practice.  At the same time, the New York Giants were preparing for the undefeated Patriots in Super Bowl XLII, and I was about to experience the greatest week of my sports-fan life.
Four years later, the Giants have two Super Bowl wins over the Pats, and the Mets have not played in a single postseason game.  Santana has started 88 games in his Mets career but has not thrown a pitch in the bigs since a five-inning start in a Sept. 2, 2010 win over the Atlanta Braves.
It's been awhile.  Santana will be 33 on March 13, and he has a surgically repaired shoulder to boot.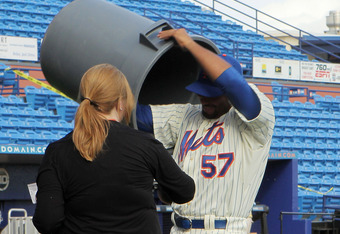 Marc Serota/Getty Images
What can us Mets fans reasonably expect from our ace in 2012?  Let's take a look.
Santana's first full season as a starting pitcher was in 2004, and that campaign resulted in his first AL Cy Young Award.  Over his four-year career as a starter in Minnesota, Santana proved to be a workhorse, averaging 228 innings per season.
In 2008, his first year with the Mets, Santana threw a career-high 234.1 innings, most in the NL.  The next season, Santana posted a career-low in innings with 166.2, a 29 percent decrease from the previous season.
In 2010, Santana bounced back with 199 innings, but was well below his then-career average of 218.6.  More than two complete games short, actually.  
In his prime—and let's be clear, No. 57 is no longer in his prime—Santana was a strikeout machine.  His plus-fastball and unhittable changeup were enough to beat any team.  His slider made him good enough to dominate them.
Three out of his four years as a starter in the Twin Cities resulted in league-leading strikeout numbers.  His high-water mark came in 2004, when he fanned 265 batters.  He never recorded less than 235 Ks in any year as a starter in the American League.  
Since joining the DH-deprived National League, Santana has yet to top his '08 total of 206.  He followed it up with 146 in 2009.  That's a 29 percent decrease year-over-year.  It's also the exact same percentage decrease in his innings over the same period.  This is expected.  After all, less innings would mean less strikeouts, but he still maintained the same 7.9 K/9 rate.
What's discouraging is his 2010 strikeout total of 144 despite pitching 32.1 more innings.  It was his lowest season total since 2002, when he was a 23-year-old reliever and spot starter.
In terms of his value, Santana averaged 6.4 WAR as a starter in Minnesota.  In his debut season with the Mets, Santana was exactly a 6.4 WAR, right on target.  In the two years following, Santana's WAR fell to 3.6 and 4.4.
Statistically speaking, Santana's last real "Johan" season was 2008.  He finished third in Cy Young voting, led all of Major League Baseball in ERA and led the NL in innings, batters faced and starts.
Let's be realistic for a moment.  The 2012 version of Santana will not be the same pitcher we saw in 2008, and it's not fair to expect him to be.  It's more reasonable to expect the pitcher we saw in 2009 and 2010, pre-shoulder surgery: not a dominant pitcher, but solid.
He is four years older since his last signature season. His numbers had fallen off the table in 2009 and held relatively steady in 2010.  Best-case scenario, Santana returns to his 2010 form.  That would still make him three WAR better than last season's "ace" Mike Pelfrey, who recorded a WAR of 1.4.
But Pelfrey does not command "Santana money."  Pelfrey will make about $5.7 million this season after avoiding arbitration.  Santana will make $24 million.  For a projected three added victories, the Mets will dole out an added $18.3 million to this season's ace.  That's an average of $6.1 million per victory.  Hardly a figure the Mets can afford.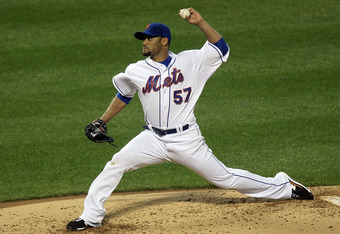 Jim McIsaac/Getty Images
In February 2008, I could not have been happier as a Mets fan.  Only two seasons removed from an appearance in the NLCS, and we had just added perhaps the most dominant pitcher in the game.  His six-year, $137.5 million contract seemed reasonable.  After all, Santana was 28 and on his way to Cooperstown.
So here's the dose of realism I've been promising: Johan Santana is no longer an "ace."  Yes, he will lead the Mets rotation, but do not look for a signature Santana season.  
Hung up on the eternal optimism of spring training?  Fine, let's hope Santana recognizes that he is in his decline years and changes his approach.  Get away from overpowering the opposition and commit to outsmarting them (see: Glavine, Tom).  
And this is the beauty of spring training.  Remember folks, the term of the season is "realistic optimism."