Big 12 Tournament 2012: Favorites Who Will Cruise to Finals
March 9, 2012

Jamie Squire/Getty Images
The final four teams of the Big 12 are all guaranteed to make the field of 68 or also known as the NCAA tournament field. However, these two favorites will cruise to a big victory today and meet in the finals. 
When these two teams meet, not only will it determine who will be the champion of the conference, it will determine which team has more momentum heading into the NCAA tournament. 
And, for one team, it may help them in sneaking back into receiving a No. 1 seed in NCAAs. 
Kansas Jayhawks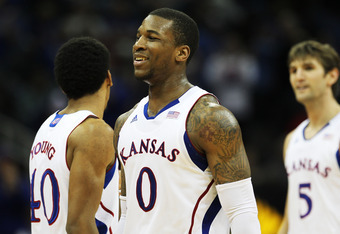 Jamie Squire/Getty Images
The Jayhawks have dominated the Baylor Bears in both of their meetings this year. In their first game in Kansas, the Jayhawks blew out Baylor by almost 20 points, 92-74. 
When Baylor got a chance to have the game on its home court, the result was no different as Kansas won by double-digits again 68-54. 
Kansas was able to play suffocating defense when it mattered in both games. It held Baylor to 29 points in the first half in the first game, and 24 points in the second half in the second.
Kansas should get another big performance from center Jeff Withey in this game. In their first contest Withey was held to only 10 points. However, in their next game Withey exploded with a career high in points with 25. 
Kansas will carry themselves to another Big 12 championship game when the face off in a great rematch against Missouri. 
Missouri Tigers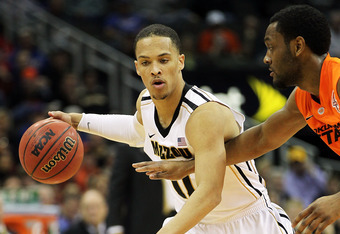 Jamie Squire/Getty Images
Playing in their last Big 12 championship game, the Tigers will look to take the conference title with them as they head onto the Southeastern Conference. 
However, Missouri is a potential No. 1 seed in the NCAA tournament and started this year on a huge 14-game winning streak, while winning 16 of their first 17 games. 
Included in those 16 victories was an 11-point victory at home against the Texas Longhorns. That win was just the first of two, as the Tigers went into Austin and defeated the Longhorns in a tough one-point victory, 67-66. 
But the Longhorns had to struggle just to get into this situation, as they limped into the Big 12 tournament, winning two of their final five games. 
However, Missouri excelled into the Big 12 tournament, winning three of its final five games. 
This game will be a tightly contested game with Missouri getting the upper hand. 
In the finals, it will be a rematch of two classic games from the Big 12 season between Kansas and Missouri.