Oakland Raiders Free Agency: 4 Biggest Playmakers on Oakland'S Radar
March 9, 2012

Mike Ehrmann/Getty Images
The Oakland Raiders have made significant strides in becoming a quality football team over the past couple of seasons, and this offseason will be vital in improving upon that.
The Raiders missed out on the playoffs on the last week of the season last year and need to make some improvements if they want to make it over the hump.
Although the Raiders are up against the salary cap, as seen by the release of cornerback Stanford Routt, they can still make signings to improve their team.
The Raiders will be looking for playmakers to step in alongside Darren McFadden and impactful defensive players who can solidify the front seven and secondary.
Here are some options for the Raiders:

Mike Tolbert
What would be sweeter for the Oakland Raiders than stealing a player away from division rival San Diego?
Mike Tolbert has been a stud in the red zone for the Chargers in the past couple of seasons, both in the running game and passing game.
He would be a perfect complement to Darren McFadden and would provide Oakland with one of the best third-down backs in the league.
Tolbert would become an instant Black Hole favorite.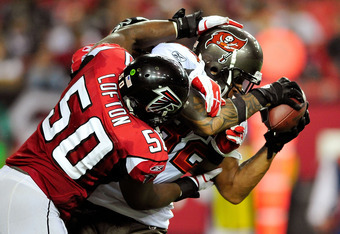 Grant Halverson/Getty Images

Curtis Lofton
One of the biggest needs for the Raiders this offseason is at the linebacker position. Enter Curtis Lofton.
Lofton is a tackling machine, recording 147 of them in 2011, and he would bolster their front seven by helping the Raiders tremendously in the run game.
Although the Raiders will still need to move some money around, Lofton would be a great fit in Oakland for many years to come.
The need at linebacker and also at defensive line points the Raiders in the direction of Mario Williams this offseason.
However, the money continues to be a recurring theme with Oakland, for they would have to work some magic to get far enough under the cap to sign Williams.
But if Oakland was able to some how find a way to get Williams, he would be a game-changer.
Paired with Richard Seymour, they could form one of the most formidable pass rushes in the league.
Cortland Finnegan
Raider Nation is known for being the toughest fan in football. Cortland Finnegan just happens to be one of the baddest dudes in the NFL.
Naturally, a perfect fit.
Finnegan backs his tough-guy attitude up with quality play on the field—something the Raiders currently need in the secondary.
Finnegan would help fill a huge void left in the past couple of seasons left by Nnamdi Asomugha and Stanford Routt.