Toronto Maple Leafs: Why GM Brian Burke Should Avoid Free Agency
March 9, 2012
Richard Wolowicz/Getty Images
The NHL free-agent waters open July 1, but if history is any indication, perhaps Toronto Maple Leafs GM Brain Burke should avoid taking the plunge.
Since his club's free fall began one month ago, Burke has been taking a lot of heat from the media and fans. Some argue that his team should not be judged on their play as of late, while others argue that results are all that matters—results that the Leafs have yet to deliver.
Regardless of where you fall in this debate, it's hard to disagree with the fact that Toronto could use a few offseason upgrades. As far as where those upgrades need to be, that too is up for debate.
But rest assured, if Burke's team fails to make the playoffs this season—which at this point seems highly likely—he will be entering the offseason with more pressure to improve his team than ever before.
The easy route for upgrades has traditionally been through free agency. Some good names will be available for the taking this year, but given his track record, Burke would be wise to resist the temptation.
Take the following three players for example:
Mike Komisarek: $4.5 million
Burke's first free-agent mistake in Toronto was signing Mike Komisarek. At the time it seemed like he was signing a great stay-at-home, shutdown defenceman.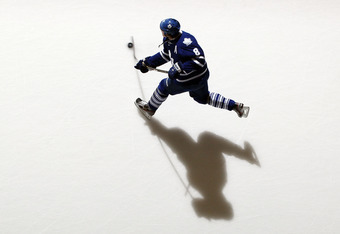 Jim McIsaac/Getty Images
But for whatever reasons, Komisarek has been unable to find the same form in Toronto that brought him success in Montreal. 
His cap hit makes the chances of trading him slim at best, so Leafs Nation is hoping that he can turn things around under new coach Randy Carlyle. 
Colby Armstrong: $3 million
In fairness to Colby Armstrong, he has been injured most of his playing career in Toronto. However, I am of the opinion that, when healthy, he hasn't been a significant contributor for the blue and white.
More often than not, Armstrong is slow and lethargic. It seems his days of being an impact player are long gone. 
Tim Connolly: $4.75 million
There is no doubting Tim Connolly's skill. Unfortunately, his legs have been unable to keep pace on a youthful Toronto team.
He was signed as a potential No. 1 center, but was never able to fulfill the hype because of the improved play of Tyler Bozak. As a result, he has been shuffled around the lineup and has failed to become the key contributor that Burke had hoped for. 
Conclusion
You may completely disagree with my assessment of these individuals, and rightly so. On that note, I would be remiss if I didn't mention Clarke MacArthur, who turned out to be a good signing by Burke.
Toronto's boss also brought in Dominic Moore and Francois Beauchemin, who were two players that he was able to trade for great value in return.
But Burke's problem with free agency has to do with money. Take the three problematic players that I pointed out for example. It's difficult to argue that any of the three are worth the dollar value affixed to their contract. 
Burke has said it time and time again—more mistakes are made at the trade deadline and on July 1 than at any other time of the year.
But even the most critical of Burke's haters cannot deny the fact that he has made some terrific trades during his tenure in Toronto. He brought in the likes of Phil Kessel, Dion Phaneuf, Joffrey Lupul and Jake Gardiner.
If he did it in the past, then there is no reason to suggest that he can't do it again.
So instead of trying to upgrade his team via free agency, Burke should make full use of his excessive management team to orchestrate a significant trade or two.
He should also look to promote from within the organization by giving the likes of Nazem Kadri and recently acquired Carter Ashton full-time duties starting next season.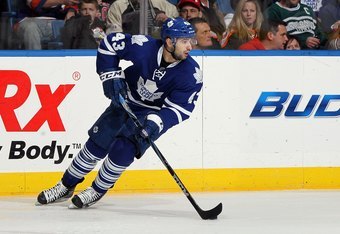 Jim McIsaac/Getty Images
The point here is simply this: As GM in Toronto, Burke has had significantly more success drafting and trading for players than he has had signing free agents.
History may not repeat itself, but an obvious trend has developed during his stay in Toronto that is impossible to overlook—the free-agent waters have been the Dead Sea to Burke.
In the future, Toronto needs to avoid expensive experiments.
Will Burke take his own advice and leave the free-agent fishing to his peers? Or will he try to land the big catch that turns his fortunes around?
Only time will tell. But given the enormous amount of pressure that Burke has put on himself to deliver a playoff berth, don't be surprised to see him overpay again with dreams of instant help.
Follow Matt Wiseman on Twitter for up-to-date NHL news and analysis.