Dwight Freeney Gone?: 4 NFL Teams That Must Trade for the Indianapolis Colts DE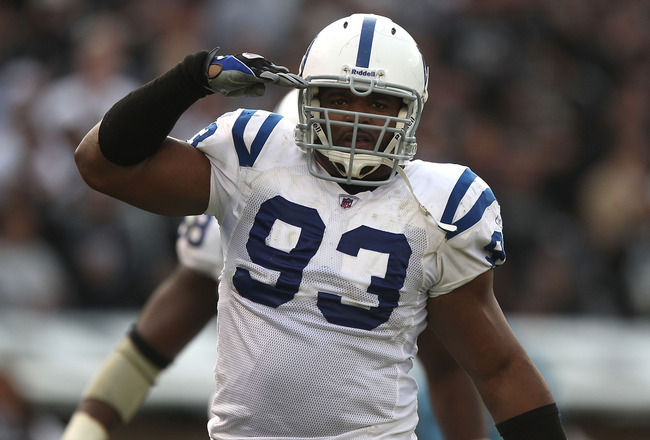 Jed Jacobsohn/Getty Images
According to Adam Schefter of ESPN, the Indianapolis Colts are willing to trade defensive end Dwight Freeney:
The Indianapolis Colts are fielding telephone calls from teams interested in trading for perennial Pro Bowl defensive end Dwight Freeney, according to league sources.

The Colts do not necessarily want to part ways with Freeney, but they need the salary-cap space and Freeney has a $19 million cap number this season and is unwilling to restructure his contract, according to sources.
Certainly an interesting addition to parting ways with Peyton Manning, however, it's not going to be easy striking a deal for Freeney.
After all, the man is a seven-time Pro Bowl selection, so the Colts will be expecting an impressive deal.
With that said, here are four teams that must make an offer in order to land Freeney for 2012.
Buffalo Bills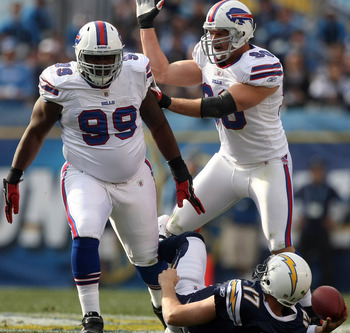 Donald Miralle/Getty Images
Last season the Buffalo Bills ran a 3-4 defensive front and it simply didn't work.
They ranked No. 19 against the pass, No. 28 against the rush and allowed a total of 371 yards per game (ranked No. 26).
Additionally, the Bills recorded just 29 sacks (tied for No. 27), but did force 17 fumbles (ranked No. 9).
Expected to be in great position for salary cap space, Buffalo could make this happen. The Bills could then switch to a 4-3 front and let Freeney do work on the outside, while Marcell Dareus continues to do work on the interior.
In turn, this helps stop the run and allow for increased pressure on the quarterback, regardless of the situation.
As for the offer; Buffalo could deal their second, third and one of its fourth-round picks in the 2012 draft for Freeney.
Considering that he's 32 years old and hasn't recorded more than 30 tackles since 2005, if the Colts want Buffalo's No. 10 overall pick in Round 1, it's unlikely that they would get Buffalo's third and fourth-rounders.
Seattle Seahawks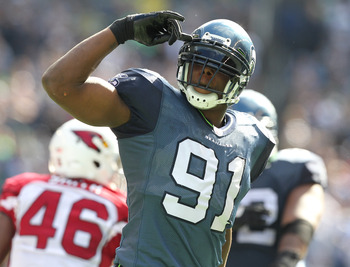 Otto Greule Jr/Getty Images
Seattle needs a guy who can complement stud pass-rusher Chris Clemons.
Last season, Clemons recorded 11 sacks, 52 tackles and forced three fumbles.
Putting Freeney opposite of this man creates one of the better pass-rushing duos in the game and takes the Seahawks defense to a new level.
Ranking No. 11 against the pass and No. 15 against the rush, Seattle was No. 9 in total defense, allowing just 332 yards per game.
Unfortunately, Seattle only collected 33 total sacks in 2011, so if an offense can isolate Clemons, then the Seahawks can easily be exposed.
Adding Freeney forces an offense to gameplan for both, and trying to double-team each will just free up the rest of the front seven.
And if Seattle wants to match San Francisco in the NFC West, shutting down Frank Gore is imperative. Otherwise the 49ers remain the heavy favorites to win the division.
As for making the deal, the Seahawks would have to include the first two picks and most likely their third-rounder as well.
Seattle is currently better positioned to succeed with Freeney than Buffalo, especially after how 2011 closed out.
Since the Seahawks are the better team, Indianapolis will likely ask for more to be included.
Tampa Bay Buccaneers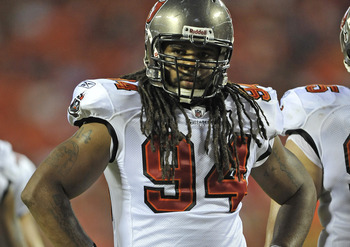 Peter Aiken/Getty Images
The Tampa Bay Buccaneers finished the 2011 season with 23 sacks (ranked dead last), and were No. 21 against the pass, while also ranking dead last against the run.
Combined, the Buccaneers allowed 394 total yards per game (ranked No. 30), as well as 30.9 points per game (also ranked dead last).
So in short; Tampa can use any and all kinds of help on defense, especially because of their youth.
One standout performer who could use the complements of Freeney is defensive end Adrian Clayborn.
He recorded 7.5 sacks, 42 tackles and forced three fumbles as a rookie in 2011, which is impressive considering how horrendous the Bucs were from an all-encompassed perspective.
Freeney lining up opposite of Clayborn only takes more pressure off those in coverage and will force running backs to stay in and block for extra pass protection, thus allowing the pass defense to cover less targets and force plays to take longer to develop.
Tampa's No. 5 overall selection also favors them in acquiring Freeney. After going 4-12 in 2011, the Bucs are expected to be in a good salary cap position. So, improving via the draft and free agency will happen.
That said, offering only their first-rounder will be needed to entice the Colts. And if you're Indianapolis, this is an opportunity to have two top five selections in the upcoming draft.
Tennessee Titans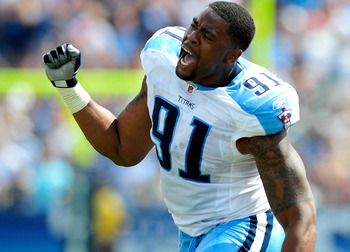 Grant Halverson/Getty Images
The team in the toughest position to land Dwight Freeney on this list is the Tennessee Titans, who would have to offer more than anyone else, simply because they are a division rival.
Still, Freeney would be a great addition to Tennessee, as the Titans only compiled 28 sacks in 2011 (ranked No. 31) and allowed a total of 355 yards per game (ranked No. 18).
Also, Freeney would be the Titans best and most notable pass-rusher.
Last season Karl Klug stood out with seven sacks and Jason Jones added three sacks. Together they each forced three fumbles, which combined with sacks, is roughly equivalent to Freeney's production last season.
The Titans ranked No. 24 against the run by allowing almost 130 rush yards per game.
Against teams like the Jaguars and Texans in the AFC South, they have no shot at contending for the division unless the opposing ground game is isolated.
Tennessee will, however, have to fork over quite a bit to land Freeney.
Obviously their 2012 first-rounder will be included (No. 20 overall), as well as their second and third-rounders. This would be the minimum, but with Freeney's age and the Colts cap position, this is a great deal.
If this happened, then the Colts would have two picks in each of the first three rounds; can't complain about that while rebuilding.
John Rozum on Twitter.
Keep Reading