NCAA Bracket 2012: Final-Four Contenders Flying Under the Radar
March 9, 2012

Joe Robbins/Getty Images
Every year, we see "Cinderella" teams make their way through the field and into the Final Four.
Last year it was VCU and the year before that it was Butler Bulldogs, who almost won the title over power-house, Duke.
This season, we can only speculate as to which team will surprise everyone and make a run. However, we can look at the talent that these potential Final Four teams posses.
Here are four teams to watch out for come tournament time.
UConn
Yes, it seems odd to see the defending National Champions on this list, but UConn has had a disappointing 2011-2012 season.
Although immensely talented, UConn has failed to gain any consistency over this season and has had to deal with coach Jim Calhoun missing games due to back pain.
A roster that has Jeremy Lamb, Andre Drummond and Shabazz Napier can certainly make noise in the NCAA tournament and make everybody forget about their struggles, through this season, with a deep tourney run.
That is if they get in.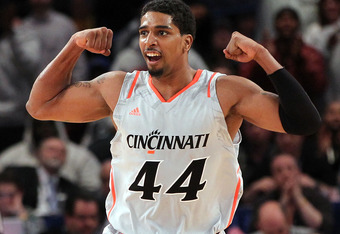 Michael Heiman/Getty Images
Cincinnati
We will learn more about the toughness of this Bearcats team today when they take on Syracuse in the Big East Tournament, but nonetheless, they can be dangerous if they sneak into the tournament.
Cincinnati has beaten Georgetown twice, and also earned quality wins over UConn, Providence and Pitt.
Playing in the Big East will help Cincinnati in the tournament, if they squeak in, and the competitiveness of that conference could prove to be dangerous to other teams.
Harvard
The biggest buzz surrounding Harvard this season has been about Jeremy Lin. However many people have overlooked the fantastic season the Ivy League school put together.
Harvard finished in the Top-25 and won an automatic bid to the NCAA tournament while posting unimpressive offensive numbers.
But Harvard can make some noise in the "Big Dance."
They held every opponent to 70 points or less in the regular season and that kind of defense can translate into wins when it comes to tournament time.
Belmont
The Belmont Bruins are my pick to be this year's Cinderella story.
The Bruins posted an impressive 27-7 record this season and earned an automatic bid in the NCAA tournament.
Belmont is an offensive juggernaut, having the fourth-best scoring offense in the country at 81.5 ppg. They also know how to share the ball with the fifth-best assist totals per game.
Top seeds beware; Belmont is poised to make a deep run in this year's NCAA tournament.