Fantasy Baseball: Why We Keep Playing This Silly Little Game
March 9, 2012

Doug Pensinger/Getty Images
Let's be honest with ourselves. 
We play fantasy sports because we want to still feel like part of the games we love.  There comes a day in almost every man's life where he wakes up, looks in the mirror and faces a harsh, dream crushing reality. 
He's not going to go pro. 
He's not going to be at the dish with bases loaded and two outs in the bottom of the ninth against Mariano Rivera. 
There's no chance that he'll be on the receiving end of an alley-oop from Chris Paul as Kobe covers his head helplessly for protection from the incoming thunder. 
And that Hail Mary pass to Calvin Johnson in the Super Bowl just ain't gonna happen.
No, he looks in the mirror, and sees love handles where oblique muscles once were.  The 40 time flips—what once was a 4.8 is now an 8.4, if he's fortunate enough to have a strong breeze at his back. 
Forget dunking. 
He dreams of one day being able to once again "get rim."
It's a sad day, a very demoralizing moment in time.  It will probably shape up to be the most unproductive day of his professional career. 
Who came blame him?  Focusing on that monthly report is nearly impossible with watery eyes.
Sure, he still has recreational league softball, but the skills have deteriorated to the point that he needs the ball pitched underhand… and slowly. 
Maybe there is a weekly pickup game at the "Y" with all of his buddies.  Of course he misses it at least once a month because he either rolls his ankle and just can't recover anymore or little Susie has dance practice.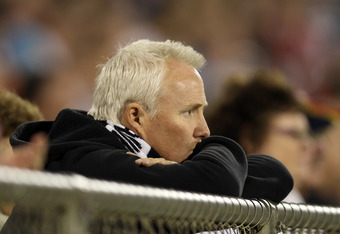 Morne de Klerk/Getty Images
He still watches sports. 
Pro, college, football, Chinese table tennis.  It's an enjoyable past time but after the realization sets in, being just merely a spectator is just salt in the wound as he has to observe other people achieving dreams that were still fresh in his mind just this morning. 
Why did that alarm clock have to go off?  What was he thinking installing a mirror in the bathroom?
If only he could be part of the game… 
How great it would be to have a purpose to care about sports the way he did yesterday when there was still a chance of landing that multi-year mega-contract, even if it was a totally delusional thought in the back of his mind. 
The guy in The Rookie did it.  Why can't he?
Luckily for all of us who have come to this realization, fantasy sports provide an outlet to feel part of sports once again, if only in a way that no one else could possibly care about. 
It gives us a reason to watch, and a reason to care. 
You now have the power to tell Mark Reynolds that a .195 average just isn't good enough to be in the lineup, even if Buck Showalter won't. 
Getting tired of Chris Iannetta's latest slump?  Ship him off to Sweet Sassy Mollasy for some depth at shortstop.  There's a chance he loves that guy and has no idea he's below average at best.
The next time your girlfriend is pestering you about your obsessive need to check your lineup one more time before dinner or your boss is riding you for daydreaming in a meeting about who the new closer for the Astros will be, just tell them that you're still chasing that crushed dream. 
She probably won't understand, but I promise he's been there before and just might.
Have a great and fun season!